Chargers vs Chiefs: Instant Grades, Analysis for San Diego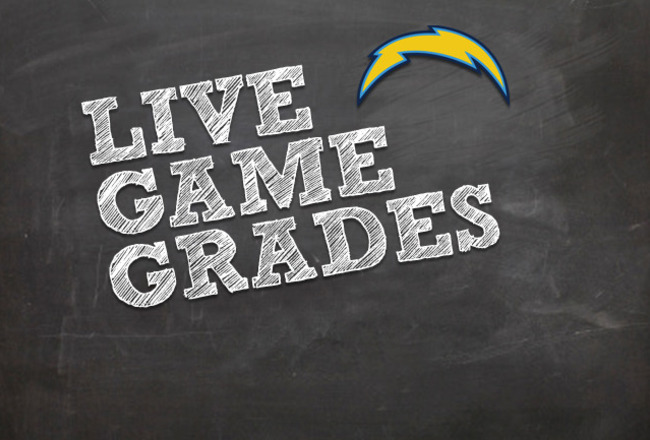 The San Diego Chargers closed out the Kansas City Chiefs 37-20 at Arrowhead Stadium this afternoon. San Diego's defense dominated this game, but six turnovers by Kansas City could easily be deemed the culprit in the Chiefs' loss.
The last time these two teams met was on Halloween night of last year in a thrilling 23-20 OT win by the Chiefs at home. Now, the Chargers can feel good returning home after avenging that loss.
The performance by San Diego's defense was one of the best of the season, but struggles on the part of Philip Rivers and the offense remain a concern for this team going forward. As for Kansas City, what an ugly loss to their AFC West rival.
Philip Rivers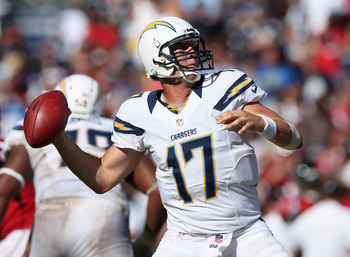 Jeff Gross/Getty Images
Overall
Philip Rivers has to stop playing this hot and cold game if he wants his team to continue to progress this season. When this game started, it looked like Rivers couldn't miss or make a mistake. Then, as it got later in the game, he threw an interception and suddenly lost confidence. Granted he did get knocked around by Kansas City's defense because of poor pass protection, but Rivers still has to limit the mistakes.
Grade: B
Q1
Rivers has had all day to throw with the exception of some pressure from Tamba Hali and Justin Houston. Even so, Rivers is tearing up Kansas City's defense, especially Chiefs safety Eric Berry, who is having trouble covering Antonio Gates.
Grade: A
Q2
It was a pretty perfect game for Rivers up until the point he made that bad throw that was intercepted by Brandon Flowers. Robert Meachem had no chance to catch that pass, as Flowers just made a great play on the ball. Rivers needs to make better decisions in those situations. He doesn't need to be forcing throws.
Grade: C
Q3
Not a good sign that Rivers is cooling off late in the game. He needs to keep the pressure on and provide San Diego with offense. You can't allow the Chiefs to creep back into the game.
Grade: C
Q4
The TD pass to Jackie Battle put the nail in the coffin for this one, and Rivers managed to prevent a comeback from the Chiefs. Not a pretty win for San Diego, but Rivers and the Chargers still get the win.
Grade: B
Offense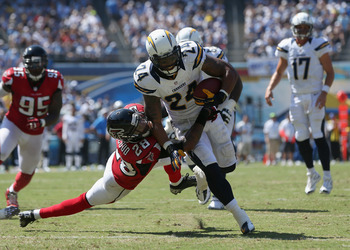 Jeff Gross/Getty Images
Overall
Not a perfect showing by the offense in this one, but it was a definite improvement from last week. Jackie Battle staked his claim as San Diego's best option in the backfield, despite the fact that Ryan Mathews had more rushing yards on paper. Troubles in the pass protection started to creep up as the game rolled on even with Jared Gaither back in the lineup, but that's something the Chargers need to work on progressively during the season. I liked what I saw from Battle, Antonio Gates and the receivers, but there has to be some better consistency in the run game.
Grade: B
Q1
Two pass interference calls on Eric Berry keep San Diego's first drive alive despite some inconsistency by the Chargers. However, a TD on their first drive will do wonders for the confidence of this offense after struggling to score last week against Atlanta. For the most part, San Diego's offensive line has provided Rivers with a clean pocket, and the return of Jared Gaither has made a huge difference. With that said, the offensive line is getting no push in the run game as guys like Tamba Hali and Justin Houston continue to sneak in for easy stuffs. Jackie Battle and Ryan Mathews seem to be having more success catching passes out of the backfield instead of running the ball, but if I had to choose the better rusher thus far it would have to be Battle.
Grade: A
Q2
The Chargers are really pushing those dumpoff passes and quick throws to the backs. I really like what I'm seeing from these backs as receivers. The offensive line continues to do a better job protecting Rivers, but they did allow a sack. In the run game, Battle continues to play like the better back. He's had the most success carrying the ball, and the Chiefs are having trouble bringing down their old teammate.
Grade: B+
Q3
Not a good start by the offense at the start of the third quarter. By failing to move the ball, the Chargers are allowing the Chiefs and the crowd to get back into the ballgame.
Grade: D
Q4
The offense was quiet in the third quarter, but a score late in the game was enough to shut the door on a potential Kansas City comeback. With the game in hand, the Chargers were able to run down the clock and go home with the win.
Grade: B
Defense
Jeff Gross/Getty Images
Overall
Phenomenal job by the defense today. There was an issue with containing Dwayne Bowe, but that didn't take away from the overall performance by San Diego's defense. Six turnovers and a touchdown off an interception is exactly the type of numbers this defense is capable of on a weekly basis. Donald Butler was a beast patrolling the middle of that field, and the defense, as a whole, did well to keep Jamaal Charles from having the type of breakout game he had last week against New Orleans.
Grade: A
Q1
Absolutely amazing job by the defense so far. Two turnovers have set the Chiefs back a ways in the first quarter, and the San Diego defense has had success containing Jamaal Charles. If I had to nitpick about anything, I'd say that Dwayne Bowe is becoming a bit of a challenge for Quentin Jammer and Antoine Cason.
Grade: A+
Q2
Remember what I said about Dwayne Bowe in that first quarter? That matchup of Bowe against Jammer and Cason is gradually becoming a problem. Bowe would have had a huge game-changing catch after beating Jammer downfield but an illegal formation call really saved the Chargers from a potential push from Kansas City. Jamaal Charles had been helping the Chargers all day long after he continued to commit turnover after turnover, but he essentially redeemed himself with that 37-yard TD run. San Diego is capitalizing on all these miscues by the Chiefs, but they can't allow Bowe to get them back in the game, as he continues to beat coverage.
Grade: A
Q3
After an ugly first half filled with turnovers, Matt Cassel and the Kansas City offense appears to have settled down. The Chargers are still getting in Cassel's face and Donald Butler continues to make a bid for defensive player of the game with his stellar play up the middle, but the defense did allow Kansas City to get six on a nice catch-and-run by Jamaal Charles.
Grade: C
Q4
The defense got a bit of scare when Kansas City appeared to be making a case for a comeback, but they managed to slow down Cassel and the Kansas City offense. The Chargers did allow a score in the fourth quarter, but it was already too late for the Chiefs.
Grade: A
Special Teams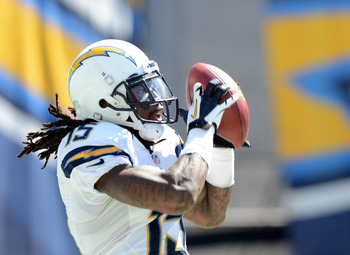 Harry How/Getty Images
Overall
Nick Novak was a perfect 3-for-3 on field goal attempts, and the Chargers didn't give up any type of touchdown return off a kick or punt. Can't argue about anything here.
Grade: A
Q1
Even with no Nate Kaeding today, Nick Novak is doing a perfect job filling in for the Chargers. Two extra points and a 24-yard field goal right down broadway are good signs that he'll have a good day.
Grade: A
Q2
More good work from the San Diego native. Novak hit a 47-yard field goal like it was nothing. No complaints here.
Grade: A
Q3
Almost lost the ball on a muffed punt deep in San Diego territory. That was a little scary, but everything worked out. Also, great job by Mike Scifres punting safely deep in his own end zone.
Grade: B+
Q4
Novak tacks on yet another field goal late in the game. What a relief it is to be able to sign a guy like Novak at the last minute to come in and hit his marks.
Grade: A
Coaching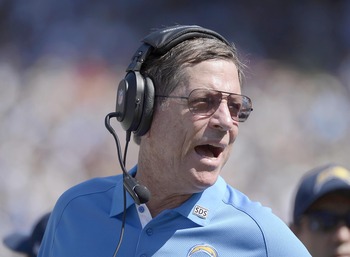 Donald Miralle/Getty Images
Overall
Some good things and bad things to take away from today's performance. Obviously, Coach Turner has to be happy with getting this win in the division, but his team had some troubles on offense. The final score may indicate that the Chargers dominated, but the truth is that Kansas City could have gotten back into this one if they didn't have so many turnovers. San Diego had no answer for Dwayne Bowe, and Jamaal Charles still managed to get into the end zone despite fumbling multiple times.
Grade: B
Q1
Up 17-0 in the first quarter, I have nothing but praise for the San Diego coaching staff. The defense has looked solid and the offense has picked up the slack after last week's embarrassment. One trend I've noticed from the offense is the high success rate utilizing the running backs in the passing game. Don't know if Coach Turner and OC Hal Hunter planned to use this strategy more on purpose or maybe it just happened.
Grade: A
Q2
Coach Turner may have lost that challenge on the forward pass ruling, but when you're up by 17 it's hard to not want to go for broke. However, some could argue that he should have saved that potential timeout for a two-minute drive. The bizarre decision to pull out OT Jeromey Clary for a play after he allowed a sack was a bit of a shock, but I'm assuming the coaching staff wanted to get him fired up.
Grade: A
Q3
Pass protection is beginning to become an issue for San Diego, and unless the coaching staff fixes the problem, then the Chargers could be in store for a close finish at the end of this one.
Grade: C
Q4
Coach Turner and his staff go out with the win in this one, but it was not a perfect performance by any means. The defense had their best performance of the season, while the offense managed to scrape by after a hot start in the first half that ended up cooling down late.
Grade: B
Keep Reading

San Diego Chargers: Like this team?