San Francisco 49ers: 5 Things to Expect for Week 3 vs. the Minnesota Vikings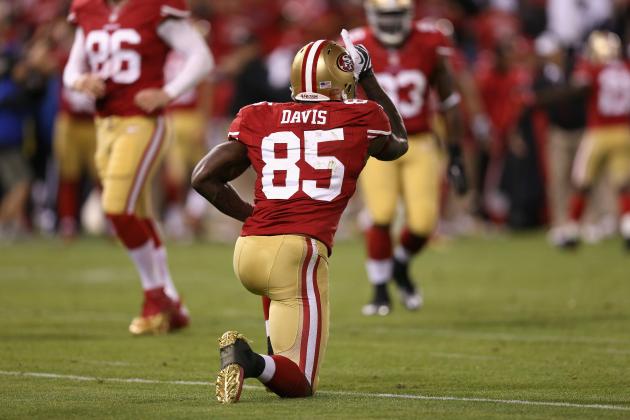 Ezra Shaw/Getty Images
Davis' suggestion of moving forward certainly applies.
The San Francisco 49ers travel to Minnesota for a Week 3 matchup against the Minnesota Vikings.
In a third-consecutive game featuring an NFC North opponent, the 49ers will square off against the weakest squad in that division.
As such, the majority of fans and NFL pundits have left this game by the wayside. The 13-loss Vikings team of 2011 still resonates in peoples' minds.
San Francisco is also the most dominant team in the NFC, if not the NFL. Defeating the mighty Packers and explosive Lions in the first two weeks has created that perception.
Taken together, expectations for these two clubs reside on the spectrum of polar opposites—lowest for the Vikings and as high as can be for the 49ers.
The same dynamic applies to this particular matchup as well.
With that said, let's entertain the five things to expect for the 49ers in their Week 3 battle with the Vikings.
Begin Slideshow

»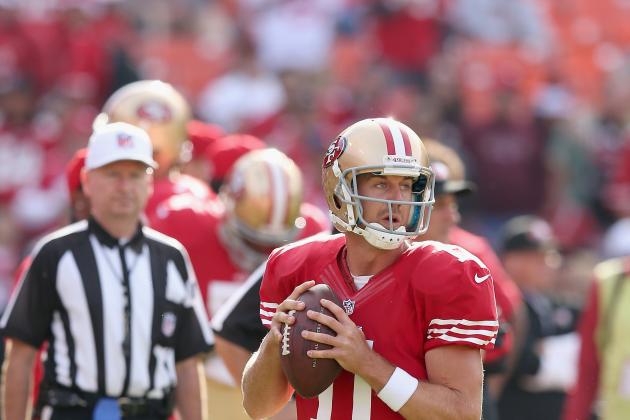 Ezra Shaw/Getty Images
Alex Smith has ascended to a new level in 2012.
Employing the pejorative phrase of "game manager" in discussions over Alex Smith is no longer fashionable.
Through two games, Smith has thrown for 437 yards and four touchdowns with a 70.2 completion percentage, a rating of 115.9, and most importantly, zero interceptions.
Against Minnesota, he'll eclipse those per-game averages of 218-plus yards and two TDs. He'll throw for 290 yards and three scores, both facilitated by his receivers producing season-best efforts.
It's never easy predicting a 300-yard (or thereabouts), fantasy-friendly production by Smith with Jim Harbaugh calling the shots. His offensive philosophy is predicated on mistake-free play that utilizes a heavy dose of pound-the-rock football.
Yet, this game will unfold as one of the few games in which Smith inches a bit more towards the Eli Manning School of accrued statistics.
Temper those expectations just a bit, though…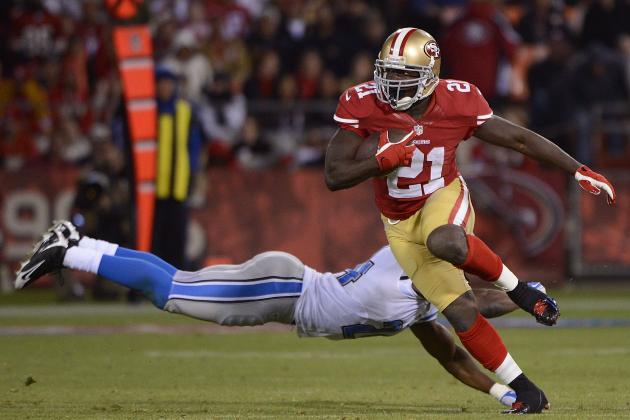 Thearon W. Henderson/Getty Images
Gore merely saying, "Get off me."
The thing about "pounding the rock" and tempering certain expectations had practical application, in case you were wondering.
Jim Harbaugh sure loves him some run-first football to set up the rest of his game plan.
Frank Gore has been carrying the rock in impressive fashion towards that end. He's averaged 16-plus carries, 100.5 yards and a TD with a fantastic pace of six yards per carry.
Backup Kendall Hunter and his 5'7'' underrated self, has added 14 carries for 64 yards. It's only a matter of time until he breaks out.
So, while Smith will indeed rack up close to 300 yards through the air, Gore and Co. will help set that up. This will occur in accordance with the Harbaugh mandate and in effort to assuage the pass rush of Jared Allen.
There will be no shortage of a 49ers ground attack on Sunday.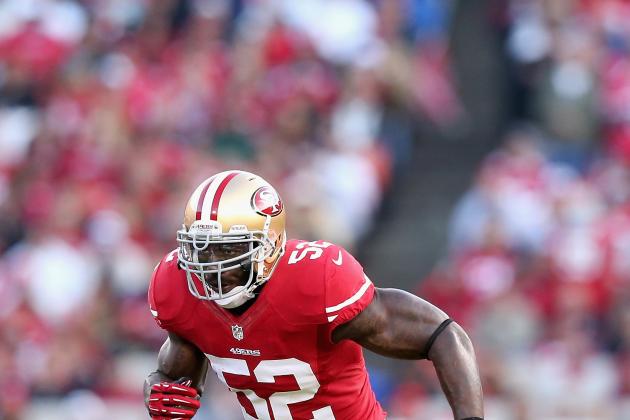 Ezra Shaw/Getty Images
The pose of one of the best in the league.
Well class, please break out your Patrick Willis.
Through the second week of this young NFL season, Willis has been effective, but quiet. A fellow middle linebacker has outplayed the established veteran.
NaVorro Bowman, a backer cut from nearly the same cloth as Willis, is the 49ers' leading tackler. He also leads the team with three deflected passes.
His interception of Aaron Rodgers came at a critical juncture and set up a game-sealing Gore TD run.
Willis, though, will let his protégé know who rules the roost in 49ers land come Sunday. Not that his purpose would in any way reflect this sentiment, but Willis will join the club of those setting early-season highs.
He'll lead the team in tackles, channeling his wrecking-ball tendencies against Adrian Peterson and Toby Gerhart. Tight end Kyle Rudolph will also experience the stifling coverage of one of the best in that regard in the NFL.
Welcome back, No. 52.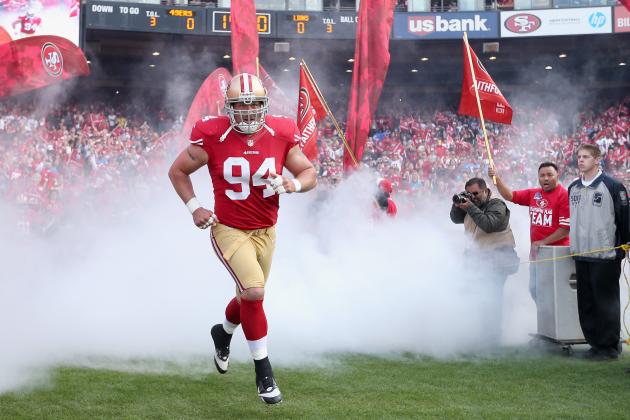 Ezra Shaw/Getty Images
Justin Smith—the strongest man in the NFL.
Two other prominent warriors on the 49ers will join Willis on the stat sheet.
Although proficient in his capacities as always, Justin Smith has been largely absent from the box scores. His six recorded tackles do not reflect his performance in the early goings.
Against rookie left tackle Matt Kalil, Smith will shed blocks and get after neophyte Christian Ponder in hot mauling pursuit. Ponder will indeed experience firsthand what constitutes a bear hug.
That will certainly show up in the postgame box score. His setting the edge against the run, most likely will not.
On another front, Tarell Brown will begin his quest to become the NFL's interception leader.
Whether by way of a pass intended for Percy Harvin speeding through his zone, or a coverage assignment of Michael Jenkins, Brown will get his interception. He'll add to his 10-tackle production in the way all cornerbacks prefer.
It just remains to be seen if his interception and/or interceptions on Sunday will serve as the start to a league-high total.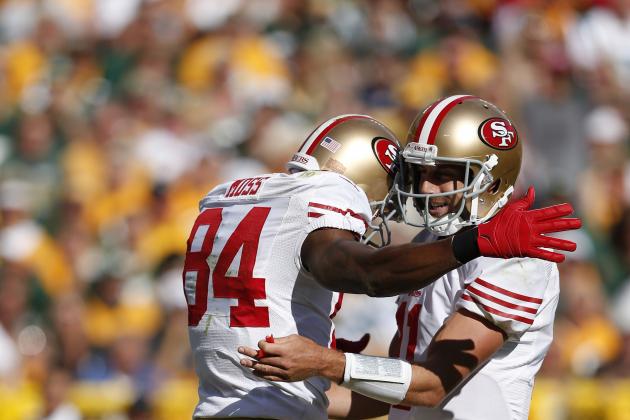 Joe Robbins/Getty Images
A welcome embrace after an Alex Smith to Randy Moss TD.
Randy Moss has already been thoroughly productive in the early part of the season.
One touchdown and 61 yards does not reveal as much, but the truth remains.
Moss has garnered the attention of multiple defensive backs and fulfilled his blocking duties on a consistent basis. He has also conveyed his still viable NFL speed.
That said, he has not showed the full extent of his remaining skill set. In a game against his former club, Moss will bring to the surface some pre-2010 explosion.
One should expect a play-action by Alex Smith, who will then hit Moss on a deep post as the safeties get caught peeking in the backfield. The former Viking will streak into the end zone and graciously bid his adieu to the fanbase that adored him once before.
At this point, Moss will call it a day, and happily move to the sidelines as his daily allotment of touches expires.
Moss wins, 49ers win—not a bad day on the gridiron indeed.
Readers, let me know your thoughts on Moss's return to his old stomping grounds. Will he perform better or worse than the above prediction?
Follow and/or answer on Twitter @jlevitt16