North Carolina Basketball: Why Leslie McDonald Is Tar Heels' Next Go-to Guy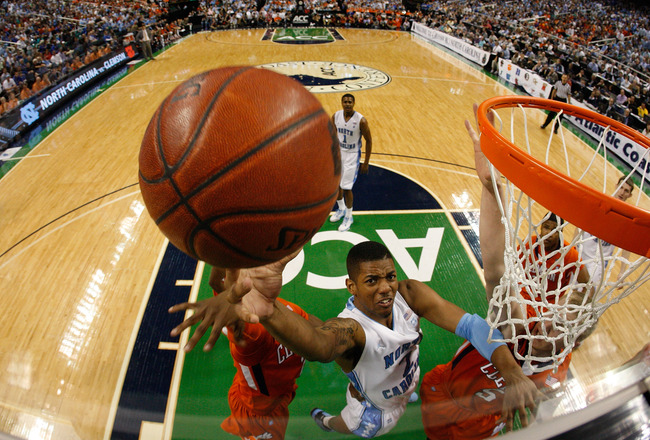 Streeter Lecka/Getty Images
Leslie McDonald is back, and the North Carolina Tar Heels could not be happier. He will be a candidate to be the Tar Heels' next go-to guy.
The 6'5" shooting guard from Memphis will return to the Tar Heels at the start of the 2012-2013 season after missing all of last year with a torn ACL.
While attempting a crossover in a summer league game, L-Mac's knee gave out, and he fell to the ground in excruciating pain. Since then he has had surgery to repair his torn ACL and has faced a long rehabilitation period.
But L-Mac's desire to play on the Tar Heels assisted in his recovery. His speedy recovery was thanks to his dedication and hard work. If it weren't for losing a year of eligibility, L-Mac could have been playing last season.
He and coach Roy Williams decided it was best to red-shirt the three-point shooting star, so he could be fresh and ready for the 2012-2013 season.
After good freshman and sophomore years, L-Mac will be ready to turn it up a notch and will be the Tar Heels' next go-to guy.
Leadership Energy and Work Ethic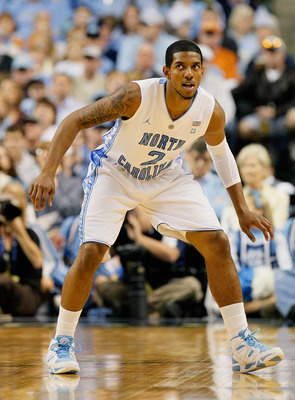 Kevin C. Cox/Getty Images
L-Mac played such an important role on the Tar Heels throughout his first three years, despite only averaging less than 16 minutes per game.
He's very vocal on the bench and is known for his pregame dance at all home games to pump up his team.
His leadership and charisma is going to be very important to the Tar Heels in upcoming years after losing players like Tyler Zeller and Harrison Barnes. Any player that works hard enough to return from an injury like the one L-Mac faced can be a role model to other players on their team.
Also, L-Mac is too smart of a basketball player to let a year off go to waste. He spent his time not only rehabilitating, but also learning the X's and O's of the Tar Heels' game style and opponents' game style.
He has been on the court since the beginning of the summer so that means he has been eager to work on his game and get back into game shape.
His work ethic will not only make him a better player, but it will also better the players around him.
Perimeter Shooting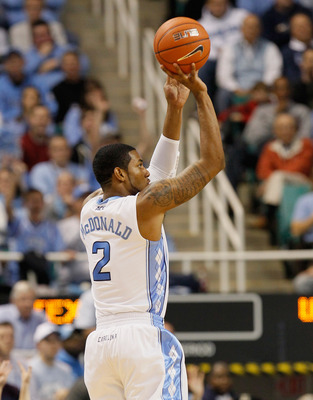 Kevin C. Cox/Getty Images
Perimeter shooting has been a weak spot for the Tar Heels for a couple years now.
Last season the Tar Heels were ranked 213th nationally and eighth in the ACC with only a 33.4 percent three-point shooting percentage.
In the 2009-2010 season their numbers were even worse, ranking 245th nationally and 11th in the ACC.
The Tar Heels shot a combined 5-for-33 in both of the games in which they were eliminated from in the NCAA tournament over the last two years (h/t Jason Watson).
L-Mac is undoubtedly the best three-point shooter on the Tar Heels roster, so his presence will help bring some of those numbers up.
In his sophomore year, he shot 51-for-134 from behind the arc, only second on the team in total three-pointers made. Barnes was the only player on the Tar Heels to make more threes than L-Mac, but he did play over 400 more minutes than L-Mac did.
Not to mention that the Syracuse Orange are transferring to the ACC, providing a lot more competition to the Tar Heels.
The famous 2-3 zone defense of Jim Boeheim and the Orange will be very inviting to L-Mac's three-point shooting.
Replace Lost Scoring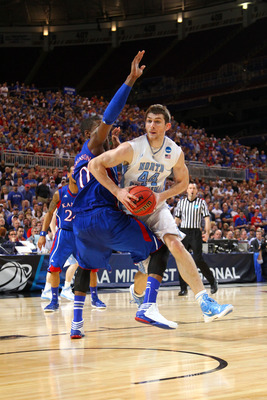 Dilip Vishwanat/Getty Images
The Tar Heels are such a good basketball school that every year they lose players to the NBA, and every year they find new players to take their spots.
Zeller and Barnes replaced Deon Thompson and Will Graves, and Thompson and Graves replaced Tyler Hansbrough and Wayne Ellington.
It is an ongoing cycle.
L-Mac will be capable of replacing the scoring of Harrison Barnes this upcoming season.
He and Dexter Strickland can potentially be the next Zeller Barnes combination (despite both being guards) for the Tar Heels in upcoming years.
With L-Mac back, expect him to be the go-to guy and expect him to be up for the challenge and lead the Tar Heels this season.
Keep Reading

UNC Basketball: Like this team?