What Can Andrew Luck, Indianapolis Colts Learn from RG3, Washington Redskins?
James Lang-US PRESSWIRE
If we're comparing blue-chip rookie quarterbacks on a weekly basis, Robert Griffin III is out to a significant lead over Andrew Luck.
Although the expectations were probably higher for Luck than Griffin coming out of college, it's not overly surprising to see Griffin experience more success than Luck right off the bat.
Two reasons for that: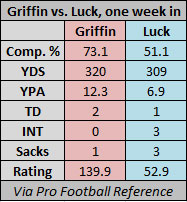 1. Griffin has more support in Washington, including a deeper receiving corps and better pass protection. He was rarely pressured on Sunday in New Orleans and is already benefiting from the presence of Pierre Garcon, Aldrick Robinson, Santana Moss and Fred Davis. His running game was twice as productive as Indy's was and his defense was better, too. It's going to take the Colts some time to adapt to a new 3-4 system.
2. Griffin is tougher to prepare for, at least at this stage. Luck can't be a standard field general yet, and he's not multi-dimensional like RG3. The Saints didn't know what to expect from Griffin, who poses a significant threat as rusher as well as a passer. His skill set is much more unique.
I believe the Colts are doing the best they can with Luck, who was given many options underneath against the Bears, just like Griffin was against New Orleans. He was under pressure on 15 of his 50 drop-backs according to Pro Football Focus, and here's a look at what happened on those plays:
Pressures: 15
Attempts: 10
Completions: 2
Sacks: 3
Scrambles: 2 (9 total yards)
He didn't throw any interceptions under pressure, but he was under-throwing receivers, and that 20 percent completion mark was the third lowest among Week 1 quarterbacks. Griffin was pressured only eight times but was 4-for-5 with a touchdown under those circumstances.
Which rookie quarterback will have a better season?
It should be noted that the Bears' defense is much better than the Saints' D, especially through the air. Chicago held opposing quarterbacks to a 79.8 passer rating and 6.8 yards per attempt last year, while New Orleans put up an 86.4 and a 7.0 in those same categories. The Saints were also ranked 30th in the league against the pass.
New Orleans first-team defense was also embarrassed this preseason, even against Blaine Gabbert and the Jaguars.
While Griffin's performance might have been somewhat inflated by the Saints' D, the opposite might have happened to Luck. Bears defensive back Tim Jennings made great plays on all three interceptions, picking off two passes and deflecting the other. All three passes were under-thrown, but in each case Luck was trying to make something happen while facing a deficit.
I hate to say it, but after watching both quarterbacks I believe the Colts had the right approach with Luck. They gave him as much help as they could up front and he had lots of quick, short routes to work with. The problem is that the Colts are less talented than the Redskins and the Bears are more talented than the Saints defensively.
Things could get a little better for Luck with Minnesota, Jacksonville and Green Bay on deck, but Griffin has a head start now. Don't underestimate the role confidence plays with the successes and/or failures of rookie quarterbacks.
This article is
What is the duplicate article?
Why is this article offensive?
Where is this article plagiarized from?
Why is this article poorly edited?