Carolina Panthers: 5 Questions Left Unanswered After Week 1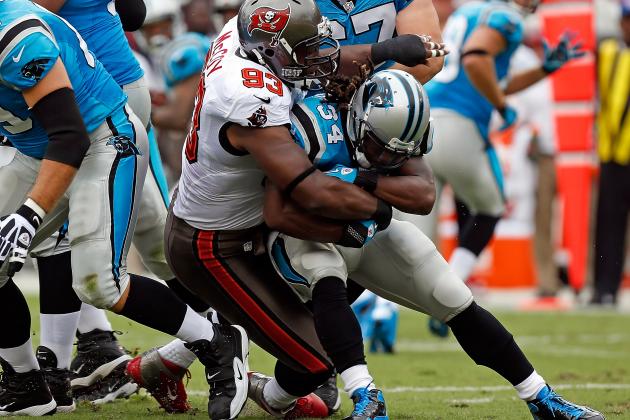 J. Meric/Getty Images
DeAngelo Williams and the Panthers' offensive line could not get anything going in Week 1 against the Tampa Bay Buccaneers.
The Carolina Panthers (0-1) entered Sunday's Week 1 game against the Tampa Bay Buccaneers (1-0) with high hopes and even higher expectations, but they walked off the field at the end of the contest with a head full of doubt, several questions left unanswered, and many more they did not even know they had.
What happened to the running game?
Why did Cam Newton make so many bad decisions?
And where was the passion?
One game does not make a season and nearly every NFL team will have at least one or two games in which they come out flat and never get into the game.
But for the Carolina Panthers to essentially lay an egg against an NFC South rival in the season opener was completely unexpected.
It is also a trend the Panthers cannot afford to continue in their next three games against two more divisional rivals, the New Orleans Saints and Atlanta Falcons, or the defending Super Bowl champion New York Giants.
Here is a look at five of the biggest questions the Panthers left unanswered following their 16-10 Week 1 loss to the Tampa Bay Buccaneers.
Begin Slideshow

»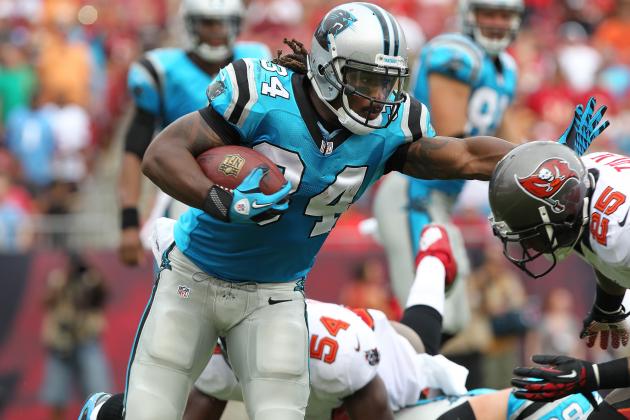 Kim Klement-US PRESSWIRE
Bucs defender Aqib Talib (25) prepares to stop DeAngelo Williams (34) at the line of scrimmage.
The Carolina Panthers' vaunted rushing attack, which ranked third in the NFL in 2011, stunk on Sunday.
In fact, it stunk so bad that after the first week of the 2012 NFL season, the Panthers are ranked dead last in rushing.
Carolina ran for just 10 yards on 13 carries (0.8 yards per carry) in the franchises' worst rushing performance since they gained the same ground total against the New Orleans Saints in 2000.
The running game is supposed to be among the Panthers' greatest strengths, but the Buccaneers constantly crowded the line of scrimmage with eight players in the box and DeAngelo Williams could not find any open lanes in which to run on a wet, sloppy field.
Williams, who lost seven yards on his two first-half carries, was limited to a career low-tying minus-1 yard on six carries.
The Panthers' other super back, Jonathan Stewart, did not dress on Sunday due to an ankle injury he suffered in the third preseason game against the New York Jets.
It is debatable whether Stewart's straight-ahead style would have been more effective than the slashing Williams, though Cam Newton and fullback Mike Tolbert were equally inept against the Bucs.
The Panthers need to find a way to get their ground game going in Week 2 against the New Orleans Saints, who gave up 40 points at home last weekend to the Washington Redskins, in order to get their offense back on track.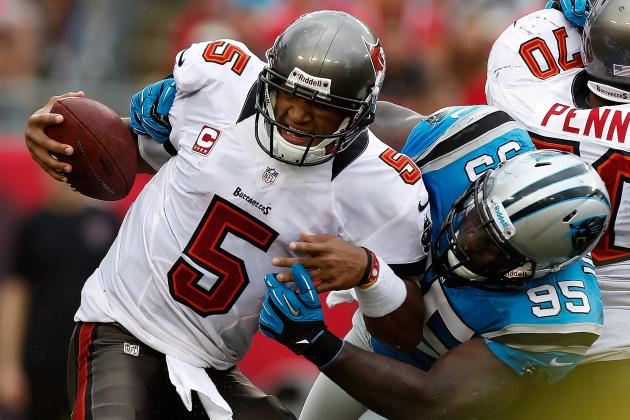 J. Meric/Getty Images
Charles Johnson (95) was in on one of the Panthers' two sacks against Josh Freeman and the Bucs.
Carolina sacked Buccaneers quarterback Josh Freeman twice in the second half, but for much of the game he looked comfortable in the pocket, especially in the first half when he completed 12-of-14 passes, including going 7-for-7 on the opening drive.
The Panthers' starting defensive ends, Charles Johnson and Greg Hardy, spent very little time getting in Freeman's face, though Johnson teamed up with Dwan Edwards for a second half quarterback sack during one stretch when the Panthers' defense made the Bucs punt on four straight possessions.
Dwan Edwards provided a strong push up the middle in the second half but the Panthers missed DE Thomas Keiser's presence when he was scratched to make room for other backups and special teamers, including Armanti Edwards.
Keiser had four sacks as a rookie undrafted free agent in 2011 after being called up from the practice squad halfway through the season and he tied New York Jets rookie Quenton Coples for the 2012 preseason lead with 4.5 sacks.
Keiser may or may not play this Sunday, but it will be on Carolina's defensive coordinator, Sean McDermott, and head coach Ron Rivera to find a way to put pressure on the quarterback when New Orleans visits Charlotte in Week 2.
Otherwise, Drew Brees, Marques Colston and Jimmy Graham will light up the Panthers' secondary and score a ton of points.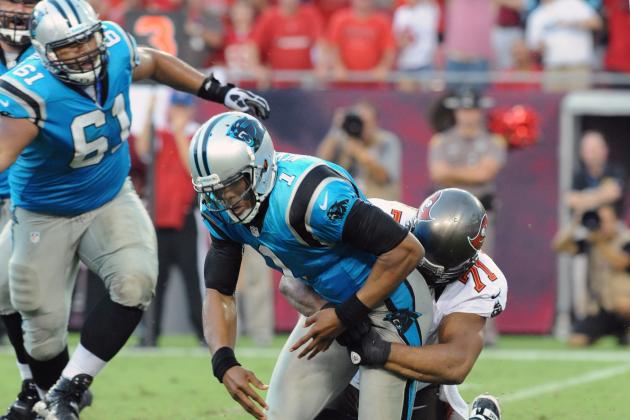 Al Messerschmidt/Getty Images
Cam Newton was sacked three times and threw two interceptions against the Bucs in Week 1.
The Carolina Panthers have never won a game in which Cam Newton threw an interception.
He threw two momentum killers against the Bucs on consecutive third-quarter drives.
The first interception came when Newton tried to force a pass into Brandon LaFell while he was surrounded by several Bucs' defenders. The ball was tipped and Tampa Bay's ageless wonder, cornerback Ronde Barber, came down with the pick and returned it 24 yards.
Newton's second INT was worse, though, as he threw a deep floater down the sidelines that hung in the air and came up short of its intended target when Ahmad Black plucked it from the sky.
Though he completed 22-of-33 passes for 303 yards and a touchdown, Newton also tossed a couple of ill-advised screen passes to DeAngelo Williams and Mike Tolbert that went for losses.
And despite the two interceptions and a handful of uncharacteristic plays by the Panthers' quarterback, Newton played exceptionally well in short spurts throughout the game.
However, he will be called upon to make better decisions and to play at a consistently high level throughout the season if Carolina's offense is going to repeat as a top-10 overall unit in 2012.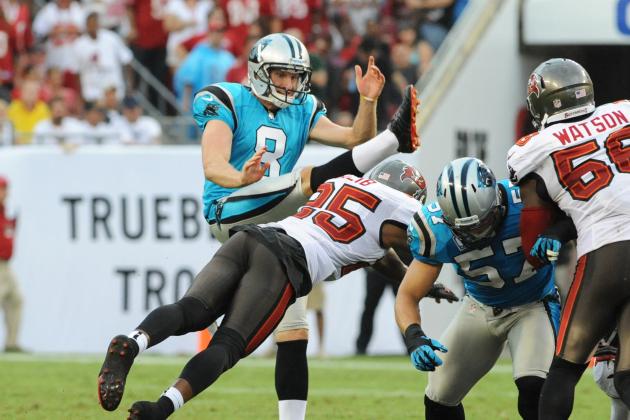 Al Messerschmidt/Getty Images
Brad Nortman's (8) punt was blocked by the Bucs' Aqib Talib.
The Carolina Panthers had the worst overall special teams units in the NFL in 2011, and Ron Rivera and Marty Hurney made a concerted effort to improve the kicking, coverage and return units during the offseason.
They hired an assistant special teams coach, Richard Rodgers, signed coverage specialists Haruki Nakamura, Kenny Onatolu and Mike Tolbert, drafted punter Brad Nortman and punt returner Joe Adams, and chose kicker Justin Medlock over Olindo Mare.
Carolina's punt and coverage units performed well against the Bucs in Week 1, Adams returned a punt for 21 yards, and Medlock made his only field goal attempt, but somehow the Panthers managed to blow another important special teams play that put the game out of reach.
Trailing the Bucs 13-7 with just over 11 minutes remaining in the game, punt protection point man Haruki Nakamura called for an adjustment to the punt protection when he noticed an extra man lining up to rush the punt.
Unfortunately, according to Nakamura, long snapper J.J. Jansen snapped the ball before the Panthers' punt protection was set. Via the Charlotte Observer:
"We were communicating that the guy was coming in, we're giving a hot call," Nakamura said. "We know that we need to make an adjustment. (Long snapper JJ Jansen) thought it was set. So there was just so much communication and JJ happened to hear the wrong thing and unfortunately that's what it led to.
That was a blocked punt which Tampa Bay wound up converting into a field goal and an insurmountable 9 point lead at 16-7.
Carolina has to get it right on special teams in order to have a successful season, even if the offense and defense play at a higher level than they did in 2011.
The Panthers face a dangerous return man this Sunday in the Saints' Darren Sproles, and New Orleans blocked a punt last weekend against the Washington Redskins.
The Saints' special teams are sure to bring their "A" game to Charlotte against the Panthers' weaker units, so Carolina's punting, kicking and return units will another uphill challenge in Week 2.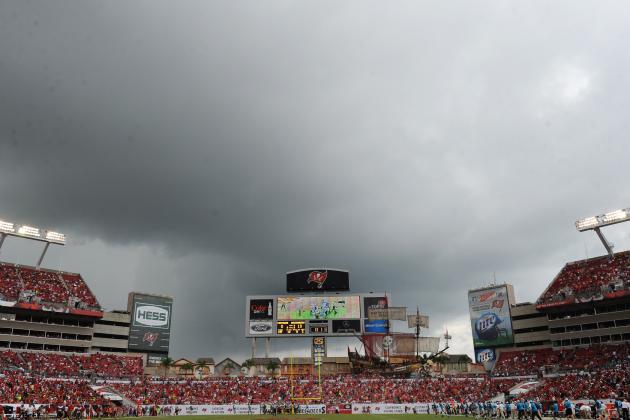 Al Messerschmidt/Getty Images
Raymond James Stadium
Florida is supposed to be a sunny place with great weather and happy tourists.
And usually, it is. Believe me. I visited my parents in Tampa, Clearwater and St. Pete earlier this year.
The Panthers, however, appeared to be suffering from a collective case of seasonal affected disorder (SAD) while playing on a soggy field on a stormy, overcast day.
Whether or not Carolina's players experienced a mild case of depression after spending the week leading up to the game away from home, they came out of the tunnel with an obvious lack of focus and enthusiasm.
Panthers fans and players have high hopes and expectations for this team in 2012, but their Week 1 performance was far what anyone in the Carolinas wanted to see.
Carolina got punched in the mouth and, other than Steve Smith and Thomas Davis, they did not answer the bell or put forth the effort necessary to play well.
Rookie defenders Luke Kuechly and Josh Norman played a step slower than they did during the preseason, the offensive line got pushed around early, and running back DeAngelo Williams could not find a hole to hit.
In other words, Tampa Bay was more physical and played faster than Carolina, but there is hope for the Panthers after playing so poorly and losing by less than a touchdown.
Perhaps some home cookin' and sleeping in familiar beds will be just what the doctor ordered for the Panthers as they prepare for their regular season home debut against the Saints in front of a hopeful, raucous Carolina home crowd.
Jimmy Grappone is a Featured Columnist covering the Carolina Panthers and the NFL on BleacherReport.com.
You can follow me on Twitter @jimmygrappone and be sure to check out my archives for more Panthers articles.

Recent articles by Jimmy Grappone:
Panthers Approach Opener at Bucs Like a Bowl Game
Grading the Panthers' 53-Man Roster
Why the Panthers Can Win the NFC South
Panthers' Advantages Over Each NFC South Foe