Virginia Tech Football: Winners and Losers from Week 2 Game vs. Austin Peay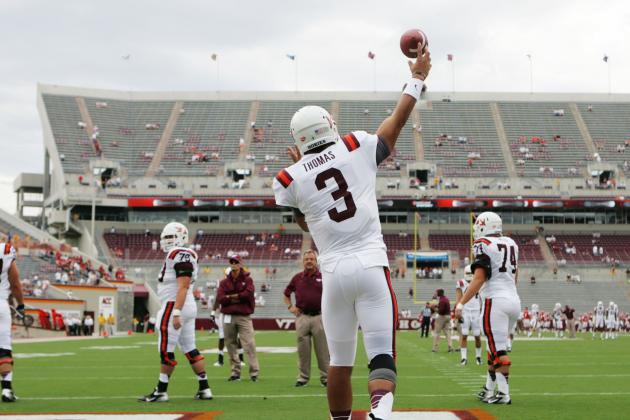 Peter Casey-US PRESSWIRE

Despite a sluggish start, the No. 15 Virginia Tech Hokies defeated the Austin Peay Governors 42-7 on Saturday.
While the outcome of the game was never in doubt, it did provide the Hokies many areas in which to improve as they face a struggling Pittsburgh team on the road next Saturday.
The Hokies finished the game with 421 total yards of offense. Logan Thomas passed for 212 yards and two touchdowns. For the second straight game, Thomas finished with no turnovers.
One encouraging sign for the Hokies was the 189 rushing yards and 4.9 yards per carry. This game was intended for the Hokies to gain some cohesion and find the right mix along the offensive line. Although the leading rusher was wide receiver Marcus Davis, who finished 48 yards on two carries, seven different Hokies had at least two rushing attempts.
Here are some winners and losers from Saturday's game for the Hokies.
Begin Slideshow

»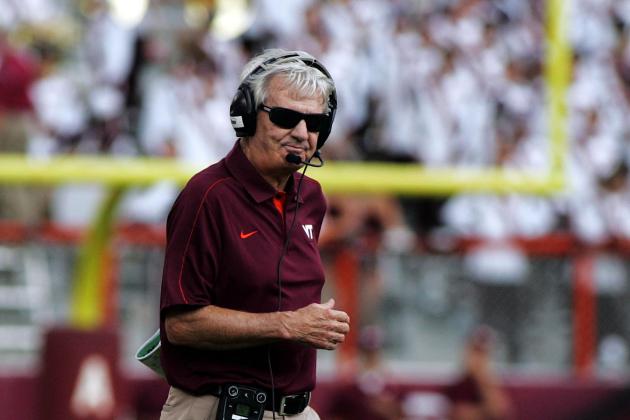 Peter Casey-US PRESSWIRE

Has BeamerBall finally returned to Blacksburg?
That's the hope of head coach Frank Beamer after Saturday's performance. The Hokies blocked a punt and had one long punt return to set up a short field in the first half.
Punter A.J. Hughes seems to be settling in as the punter. Hughes finished the game with a total of six punts averaging 44 yards per punt and had two downed inside the 20-yard line. After the fumbled snap against Georgia Tech, Hughes has really settled down.
The blocked punt is especially encouraging for Beamer. In recent years, other teams have blocked more against the Hokies than they actually have.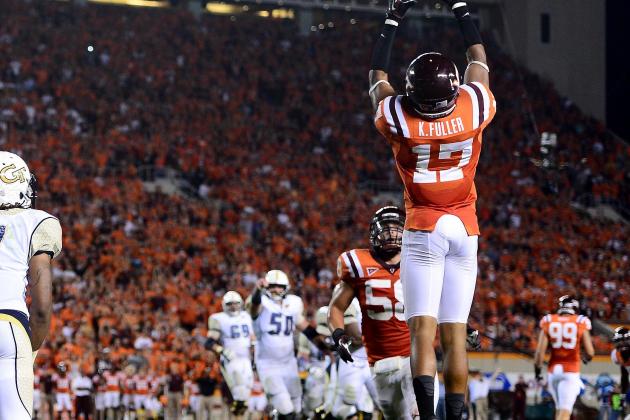 Andrew Weber-US PRESSWIRE

Let me preface this by saying, the Hokies did what they were supposed to do. They were facing an overmatched, inferior team that they were supposed to beat by several scores. Mission accomplished. But this defense was outstanding for the second game in a row.
The Hokies held the Governors to 221 total yards, many of which came once the outcome was already determined. Austin Peay completed only eight passes for 62 yards averaging a paltry three yards per attempt.
Virginia Tech also finished with two interceptions including one by Kyle Fuller, which was his second in as many games.
Several younger players, such as freshman cornerback Donaldven Manning, saw extensive playing time. Manning recorded his first career interception.
Look for this group to continue to get better.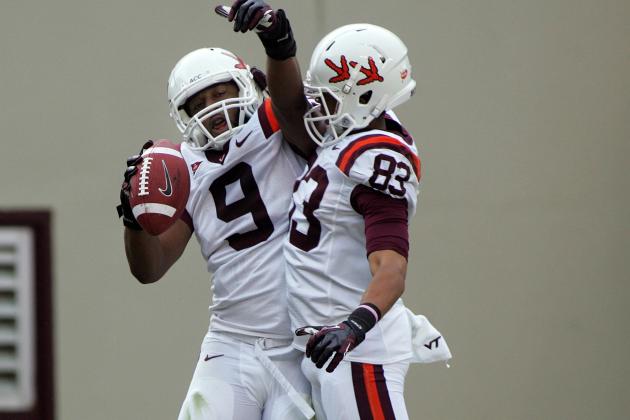 Peter Casey-US PRESSWIRE

For the second straight game, senior receiver Corey Fuller showed up big for the Hokies.
While he only finished with two catches for 44 yards, he caught his first career touchdown.
With last week's news that senior D.J. Coles was lost for the season, Fuller continues to capitalize on his opportunities. To be frank, he has looked like the best receiver on the team thus far. And that isn't a knock on Marcus Davis. Fuller has just been that good.
Thomas will continue to throw the ball a lot, so look for Fuller to continue to evolve into not only a big-play receiver, but a consistent, move-the-chains pass-catcher as well.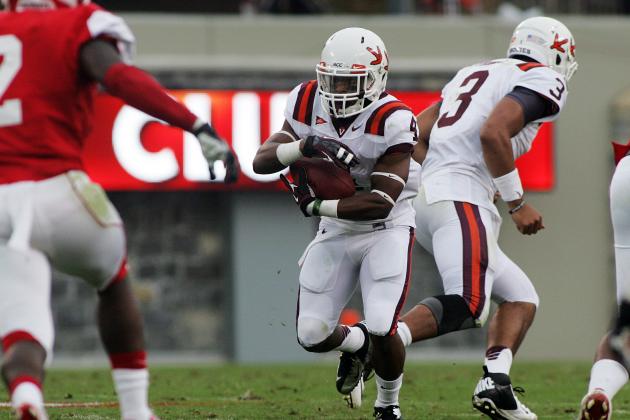 Peter Casey-US PRESSWIRE

When you win 42-7, it is hard to find anyone to put into this category.
Coleman doesn't belong here except for the fact that his fumble may cost him carries in the coming weeks.
Coleman is the team's big-play threat. He will see plenty of action. But, after last Monday's game he was also looking like the team's best all-around running back.
With Michael Holmes continuing to get more comfortable, Coleman cannot let his one fumble become an issue. One fumble doesn't mean it will, however, as a freshman he needs to work on his ball security moving forward.
By the way, Coleman is going to be a great player. And so will Holmes.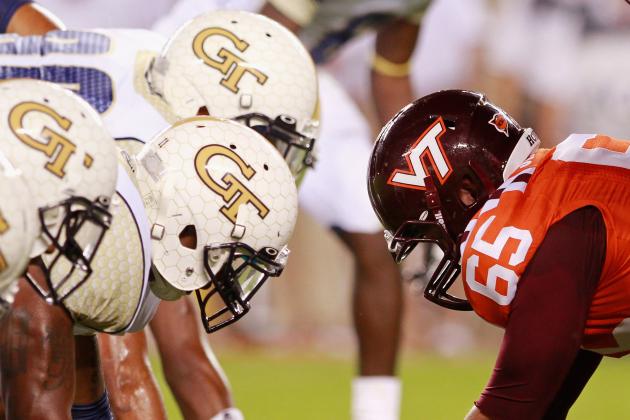 Geoff Burke/Getty Images

The offensive line wasn't terrible Saturday. But it wasn't dominant either.
Beamer and his offensive staff used this game as an opportunity to rotate Michael Via and Brent Benedict at right guard. Benedict fared well, better than Via against Georgia Tech but remember the competition.
Several others backups saw extensive playing time along the line and the team's slow start was due, in part, to the line not getting enough push at times in the first half.
This line will continue to get better, but Beamer and offensive coordinator Bryan Stinespring need to settle on a starter at right guard. Offensive line is one position where you cannot expect success if you rotate players in and out of the game.
Beamer's hope is the Hokies have enough tape of the two players to make an informed decision this week as they head to Pittsburgh.
So far, in two weeks, the running game has not been consistent. That needs to change and it begins up front. Saturday's outing was a good start but the competition will continue to get tougher.