6 Reasons for New York Knicks Fans to Be Excited About the 2012-13 Season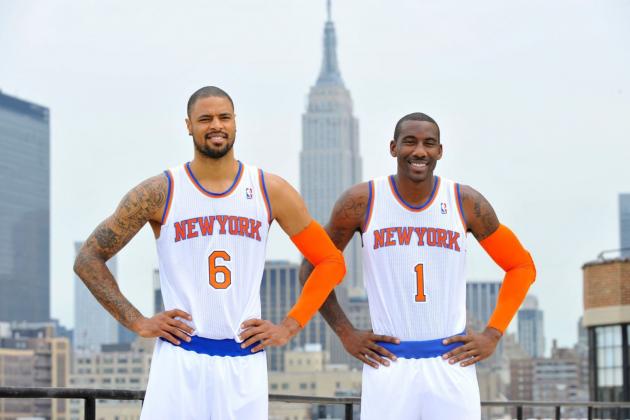 Less than two months remain before the start of the NBA regular season, and excitement is building up by the minute.
For Knicks fans in particular there are plenty of reasons to be excited about the upcoming season, even after a disappointing end to the last campaign at the hands of the Miami Heat.
There are more than a few faces in town for 2012-13, as the Knicks look to make the leap to become a genuine title-contender for the first time since acquiring Carmelo Anthony.
Here are the six main reasons for Knicks fans to be excited about 2012-13.
Begin Slideshow

»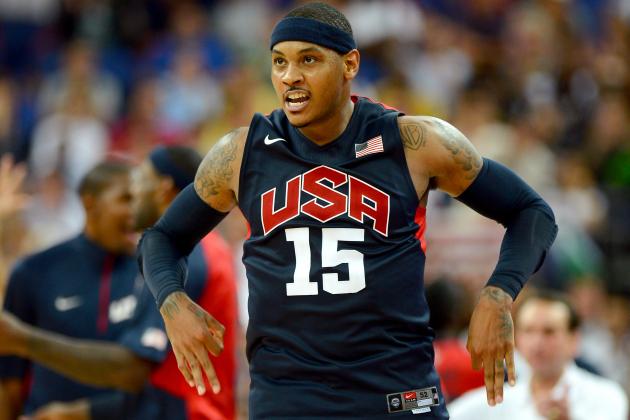 Lars Baron/Getty Images

There may have been some doubt when he first arrived in New York, but by now we all know that this is Carmelo Anthony's team.
Melo is the undisputed star of the show, and his shoulders carry the hopes and dreams of this Knicks team.
With that said, it's nice to know that Anthony is at the top of his game right now, which will really help when he returns to NBA action and tries to lead the Knicks to a championship.
Towards the end of last season—after Mike Woodson had been appointed head coach—the Knicks went 18-6 despite injuries to Amar'e Stoudemire and Jeremy Lin, and it was primarily down to the play of Melo.
Inclusive of a legendary Easter Sunday game against the Chicago Bulls, Anthony averaged 23.3 points and 6.3 rebounds in those last 24 regular season games, before putting up 41 against Miami in the playoffs to give the Knicks their first playoff win since 2004.
Melo then took his form with him over to London for the Olympics, where he broke multiple records on Team USA's Gold medal-winning campaign.
Most notably, Anthony scored 37 by the third quarter against Nigeria; a game in which he also netted 10-of-12 three-pointers.
To see a player playing at this level is exciting enough in itself, but to know that this is also the guy who'll be leading the way for your team next season makes it that much more exciting.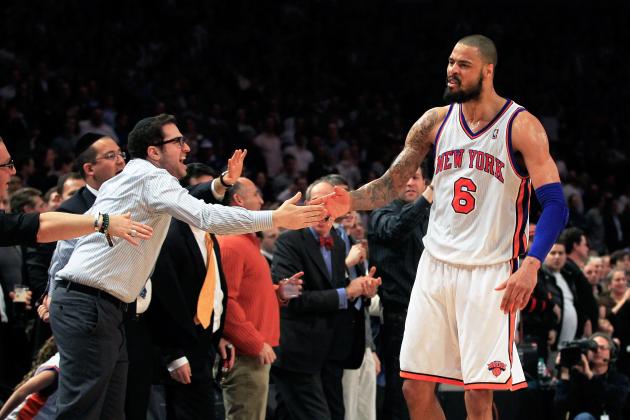 Chris Trotman/Getty Images

For some, defensive basketball isn't that exciting, but, in New York, good play on that end of the floor has always been respected.
From the days of Willis Reed and Dave DeBusschere, to those of Charles Oakley and Patrick Ewing, the Knicks are used to having great defensive players.
But with Mike D'Antoni as head coach for the past few years, defensive basketball has really been missing for the Knicks, which is one of the main reasons they've struggled recently.
Last year, the Knicks made strides on the defensive end, finishing 11th in points allowed per game, with new signing Tyson Chandler winning the Defensive Player of the Year award.
In 2012-13, the Knicks' defense should be even better with the additions of Marcus Camby, Raymond Felton and Ronnie Brewer, and they could even challenge for a place amongst the league's top five.
Considering how long it's been since an elite defensive team has played in New York, it must be nice to finally have one that can compete with the quality of those great 90s teams.
Considering their salary limitations, it's important for the Knicks to improve from within, and it seems the players have taken that into their own hands this offseason.
We've had Raymond Felton losing weight and Carmelo Anthony and Tyson Chandler playing in the Olympics. but what's most intriguing is the work that certain Knicks have done with Hall of Famer Hakeem Olajuwon.
After working with only Amar'e Stoudemire in the summer—for a hefty price at that—the Knicks decided that Olajuwon's tutelage was worth having for the entire team, as Mike Woodson brought him to the team's practice facility for a few days (via Atlanta Blackstar).
Olajuwon will work not only with Stoudemire, but Tyson Chandler, Marcus Camby and Carmelo Anthony as well, as all four players look to add an extra wrinkle to their offensive games.
The fact that players as experienced as Camby and with as developed an offensive game as Melo are willing to take time out to add to their skills is a great sign, and it shows that the Knicks really want this title.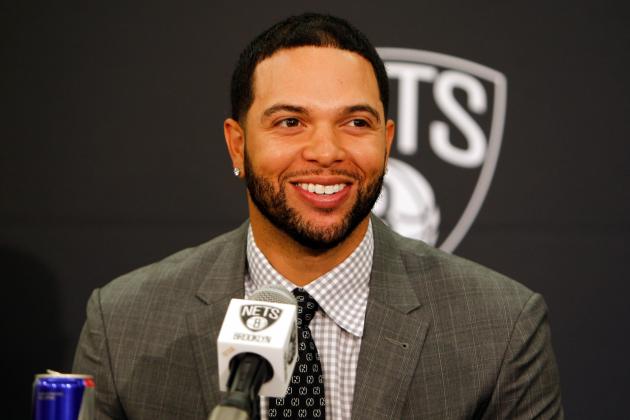 Debby Wong-US PRESSWIRE

As one of the NBA's original teams, the New York Knicks have had 66 years to build up more than a few rivalries with teams around the NBA.
The Celtics, Heat and Pacers in particular have all played some heated and intense games against the Knicks over the years, with all meeting the Knicks in the playoffs multiple times.
Fans will remember the physical battles between Patrick Ewing and Alonzo Mouring's Heat team, as well as the torture Reggie Miller and the Pacers put the Knicks through multiple times.
But now, with those rivalries slowly dieing over the last few years, it appears that there's another on the horizon, with the New Jersey Nets moving over to Brooklyn.
The two franchises went head-to-head to acquire Carmelo Anthony back in 2011, but this latest development of having two teams in New York City is what will really ignite a rivalry.
November 1st will see the teams' first meeting with each other since Brooklyn's relocation, and you can expect the eyes of basketball fans everywhere to be on that game.
As division rivals, the match-up will develop as the season goes on, and it will soon be amongst the NBA's most iconic rivalries.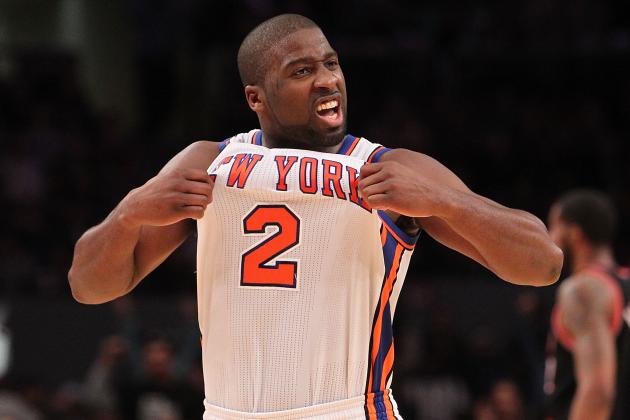 Nick Laham/Getty Images

There are a lot of new faces in New York for the 2012-13 season, and general manager Glen Grunwald has done some great work to build a strong supporting cast for his big three despite having little to work with under the salary cap.
Each of the Knicks' new signings bring a lot to the table, and they all have their individual reasons to get fans excited to see them in blue and orange.
After impressing with the team in the 2010-11 season, Raymond Felton is back to man the point guard position for the Knicks, and he should play a big role in the revival of Amar'e Stoudemire.
Soon-to-be Hall of Famer Jason Kidd will act as Felton's back up, and he brings to the Knicks veteran leadership, three-point shooting and a knack for finding the open man.
Finally, former Defensive Player of the Year winner Marcus Camby returns to the team he went to the Finals with in 1999, looking to get back and win what he couldn't the first time round.
All in all, the Knicks have made some fantastic additions to their roster, and the new-found depth will go a long way to helping them improve on last season's record.
People will disagree over whether or not the Knicks are a top-tier team just yet, but that doesn't mean that they can't have a good season in 2012-13.
Now that the coaching and point guard issues have been fixed - and injuries have come and gone - the Knicks are finally ready to start meeting the expectations fans had for them when they assembled their big three.
There are no more excuses, and the players know it, so they're ready and motivated to progress as a team this upcoming season.
Considering the injury to Derrick Rose that will hamper Chicago, and the movement of Dwight Howard over to the Western Conference, a new place has opened up near the top of the Eastern Conference, and the Knicks are primed to take it.
Sixth man J.R. Smith has even gone as far as guaranteeing a championship in 2013, after taking a pay-cut to return to the team.
That might be slightly too ambitious on Smith's part, but the Knicks could come close if they build chemistry in training camp and it all comes together.