A Closer Look at the Atlanta Falcons' 2012 Practice Squad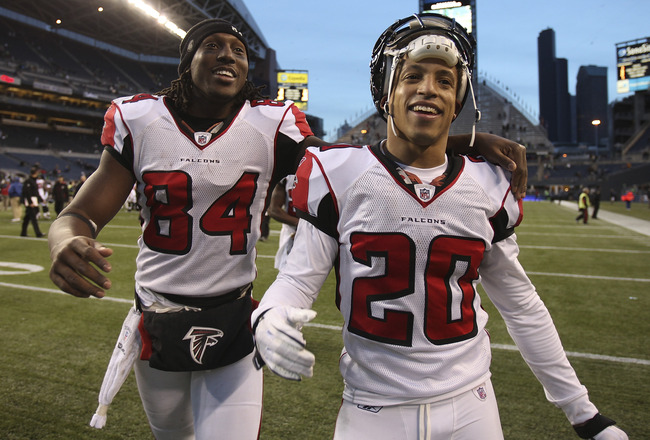 Grimes (20) used his athletic ability and toughness to work his way from Practice Squad to $10 million man.
Otto Greule Jr/Getty Images
The Atlanta Falcons have announced their practice squad and it has quite a few familiar names.
There's WR Drew Davis, WR Marcus Jackson, TE Chase Coffman, OT Bryce Harris, DT Micanor Regis, LB Pat Schiller, CB Peyton Thompson and S Mark LeGree.
It's a great mix of positional talent and special-teams depth. Among these eight, the Falcons should be able to develop players who could win jobs outright elsewhere, if they don't get elevated to the Atlanta roster during the season.
Here's an individual assessment of all eight.
WR Drew Davis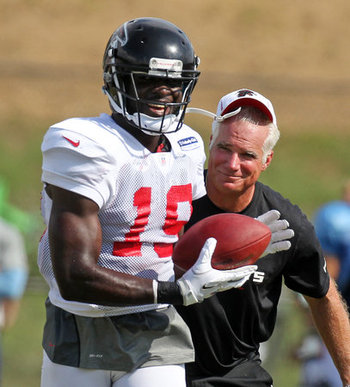 Courtesy the Atlanta Journal-Constitution Online
Preseason Statistics: Two catches, 14 yards.
Drew Davis is one of those multiyear practice-squad types who will wind up on the main roster at some point this season, especially considering his penchant for great special-teams play.
Davis is someone with a ton of natural talent and just needs to harness all of it before he can make a real impact for someone as a slot receiver.
Update: Just as this was posted, it was announced that Davis has been promoted to the regular roster. Jay Adams of AtlantaFalcons.com reported it on his twitter:
The Falcons today have waived OG Phillipkeith Manley and activated WR Drew Davis to the active roster. #atlkc12

— Jay Adams (@FalconsJAdams) September 8, 2012
WR Marcus Jackson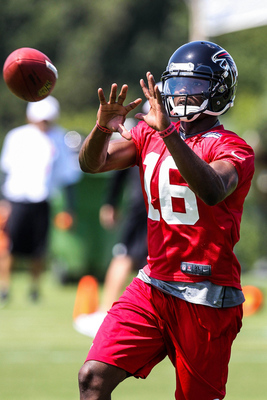 Courtesy The Falcoholic
Preseason Statistics: Seven catches, 73 yards.
Marcus Jackson had an unexpectedly good preseason playing with the second- and third-stringers. He showed that he has the ability to gain separation and play on special teams.
However, despite his physical talents, he has a lot of work to do as a route runner. His best routes are the simplest ones, the go or nine-route and the comebacks. Once he learns how to run the rest of the route tree effectively, he has a legitimate shot at a roster spot.
TE Chase Coffman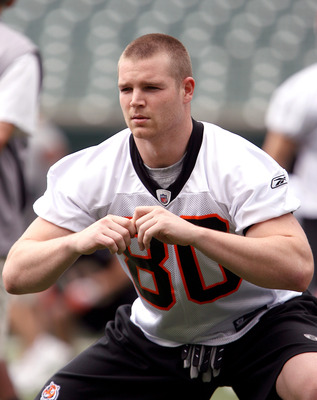 Mark Lyons/Getty Images
Preseason Statistics: One catch, three yards.
He was getting separation well in his two preseason games and even made a catch. However, he needs to improve his blocking.
If Coffman ever does that, he would see time as the top tight end and could well post stats similar to his 90-catch, 987-yard senior season at Missouri.
OT Bryce Harris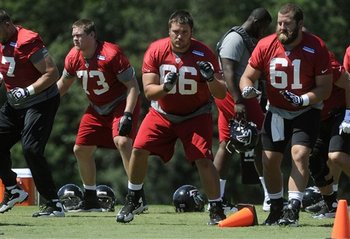 Courtesy The Atlanta Journal Constitution Online. Harris is No. 73.
Preseason Statistics: Played in all four preseason games.
Harris was a pleasant surprise. Between him and Phillipkeith Manley, the Falcons had excellent play on the offensive line from their third string.
Harris was technically sound and showed great strength in the running game. Once he is able to improve in pass protection, he could end up as a reserve swing tackle for the Falcons similar to Will Svitek.
DT Micanor Regis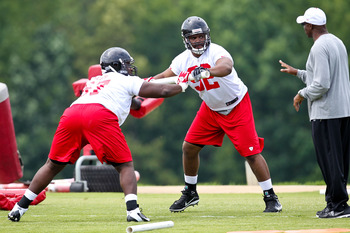 Regis (67) pushes against Travian Robertson here.
Daniel Shirey/Getty Images
Preseason Statistics: Six tackles.
The Falcons have a unique situation with their defensive tackles. With Corey Peters injured and Travian Robertson taking up what looks to be the final defensive tackle roster spot, Regis could just be a place-holder until last year's starter comes back healthy.
However, it's more likely that the Falcons will be keeping Regis on the practice squad for a year just in case there is another injury to the unit. He looked excellent in the preseason getting after the passer and fits Mike Nolan's scheme as either a tackle or an end.
LB Pat Schiller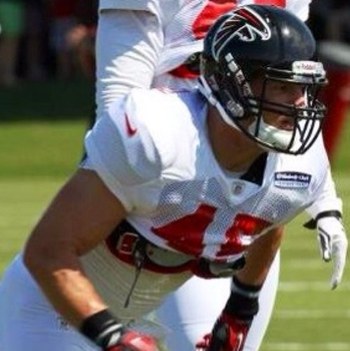 Courtesy Twitter.com
Preseason Statistics: 11 tackles.
Pat Schiller is an interesting case. Much like Mike Peterson and Robert James, he has shown the athleticism needed in this scheme. He can play both inside and outside linebacker in the three- and four- man fronts that the Falcons will employ.
His issue is that he's raw. He can do everything well, but still needs refinement that will only come with experience behind Mike Peterson and Akeem Dent.
Next season, Schiller could easily end up with a spot on the 53-man roster.
CB Peyton Thompson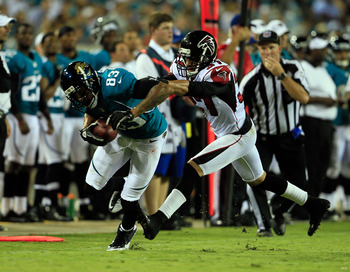 Sam Greenwood/Getty Images
Preseason Statistics: 12 tackles.
Peyton Thompson was able to show coaches around the league how he is able to cover in man and zone schemes. Nolan used him at both corner and in the nickel during the preseason.
He was also able to show that he can contribute to any team as a special-teams ace and gunner. Of his 12 tackles this preseason, four were in punt or kickoff coverage.
S Mark LeGree
Courtesy MyNorthwest.com
Preseason Statistics: Four tackles and one forced fumble.
LeGree is someone who the team didn't have on its preseason roster. However, the Falcons liked what they saw from his performances with the Seahawks enough to give him a shot.
He can cover deep and has 4.49 speed in the 40-yard dash as measured at the 2011 combine. His overall athletic numbers compare favorably to Falcons starter Thomas DeCoud. Once he learns the defense, he could end up taking the roster spot from Shann Schillinger in 2013.
Scott Carasik is a Featured Columnist for Bleacher Report. He covers the Atlanta Falcons, the NFL and the NFL draft. He is also the Falcons analyst at Drafttek, runs the NFL Draft Website ScarDraft.com and hosts Kvetching Draftniks Radio.
Keep Reading

Atlanta Falcons: Like this team?