5 Reasons Freddy Garcia Has Earned a Game 3 Playoff Start for the Yankees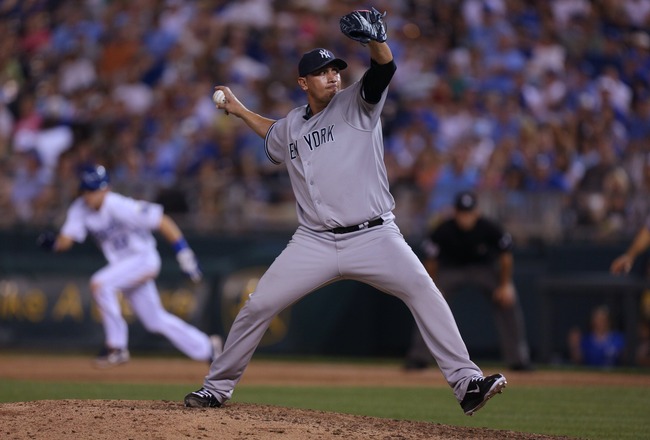 Ed Zurga/Getty Images
With only 27 games left in the season, the pressure is building on one of the tightest division races in baseball.
As the Yankees limped and stumbled into September, injuries have been a predominant headline lately with Robinson Cano being the most recent injured Bomber.
But with the playoffs inching closer with every game, the Yankees are going to need to consider who they want starting games.
With Alex Rodriguez back off the DL, Mark Teixeira, Curtis Granderson, and now Cano are nursing injuries.
On the mound is where the real questions remain.
Behind C.C. Sabathia and Hiroki Kuroda, the Yankees have struggled to find a consistent number three starter.
Both David Phelps and Phil Hughes haven't been consistent recently, leaving veteran Freddy Garcia as the Yankees' best option behind Kuroda.
Now don't get me wrong. Freddy Garcia isn't your prototypical Game 3 pitcher, but he's the best option they have.
And here are five ways that Garcia has earned his way to being the best that the Yankees could put out as their No. 3.
Prior Playoff Experience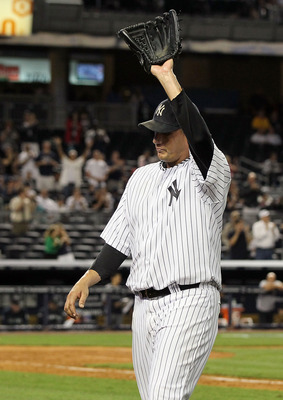 Jim McIsaac/Getty Images
Freddy Garcia has been around baseball for a long time. Fourteen years in the big show to be exact.
A two-time All-Star, Garcia has played for five different teams, and has pitched in both the AL and NL.
Garcia has played in eight different playoff series, and has won a World Series (with the White Sox in 2005).
Although Garcia hasn't been the dominant starter of yesteryear, he still has been to the postseason and faced adversity on a major stage.
His stats this season may not be stellar, but just through his experience in the league and facing hitters Garcia earns a chance in a Game 3.
Phil Hughes Has Struggled with Consistency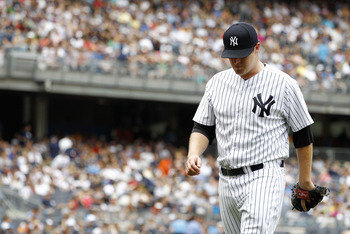 Jeff Zelevansky/Getty Images
In 2010, Phil Hughes was everything Brian Cashman and Yankees fans dreamed he would become: an All-Star.
Hughes won 18 games in 2010 and struck out a career-high 146 batters, averaging 7.5 strikeouts per nine innings pitched.
Since then, Hughes has been the definition of inconsistency, posting an 18-17 record over the past two years.
What does this have to do with Freddy Garcia?
Hughes has done more than solidify his spot at the back end of the rotation this season. He also has helped push Garcia up in the rotation.
Because Garcia has been able to find some consistency in a season where Phil Hughes could not, Garcia deserves to be the No. 3.
Fewest Innings Pitched Since 2009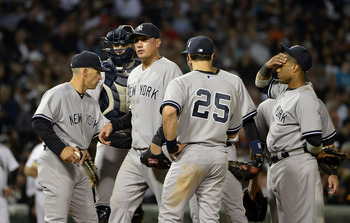 Brian Kersey/Getty Images
Last season Freddy Garcia was part of a duo of veteran free-agent pitchers that came in and shocked Yankees fans (and maybe even Brian Cashman).
Garcia and Bartolo Colon combined for 20 wins last season for the Yankees, while eating up total 311 innings.
But earlier this season with Colon gone to free agency and what seemed to be a wealth of pitchers, Garcia was forced into the bullpen.
Injuries and inconsistency marred the Yankees' starting rotation and Garcia was called upon in July to return to the starting rotation.
Now with only 99 innings pitched so far this year, Garcia is much fresher than last season and will be going into the postseason with far fewer innings pitched.
Although I'm sure Garcia didn't set out this season to pitch fewer innings, his rested arms and legs will help earn him a spot as the Yankees' No. 3 in the postseason.
3 Wins in 5 Starts in August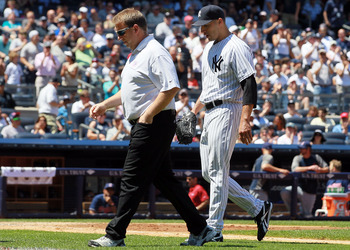 Andy Pettitte's injury has helped push Garcia into the Yankees' No. 3
Jim McIsaac/Getty Images
August was a month of ups and downs for the Yankees.
After losing Andy Pettitte and Alex Rodriguez in July, the Bombers saw other key members take trips on and off of the DL in August.
Along with injuries the Yankees finished a mediocre 15-13 in the month of August with a loss against the surging Orioles.
But Freddy Garcia has become a small model of consistency in the month, with three wins and a 4.39 ERA.
In those three wins, Garcia gave up only 14 hits and five walks.
Heading into September though, it remains to be seen if Garcia can continue this consistency.
Right now though he's their best shot in a Game 3 setting and Garcia's recent success would earn him that chance.
Garcia Has Only 32 Walks on the Season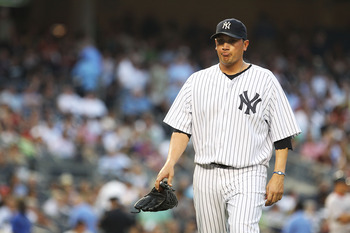 Al Bello/Getty Images
In no way does Freddy Garcia have the same type of stuff he did in his prime.
With a mid- to upper-80s fastball, Garcia has to rely on his control and baseball IQ to get hitters out.
How does he still win games without throwing a ball over the speed limit?
No free passes to first base.
Garcia has only walked 32 batters this season in 99 innings.
Along with limited walks, Garcia has averaged over seven strikeouts per nine innings.
When (or if) Game 3 comes knocking on the Yankees door, Garcia's ability to control his pitches and limit walks will help him earn the nod.
Keep Reading

New York Yankees: Like this team?