Virginia Tech Hokies Football: What We Learned from Win over Georgia Tech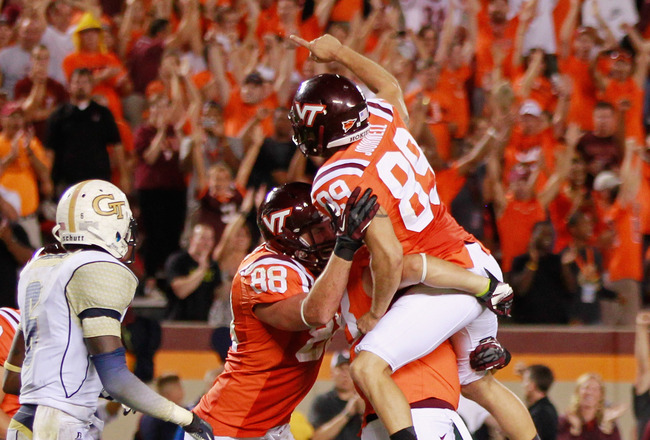 Geoff Burke/Getty Images
It sure wasn't pretty and it may not have gone as anticipated, but the Virginia Tech Hokies couldn't be any happier with their opening weekend win over Georgia Tech.
Both teams struggled on offense for the better part of three quarters, and each quarterback made plays when it mattered most. Georgia Tech quarterback Tevin Washington made one more mistake than Virginia Tech's Logan Thomas, and that happened to be the difference in the game.
In the Hokies victory, we learned several things about this year's team.
Here are five things that stood out about Virginia Tech win against the Yellow Jackets.
Logan Thomas Is Clutch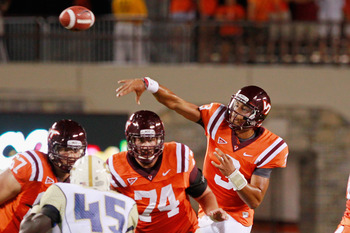 Geoff Burke/Getty Images
Heading into the 2012 season, it was well-known that Virginia Tech was replacing eight starters on the offensive side of the ball. Quarterback Logan Thomas returned, as did three senior wide receivers, led by Marcus Davis.
Suffice it to say, the passing game would need be a strength for the Hokies.
Last night, the passing game produced mixed results but did show a lot of promise. Most of the problems stemmed from Thomas being a bit inaccurate throughout the game.
On the first play of the game Thomas went deep down the right sideline to Davis, but the ball was badly underthrown. Thomas seemed to be having timing issues, especially in the first half.
Much of Thomas' struggles were because he was unable to get in any kind of rhythm.
In the fourth quarter, with the Hokies struggling to score, Thomas led his team down the field with two big pass plays: one to Davis, followed by a 42-yard touchdown strike to freshman Demitri Knowles. The pass to Knowles was a beauty.
On the next drive, with the Hokies trailing, Thomas marched the offense down the field with under a minute left to put the team in field-goal range.
While Thomas didn't have his best game, he came through when it mattered the most. And he didn't turn the ball over while still throwing two touchdown passes.
If this game is the worst that he plays, Thomas and the Hokies are going to have a pretty good season.
Running Game Is a Work in Progress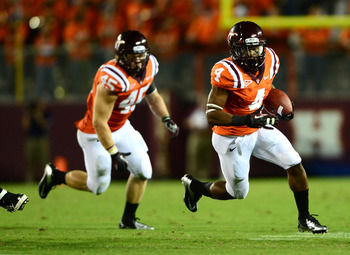 Andrew Weber-US PRESSWIRE
As expected, two freshmen, Michael Holmes and J.C. Coleman carried the load for the Hokies in the running game last night.
Other than Thomas, Holmes and Coleman were the only Hokies to register a carry. The two combined for 17 rushes and 79 yards.
Holmes looked tentative at times, especially on his first two carries. His biggest play came in overtime when he reeled off an 18-yard run to set up the game-winning score. Expect him to continue to get better as the offensive line spends more time together.
Coleman carried the ball four times including two big fourth-quarter carries. One of those carries gave the Hokies a big first down to keep an eventual scoring drive alive. Before Coleman's two fourth-quarter runs, the Hokies were struggling to run the ball.
Holmes and Coleman complement one another well. They will both be featured heavily as the season progresses. Besides being a few inches shorter, it is easy to see why Coleman's big-play ability has drawn comparisons to that of the departed David Wilson.
It would be wise for the Hokies to continue to use the pass to set up the run even though they've traditionally been a run-first team.
Wide Receivers Are More Explosive This Year
Bob Donnan-US PRESSWIRE
Jarrett Boykin and Danny Coale were great players whom the Hokies will miss. But replacing them will not be as hard as some had anticipated.
Marcus Davis has the potential to be a superstar. He showed why at times last night. He has the ability to beat defensive backs deep while also being explosive in the short-passing game.
He is a matchup nightmare.
D.J. Coles was injured but he isn't expected to miss any significant time. He is more of a possession receiver.
Corey Fuller—brother of Vincent, Kyle and Kendall—was outstanding in the win vs. Georgia Tech. He finished the game with five receptions for 82 yards. He had several key third-down receptions and his catch and run at the end of regulation set up the game-tying field goal. Not only did Fuller show his tremendous speed on the play, but he displayed his strength, too, breaking several tackles on the play.
Fuller's hustle also saved the Hokies on the their final touchdown drive as he recovered a Davis fumble downfield. He is the most improved Hokie on the offensive side of the ball. If he can turn in performances like this on a consistent basis he will have a bright future at the next level.
Freshman Demitri Knowles is fast and coaches have consistently raved about him. He showed why on his touchdown catch. He easily beat the defensive back deep and showed nice hands on the touchdown catch.
This group of wide receivers can beat the defense in a variety of ways. The passing game will continue to be the emphasis on offense—as it well should be.
This Defense Is Special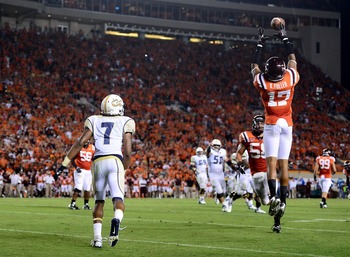 Andrew Weber-US PRESSWIRE
Several Hokies were terrific on defense in the opening game win. Each unit played outstanding.
Junior defensive end J.R. Collins was a force all night, finishing with six tackles and 1.5 TFLs (tackles for loss). Returning from an injury, James Gayle had a sack in part-time duty, as defensive coordinator Bud Foster eased him back onto the field.
Senior linebacker Jeron Gouveia-Winslow looks like a completely different player.
Often ridiculed in the past by Tech fans, Winslow was all over the field last night. He had several jarring hits and was always in the right place at the right time—a critical attribute for a LB to have when facing an offense as unique as the Yellow Jackets. He finished with a career-high 11 tackles.
Junior linebacker Jack Tyler finished with 17 tackles and is a vastly underrated player. Tyler and Gouveia-Winslow played so well they overshadowed Hokies' All-ACC linebacker Bruce Taylor. Taylor himself made the key hit on Tevin Washington to set up an overtime interception by Kyle Fuller.
Defensive tackle Derrick Hopkins had 11 tackles, an amazing number for an interior defensive lineman.
Kyshoen Jarrett was good in his first game at rover, bringing the physicality to the position that Foster demands.
And Kyle Fuller was outstanding. While Fuller will be remembered for the interception in overtime, he was active against the run all night.
Fellow cornerback Antone Exum performed well also.
This unit faced a tough test last night and passed with flying colors. Foster has a special unit that will continue to improve as the season wears on.
Special Teams Still a Concern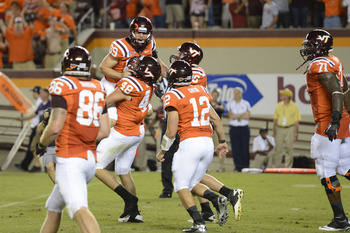 Bob Donnan-US PRESSWIRE
While kicker Cody Journell hit a game-tying kick to send the game into overtime, he did miss a critical 38-yard attempt earlier in the fourth quarter.
That inconsistency cannot continue if the Hokies struggle on offense like they did at times.
Freshman punter A.J. Hughes cost the team seven points when he dropped the snap late in the first quarter. While Hughes did hit three punts inside the Georgia Tech 20-yard line, he never had to punt from deep inside his own territory.
That bears watching in the coming weeks.
J.C. Coleman had the only return of significance last night taking the opening kickoff 34 yards to give the team good field position. The Hokies had no punt return yards despite Georgia Tech punting the ball seven times.
Head coach Frank Beamer built this program on defense and special teams. The defense is tremendous but the special teams hasn't been, well, special for awhile now. The team only blocked one kick in 2011.
It wouldn't be a surprise to see the Hokies put Coleman in at punt returner once he gets used to catching punts. He has the type of game-changing ability required for punt-return duty.
Journell proved he could make kicks in the clutch. He will be fine as he was showing signs of becoming an excellent kicker in 2011, making his final 10 field goals of the season.
If the Hokies are going to win the ACC they need the special teams to be consistent and make positive plays. In every game against a quality opponent in recent years, the Hokies, it seems, are on the losing end in the battle of special teams.
Keep Reading

Virginia Tech Football: Like this team?