4 Players Not Named Cam Newton Who Will Wow Panthers Fans in 2012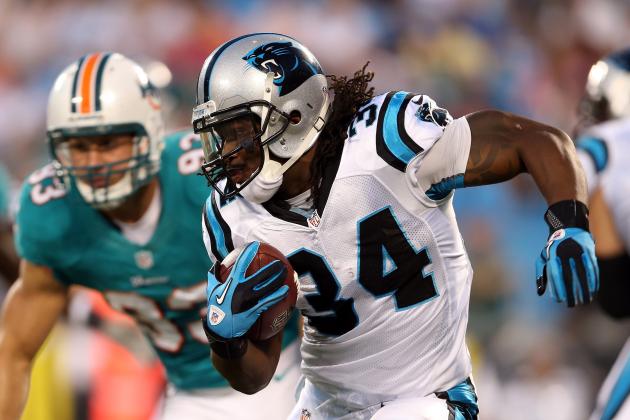 Streeter Lecka/Getty Images
Cam Newton will not be the only Panther to impress this season.
Cam Newton aside, there are plenty of players for Carolina Panther fans to get pumped about this upcoming NFL season.

The early success of second-year quarterback Newton is well-documented, but what about the weapons he has around him?

A two-headed rushing attack will help quell opposing defenses into opening up the passing game. An athletic wide receiving corps will provide Newton with plenty of opportunities to test his arm downfield.

There is one cause for concern, however: The injury bug.

If the team can stay healthy enough, here are Newton's aids in the race for a playoff spot.
Begin Slideshow

»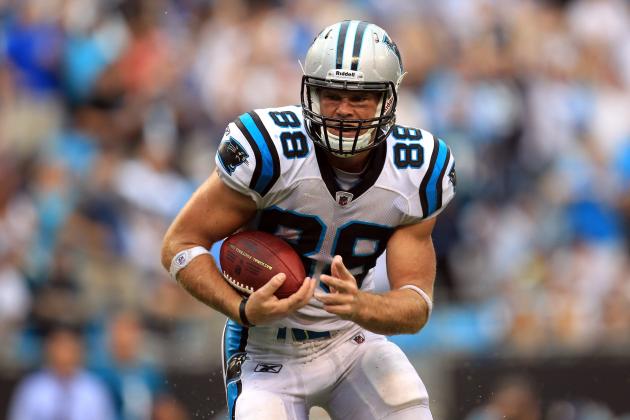 Streeter Lecka/Getty Images
No Jeremy Shockey means good things lie ahead for Greg Olsen.
With attention on the primary offensive weapons of the Panthers, opposing defenses will likely get burned by the steady play of Carolina's tight end Olsen.

Olsen will receive many more looks from Newton with Jeremy Shockey out of the picture. The two-headed rushing attack of Stewart and Williams will give defensive coordinators fits, and Olsen will facilitate that by blocking on the edge.

A solid receiving tight end, Olsen should make fans say, "Wow. He's not so bad after all."
Murphy is a shining example of Al Davis's legacy of drafting the most athletic players, often regardless of their skill set. Murphy, however, has developed the qualities needed to be a third option for any NFL quarterback.

Drafted by the Oakland Raiders in 2009, Murphy had a couple productive years with Oakland until a hamstring injury sidelined him for the better part of the 2011 season.

Since being traded to Carolina on July 23, Murphy has had a solid preseason, including a touchdown catch in the Panthers' most recent win over the Jets on Sunday.

Murphy has yet to be ensured a spot on the Carolina roster though and has been forced to sweat over the No. 3 spot on the depth chart with Seyi Ajirotutu and Kealoha Pilares.

Expect Murphy to be retained and make an impact in the downfield passing game, especially with the improved accuracy Newton should develop with a year of NFL experience under his belt.

It's possible that current No. 2 wideout Brandon LaFell will hog too much of Newton's attention for Murphy to thrive.

With big-play ability, however, Murphy will have fans saying, "Wow. Where did this guy come from?"
Streeter Lecka/Getty Images
Steve Smith should have another season like last year when he racked up over 1,400 yards.
Everyone knows how much of a threat Steve Smith has been in his 11 seasons in the league. No one knows just how productive he can be if Newton improves on his play from a year ago.

Smith had as good a season as any in 2011 as Newton's top target, finishing with 1,394 yards on 79 receptions and seven touchdowns.

The veteran wide receiver is currently nursing what is being reported by inquisitr.com as a possible foot infection. If this injury persists, it could spell doom for the Carolina offense. Smith has missed more than two games in one season during his career only once, suffering a severe break in his leg in 2004.

If Smith can continue to be an iron man, he will have fans saying, "Wow. After all these years, he's still got it!"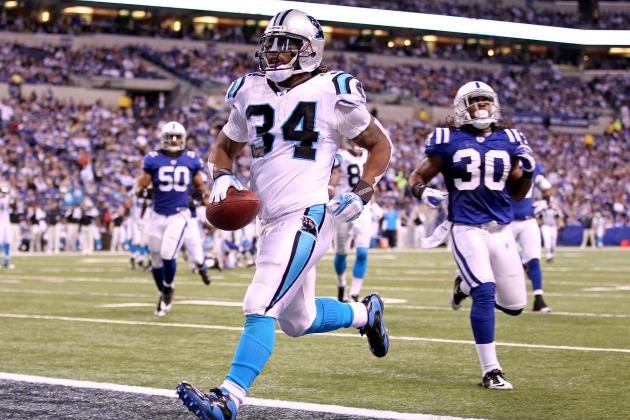 Andy Lyons/Getty Images
You may not see Williams scamper into the endzone many times this season. But you will be surprised by his overall value.
Williams, leading rusher in Panthers history, is one of two backs who should receive regular carries this season. If you include Newton, three.

And if you include Mike Tolbert, four.

Williams finished the 2011 season with 836 yards and seven touchdowns in limited play. He finished with over five yards per carry, which means it doesn't matter if he gets the ball early, late, often or infrequently—he will make an impression.

He did not make as much of an impact as running mate Jonathan Stewart last season because of his production as a receiver, but Williams should continue to get attention in the run-heavy Carolina offense.

During Sunday night's win, Stewart was carted off with an ankle injury. According to head coach Ron Riveran via ESPN.com, Stewart's x-rays were negative and his injury is not a high ankle sprain.

If his cohort in the backfield cannot shrug injury, Williams has the potential to make fans say, "Wow. I'm glad he is still on our team."