Detroit Lions vs. Oakland Raiders: Preseason Week 3 Live Blog
Ezra Shaw/Getty Images
The last time these teams met, it meant something.
That's not (entirely) a knock on the preseason; it was the Lions' second win of a three-game winning streak that put them in the playoffs for the first time in over a decade.
The stakes are considerably lower this time around, but considering that it's the third preseason game, there will be plenty of takeaways as the starters play close to a full, game-planned half of football.
As a primer, Lions fans, check out my preview of things to watch for in this game.
Raiders fans can check out some players to watch via AFC West Lead Writer Christopher Hansen's rundown of winners and losers from training camp. Maybe one of these guys turns it around in this game.
For those looking to catch the game, if you don't know already, here's the info.
Detroit Lions (1-1) at Oakland Raiders (0-2)
Time: Saturday, August 25, 7 p.m. ET
TV Networks
Lions: WXYZ-TV ABC 7
Raiders: KICU
Final Score: 31-20 Raiders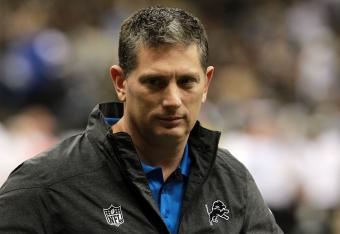 Jim Schwartz was trying to do Kellen Moore a favor, calling defensive timeouts to give him another shot at a two-minute drill.
The decision backfired, as Moore threw a pass that was batted at the line, and intercepted by the defensive line. That'll cap this one off, as the Raiders send out the victory formation to run the last minute or so off the clock.
The Raiders may have found some peace with this game, as they got solid offensive production out of their first and second-half teams.
The Lions, meanwhile, got great special teams play, but mostly struggled on both offense and defense, and have a pile of injuries to deal with. Players being pulled for preseason injuries are often precautionary, but we'll have to wait and see.
Needless to say, both of these teams have some very difficult decisions to make in the next seven days, and this game made some of them easier, but most of them tougher.
Lions fans, keep it here as I finish up a rundown of winners and losers from this game.
Raiders fans, thanks for reading, best of luck on the season.
Final Score: 31-20 Raiders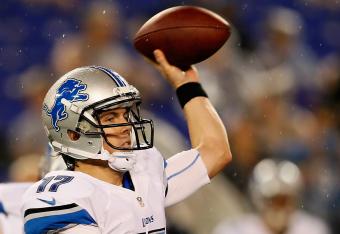 While the game may be out of reach, the Lions on the field aren't worried about their score—they're worried about making the roster.
One of those guys on the bubble is Kellen Moore, who just ran a touchdown drive out of the no-huddle which might have given him an additional look as a possible third quarterback.
At the two-minute warning, the Raiders have this one in the bag, but Moore has to be happy about his most efficient work yet on that drive.
Current Score: 31-20 Raiders (2-minuite warning)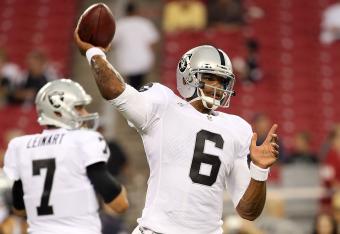 Terrelle Pryor is making a case to be, at the very least, a sure backup quarterback for the Raiders.
In addition to his two long runs, he is also having a Matt Flynn-like game against the Lions' reserve secondary. He has thrown only five passes, and completed only three, but two of them have been deep touchdown passes.
It's hard to say whether Pryor is doing a good job or the Lions' secondary is as atrocious as advertised, but whatever the case, Pryor has taken over the second half of this game.
Current Score: 31-13 Raiders (4Q)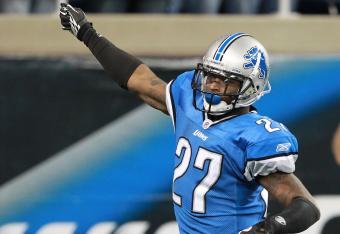 After another non-issue of a drive for the Lions, Terrelle Pryor airs out a 48-yard touchdown pass to extend the Raiders' lead.
This was a nightmarish series for Lions CB Alphonso Smith, who had an interception nullified by a penalty of rookie DE Ronnell Lewis, then proceeded to get beat downfield for the touchdown despite reasonably good single coverage.
Smith is probably lucky the Lions can't keep any cornerbacks healthy, because he is having a pretty awful game, and a rough preseason in general.
Kellen Moore now in at quarterback for the Lions.
Current Score: 24-13 Raiders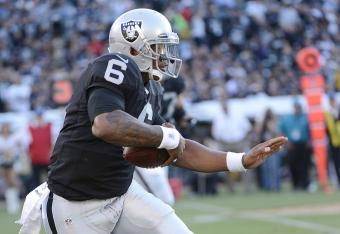 Terrelle Pryor has come in for the Raiders, and he seems to be exactly who everyone thinks he is.
On the first play of his second drive, he fumbled the exchange from the center. Two plays later, he scrambled for 59 yards, and two plays after that, he scampered for another 17 and a touchdown.
Pryor engineered a touchdown drive in which he never had to throw the ball. While the kid definitely has wheels, the Raiders are probably more interested to see whether he can read a defense or follow a progression.
For now, though, they'll take the go-ahead touchdown.
Score: 17-13 Raiders (3Q)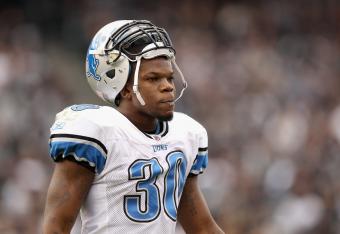 The injuries keep coming for the Lions as the second half gets underway. Mikel Leshoure and Kevin Smith appear to both be injured, and Maurice Stovall is apparently suffering from an arm injury of some sort.
However, with both first teams (aside from injured players) mostly still on the field, Shaun Hill comes out in the opening drive of the second half, and leads the Lions to a go-ahead touchdown, after having a potential interception nullified by a roughing-the-passer penalty.
Nate Hughes comes up huge on the ensuing kickoff with a tackle inside the Raiders' 10-yard line. The Lions special teams is looking like a completely different unit this week.
Current Score: 13-10 Lions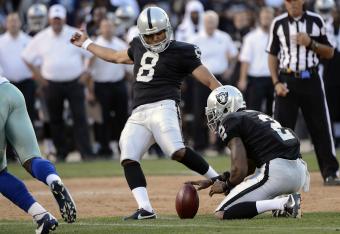 After one of the longest two-minute periods in memory, the Raiders get past midfield, and with Sebastian Janikowski nursing a groin injury, Oakland sends out Eddy Carmona to try—and hit—a 56-yard field goal.
Excellent, methodical drive by Carson Palmer on a short clock to get the Raiders in field-goal range.
Meanwhile, Matthew Stafford is showing his value to the Lions by staying out of the game. Shaun Hill, despite being given favorable field position after two turnovers and a long kick return, has been unable to produce a touchdown, or even a first down, on three drives.
Though it's hard to gauge accurately because of the injuries (and the likelihood that some Lions could play through them if this were the regular season), it seems as though the Raiders have been the better team thus far.
Oakland has produced the more steady, sustained drives on offense, though they've also turned the ball over twice (and come close more times than that).
Detroit has gotten little to nothing from the run game, and all offensive production evaporated when Stafford left the game.
In feel and in score, it's advantage Raiders at the half.
Halftime Score: 10-6 Raiders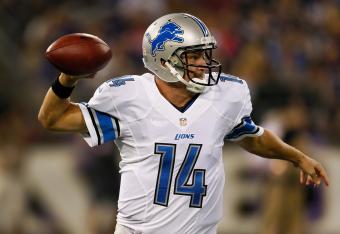 With the injuries to both starting CBs and Matthew Stafford, this game is not going as the Lions would like.
However, there is some silver lining in vastly improved special teams play. After looking like one of the worst special teams units in the league, they're been excellent in this game, with a big 80-yard kickoff return from Justin Miller, and big pops from the coverage units all game long.
Willie Young continues to be an emergent superstar, this time tipping a screen pass to himself while being blocked for an interception.
However, Shaun Hill looks lackluster in relief of Matthew Stafford, as he and the Lions' offense have produced a total of three points on back-to-back possessions that started in the red zone.
Current Score: 7-6 Raiders, (2Q, 2-minute warning)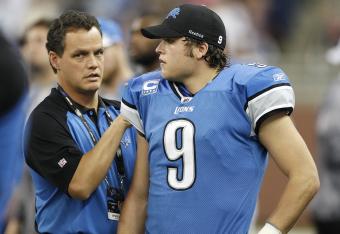 The Lions' second drive results in a punt, and the Lions' special teams coverage units look much improved, but the story of this drive is Matthew Stafford, who took a hard shot on third down and came off the field a bit gimpy.
MLive's Anwar Richardson is reporting it looks like a left hand injury, and that may end his preseason, though a non-throwing hand injury isn't too serious.
Cornerback Chris Houston is now also out with an apparent ankle injury, and the carnage in the secondary continues for the Lions.
Meanwhile, the Raiders march down the field, helped by a 35-yard pass to Darrius Heyward-Bey, and after three stops from first-and-goal at the 1-yard line, the Raiders send Darren McFadden at the goal line on fourth-and-goal from the 1.
McFadden appeared to fumble the ball short of the goal line, which was the call on the field, but a review reversed the call.
Current Score: 7-3 Raiders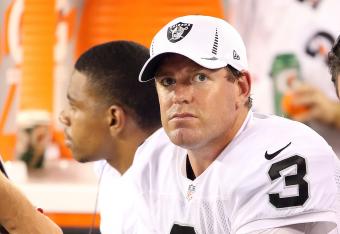 That certainly wasn't Carson Palmer's strongest drive, as he had erratic passes sail on him, or float gently to tightly-covered targets.
It's hard to say whether Palmer was just off, or he was shaken by an sharp Lions pass rush (and surprisingly reactive secondary), but it was rough work.
Titus Young is back as the Lions' punt returner in place of the injured Stefan Logan, but not much to see there as he calls for a fair catch. Still, interesting to see Young get the first-team PR reps.
If that's who the Lions want to keep back there for Logan, it could cost somebody a roster spot (like Patrick Edwards, or Logan himself).
The Lions' first drive is a successful one, and also the first of Mikel Leshoure's career.
Leshoure wasn't especially flashy, but the Lions in general were methodical getting down the field, taking advantage of some Raiders penalties and short passes to set Jason Hanson up for a 41-yard field goal.
Tony Scheffler is making his case for continuing to be a consistent target thus far, with two big receptions on that drive.
Score: 3-0 Lions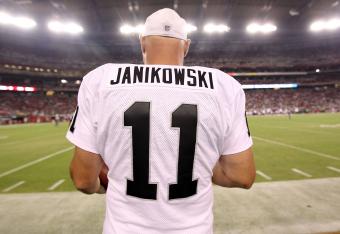 This has been the story for the Lions's defense all preseason: give up yards, but not touchdowns.
The Raiders drive into the red zone, get stopped just short of a first down, and Sebastian Janikowski misses a 30-yard field goal.
Lions offense about to take the field for the first time.
Score: 0-0
INJURY UPDATE:
According to Anwar Richardson of MLive.com, Bentley has a shoulder injury. His return is Questionable.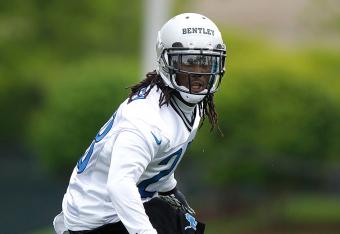 Lions kick off to start the game, and Carson Palmer and the Raiders take the field.
The story of the first drive is as follows: Lions make a great play on first down, Raiders respond with a big play on second down.
Raiders are moving the ball pretty easily, and now Lions rookie CB Bill Bentley is shaken up. Keep it here for updates.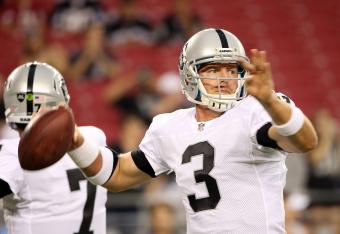 The first thing that jumps out about this game is that we have a classic case of strength vs. strength.
The Lions come in looking to polish their strong passing offense against a seemingly strong pass defense (for what it's worth, the Raiders are 2nd in the preseason in overall yards allowed and passing yards allowed).
The Raiders, meanwhile, will attempt to find their offense after scoring only 27 points so far this preseason, against a Lions defense that has struggled to stop a pair of mediocre offenses so far.
How important is all of that? Probably not very. Team statistics in the preseason mean about as much as overall record. But it's something to watch for, regardless.
Both teams have issues to work out in the preseason, and it appears that they will find a strong test in their opponents' corresponding unit.
This article is
What is the duplicate article?
Why is this article offensive?
Where is this article plagiarized from?
Why is this article poorly edited?

Detroit Lions: Like this team?