Breaking Down How Jeff Demps Fits with the New England Patriots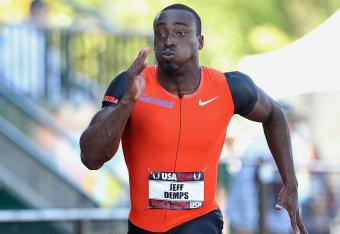 Christian Petersen/Getty Images
Jeff Demps is now with Tom Brady as a member of the New England Patriots.
Amazing.
According to Ian Rapoport of NFL Network:
Breaking: Olympic sprinter Jeff Demps will sign a contract to play for the #Patriots, per 1 of his agents, Nohemy Baltodano. Wow!

— Ian Rapoport (@RapSheet) August 17, 2012
This is one impressive move by the Pats, and Brady's bunch can't get any better. New England now fields the most versatile offense in the game today and arguably of all time.
With so much natural talent, track speed and all-around ability Demps suits Bill Belichick's team quite well. So, let's break it down and see what to expect from New England's even more dynamic offense.
Using a Third-Down Back Before Third Down
New England at this point has so many running backs that it's tough to believe Demps will contribute a heavy amount in 2012.
Still, he at the very least could be used as a third-down threat in every game situation. Whether in the backfield, on the wing, or lined up in the slot, Demps can be utilized in a variety of ways.
Obvious play calls are screens, draws and quick tosses from the backfield to get Demps in open space. Or, Brady connecting to him as a checkdown in the flats/underneath the coverage.
From the wing or slot, though, Demps will widen defenses as a horizontal rushing threat and open the playbook to more lateral screens and trickery—or at least make the opponent think of that possibility.
Football is a chess-match and the Pats are masterminds at efficiency and getting the most out of each move. Demps' addition gives way to typical play-action and a faster rollout play-action when taking a fake across the formation.
Everyone knows Brady isn't the most mobile of quarterbacks, but sending Demps in motion and then a quick fake off the jet sweep can get the future Hall of Famer outside the pocket. Even a reverse with Wes Welker is available to mess with a defense's thought process.
No matter what the play call, however, the Patriots have an even greater speed, personnel, and overall skill set advantage.
Where does Demps fit best?
The Benefits of Overall Talent
Not so much the overall talent regarding Demps as it is the Pats' offense.
Because New England offers and presents a ridiculous amount of talent to a defense, Demps isn't going to face many (if any) unfavorable situations.
No opponent is going to load the box when he's in the backfield, because the receiving threats are far too threatening to risk Brady splitting every zone or putting the rock spot on against man coverage. Also, defenses can't afford to put more than one linebacker spy on him as that simply opens up the middle of the field for the Pats' receiving targets.
And that sole linebacker—no matter who it is—is never going to be quick or fast enough to blanket Demps in man coverage. Shallow zones could be a potential concern during the early stages of his development, though.
Possessing so much track speed and acceleration, Demps will have to learn more body control when part of a passing play and utilizing his gears to the Pats' advantage. But, he can also split a deep Cover 2 zone or force a middle Cover 3 safety back which again will open up the intermediate routes.
In the ground game if anything, defenses will need to try corner blitzes in the hopes of limiting Demps' chances to get outside on tosses, sweeps or counters. Still, if it's a one-on-one battle, Demps only needs a small amount of space to make one cut.
His explosiveness and running form by itself will beat linebackers to the edge and then allow him to outrun any defensive back once past the first level.
Special Teams to Complete the Pats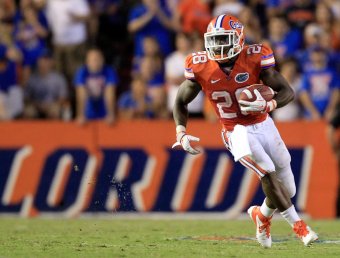 Sam Greenwood/Getty Images
If the Patriots want another major competitive edge, they must try Demps as a return man.
Last season Danny Woodhead and Julian Edelman acted as the two primary kickoff returners, but neither come close to the potential of Demps. He served as a kick return man at Florida and averaged 28.8 yards per attempts for his career.
Presenting Olympic track speed on the kickoff is the best area to first put Demps.
It forces a kicker to boot the rock out of the end zone, because the man's quick acceleration will fly past any kickoff team. Another bright side of his presence will cause more touchbacks, so New England won't ever start a possession behind the 20-yard-line.
And in bad weather games where kickoffs will be shorter, Demps can get a running start to increase the odds of scoring and better field position. It's that or kicking the ball out of bounds to isolate his threat. Unfortunately, the latter only makes life easier for Brady and Co.
Opponents are in a lose-lose situation with Demps back deep. Combing his return-man experience vision from being a running back and his speed, New England will have the best offense and special teams units in 2012.
Follow John Rozum on Twitter.

This article is
What is the duplicate article?
Why is this article offensive?
Where is this article plagiarized from?
Why is this article poorly edited?

New England Patriots: Like this team?