The Los Angeles Lakers Win. Again.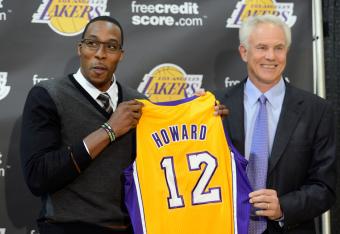 Kevork Djansezian/Getty Images
Only the Lakers could pull off such a blockbuster trade that threw the Olympics and the start of the NFL season off the front pages and threw Sportscenter's evening lineup completely out of whack. To say nothing of launching the entire Laker fanbase and the city of Los Angeles into the kind of jubilation we haven't felt since 2010's NBA Championship.
Feels pretty good, doesn't it? I've said it before and I'll say it again: The Los Angeles Lakers are not in the business of being also-rans.
Mitch Kupchak is easily the best GM in the NBA and one of the top five in professional sports. Not only did he keep his cool after David Stern killed the Chris Paul trade, he went out and got Ramon Sessions at the trade deadline to at least keep the Lakers competitive.
Then, he flipped the Lamar Odom trade exception to arch rival Phoenix to acquire Steve Nash which instantly made the Lakers better. Then he cagily kept pursuing Dwight Howard, all while Howard was rehabbing from his back surgery here in Los Angeles, allowing the city to work its seductive charms on the 26-year-old center.
Not so bad here, is it Dwight? I promise you, you will never again be booed at a Dodgers game. In case you don't understand why that happened I'll explain it to you. Lakers fans cannot fathom any response to an offer to join the team that does not elicit the following: "You want me to join the Lakers? Where's the contract? Get me a pen."
When the cameras catch Howard next time at a Dodgers game, probably sitting next to some ex-Laker named Magic, the cheers will be deafening.
My favorite part about this whole deal is imagining Mitch Kupchak and Jim Buss in the Lakers' front office after the league officially approved the trade lighting up cigars and enjoying the thought of David Stern's blood boiling over in London. Take that Dan Gilbert. We'll see your competitive balance and raise you title no. 17.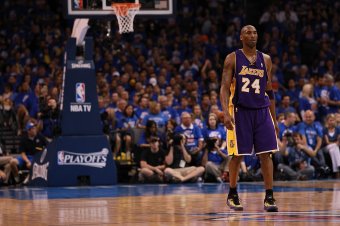 Ronald Martinez/Getty Images
Speaking of Jim Buss, major kudos to him. Unless you live in L.A. it's kind of hard to appreciate what he has just done. I was never on board with the Jim Buss era. Honestly, all Lakers fans were so spoiled by the terrific stewardship of the franchise under his father Dr. Jerry Buss that any transition was bound to be difficult.
And it hasn't always been smooth. The hiring of new coach Mike Brown to replace departing legend Phil Jackson was handled clumsily. And because Jim Buss didn't do a lot of media interviews to articulate his vision of the future, the media filled the vacuum with speculation ranging from cost cutting, to Kobe Bryant's falling off, to Andrew Bynum becoming the next face of the franchise.
But Bynum's antics wore thin this year. Remember, this franchise considers any season that does not end with a title to be a bust. Bynum thought he was untouchable and there wouldn't be consequences for, among other things, blowing off a meeting with Kupchak, loafing during critical games, not always giving max effort and getting tossed from games at the most inopportune times.
The turning point was not stepping up when Kobe had his flu game in the playoff series against Denver. Completely and totally unacceptable. You do not show up the front office and ownership on national TV and not expect there to be consequences.
Bynum has since been traded to the 76ers. In the process, Jim Buss put the Lakers, their fans and the entire NBA on notice. The Los Angeles Lakers are about winning championships. Period. They don't rebuild, they reload.
I am not the least bit worried about the fact that Howard will be a free agent at the end of the season. Once you get your first taste of playing at Staples wearing the purple and yellow, there is no going back.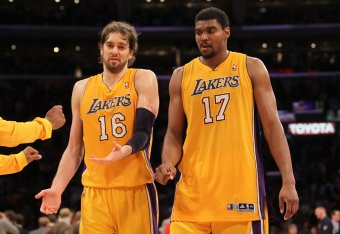 Stephen Dunn/Getty Images
In the unlikely event that Howard gets used to this adulation, wait until it all starts all over again during the playoffs. Lakers playoff games are at a level of intensity and excitement you can't imagine.
Actually, Howard experienced it in 2009 from the visitors bench while the Lakers went on to win the title that year. And they could again this year.
The starting lineup is amazing. Steve Nash, Kobe Bryant, Paul Gasol, Metta World Peace and Dwight Howard.
Those are five pretty good reasons the Lakers are a legit title contender again. Dwight, get ready. You're about to see what showtime is all about.
This article is
What is the duplicate article?
Why is this article offensive?
Where is this article plagiarized from?
Why is this article poorly edited?

Los Angeles Lakers: Like this team?