Redskins vs. Bills: 3 Burning Questions for Thursday's Preseason Game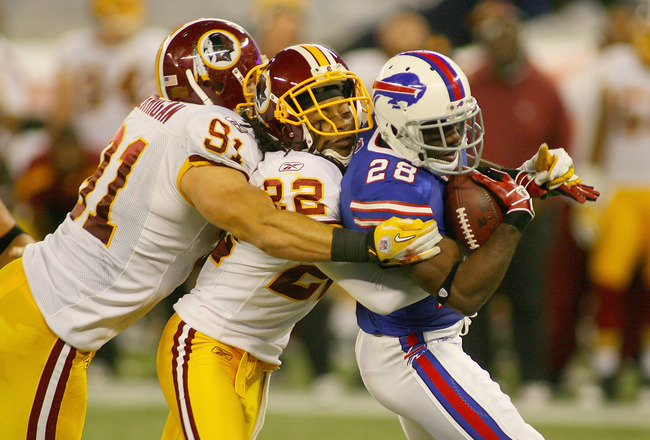 Rick Stewart/Getty Images
The Redskins come into this year with an underrated defense and a potential saving grace in Robert Griffin III. The 2011 Heisman Trophy winner provides a long overdue air of legitimacy to the Redskins offense, making them a viable contender in the rugged NFC East.
This piece will examine three questions heading into Thursday night's game. The Buffalo Bills will be the first team to get a live look at RG3 in action as a Redskin before the regular season starts.
How Will RG3 Perform?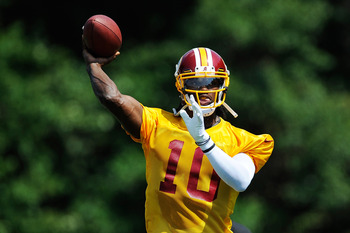 Patrick McDermott/Getty Images
It's the most obvious question on everyone's minds, so let's get it out of the way first: How will RG3 perform in his professional debut?
We are not sure how many snaps or series Mike Shanahan will give the new Redskins signal caller, but I wouldn't be surprised if he played the entire first quarter or more.
Unlike the Hall of Fame game, where Drew Brees was pulled after one series, RG3 needs practice. Griffin needs to get as many repetitions in as early as possible so that he can be ready in Week 1.
The balancing act that Coach Shanahan will have to perform with Griffin will be limiting his exposure to injury. Every player has a certain amount of hits they can take before breaking down. The Redskins cannot afford to lose Griffin in the preseason.
If the offensive line is able to protect Griffin well enough, Shanahan will likely give him extra snaps. But if the Bills defensive line (one of the most underrated in the NFL) gets early hits on Griffin, do not be surprised to see Shanahan put Grossman in the game.
How Will the Secondary Perform?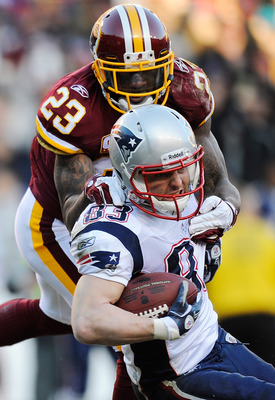 Patrick McDermott/Getty Images
Last season the Redskins secondary was one of the weakest parts of the team. There is major turnover this year, as Laron Landry and OJ Atogwe are replaced by Brandon Meriweather, Tanard Jackson and Madieu Williams.
While there are major changes at the safety positions, there is consistency at cornerback with DeAngelo Hall and Josh Wilson.
The Redskins defense is underrated as a unit, but the secondary is not carrying its weight. The cornerbacks need to become more consistent and give up fewer deep balls. The safeties need to communicate and work with the rest of the defense as one cohesive unit.
Heading into Thursday night's game, it will be tough to truly gauge how the secondary is performing, especially in one quarter or less of play.
Does RG3 Have a Favorite Target?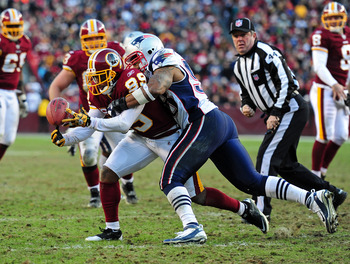 Scott Cunningham/Getty Images
Another burning question that could be answered on Thursday is to whom Griffin III will be throwing the ball. The receiving corps is loaded with talent this year and everyone is curious to see if RG3 will find a Kendall Wright-type on the Redskins.
Pierre Garcon and Santana Moss are atop the depth chart and both have elite speed to stretch the defense. If I had to guess, I would say that Pierre Garcon stands the best chance of becoming the lead receiver. He has been making some impressive catches in tight coverage at training camp.
It will take some time to see who Griffin favors amongst the receiving corps, but it is never too early to start taking notes. Pay attention to whom RG3 is targeting early on, as they could have a big season.
Keep Reading

Washington Redskins: Like this team?