Philadelphia Phillies: 5 Deadline Trades the Phillies Could Make to Get Younger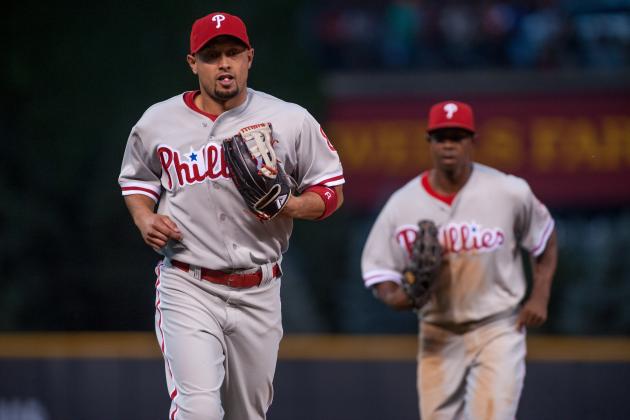 Dustin Bradford/Getty Images

The 2012 Major League Baseball trade deadline is only a matter of hours away. After the Philadelphia Phillies' abysmal showing this weekend against the Atlanta Braves, it is beyond clear that this team, as is, cannot be a winning ball club.
With their playoff hopes for 2012 almost eradicated and the time for change being now, the Phillies must get younger—a lot younger.
There are clear holes in this $170 million last-place team, and some—if not most—of those holes can be addressed. Third base, left field, center field, middle relief and most recently the starting rotation all need a shot in the arm.
Phillies veterans are showing their age. Ruben Amaro Jr. must take control and make some serious changes if the Phillies wish to compete in 2013 and beyond.
Out with the old and in with the new.
Begin Slideshow

»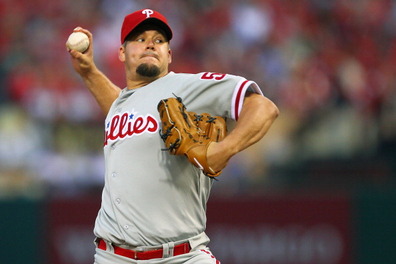 Dilip Vishwanat/Getty Images

Joe Blanton will turn 32 in December, and with his contract expiring at the end of the 2012 season, it would benefit the Phillies to trade Blanton before the deadline.
Phillies prospect Tyler Cloyd is having an unbelievable season at Triple-A, which now makes Blanton expendable.
By trading Blanton, the Phillies can get younger and use the $8.5 million Joe was paid in 2012 to fill other voids. Joe has pitched very well as of late, and there are many Wild Card bubble teams who can benefit from a quality starter.
According to Jim Salisbury of CSNPhilly.com, the Orioles and the Blue Jays had top scouts peek in on Blanton's start at Turner Field on Saturday night.
The Toronto Blue Jays have the offense to make a late-season push. To date, they find themselves 3.5 games behind a Wild Card spot. With the addition of Joe Blanton, they can become serious contenders.
In Toronto's farm system, they have two very talented outfield prospects (Anthony Gose and Jake Marisnick) who could help replenish an extremely lackluster Phillies minor league system.
If they could receive one of these outfielders and a minor league bullpen piece, Ruben should act quickly and send Joe north.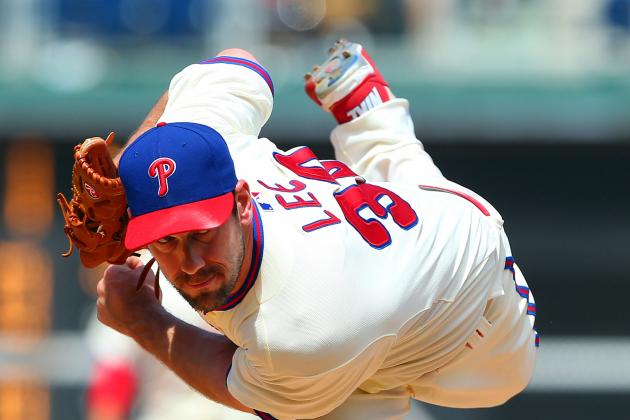 Rich Schultz/Getty Images

Watching the Philadelphia Phillies' series in Atlanta this past weekend, it is more than clear that the Phillies are in desperate need of third base help.
Cliff Lee will turn 34 in August, and if they can move him for a major league-ready third base prospect, they should jump all over it, even if that means eating a portion of Lee's large contract.
Major league pitchers make only 34 starts in a 162-game season. If a deal can bring in a player that can contribute on a daily basis in a spot where the Phillies are desperate for production, Ruben Amaro Jr. needs to make that happen.
If a deal centered around Texas Rangers prospect Mike Olt or Detroit Tigers prospect Nick Castellanos can be made by dealing the overpaid, aging Cliff Lee, it simply must be made.
There is virtually no third base market this offseason, with the exception of David Wright, who the Phillies simply cannot afford.
The Phillies need a quality everyday third baseman. If they don't get one, the problems of 2012 will repeat in 2013.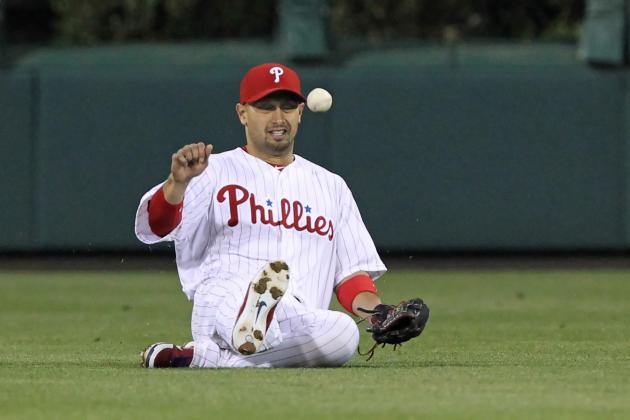 Hunter Martin/Getty Images

Shane Victorino will turn 32 in November, and it appears that his days in a Phillies uniform are numbered.
With the Phillies being swept by the Braves, the selling process is likely to begin with Victorino, who will become a free agent at the end of the season.
The Phillies are in desperate need of a dependable bullpen piece. The current bullpen has three or four players who are not ready for major league competition, and it needs to be addressed immediately.
According to Jayson Stark on ESPN.com, the Phillies have shown interest in reliever Wade Davis of the Tampa Bay Rays.
If the Phillies can manage to swing a deal for Davis, he is a piece who is under team control for quite sometime. According to Marc Topkin of the Tampa Bay Times, the contract is worth at least $12.6 million for four seasons, with the Rays holding team options for 2015, 2016 and 2017 which, if exercised, would be worth an additional $22.5 million.
This seems to be a bit lengthy and expensive for a bullpen piece, but the Phillies may be able to negotiate to have the Rays incur some of that cost.
Either way, Victorino will most likely be moved by Tuesday's 4 p.m. trade deadline. If Wade cannot be acquired, the Phillies need to bring in some sort of bullpen help.
Shane has really been playing well since the All-Star break. Hopefully, Ruben Amaro Jr. can use this to his advantage and address the problems of his team's terrible bullpen.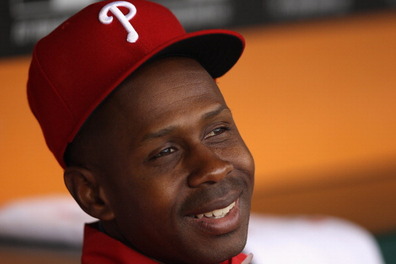 Ezra Shaw/Getty Images

Juan Pierre has been one of the few rays of sunshine in the Phillies' dismal 2012 season.
His .306 average and 23 stolen bases have been way more than the Phillies ever hoped for.
He probably should be the Phillies' leadoff hitter, but Charlie Manuel sees things differently.
Juan will turn 35 in August, but he has shown he can still steal bases and hit for a high average.
Jim Salisbury of CSNPhilly.com reports the Cincinnati Reds have shown interest in Pierre. The team is looking for a leadoff hitter to set the table for their team's bigger bats.
What can the Phillies expect in return for Pierre, who is only making $800,000 this season on what was a minor league deal?
Probably not much, but if the Phillies can get a quality minor league arm for an aging player on what started as a minor league deal, it will be seen as a win-win for the Phillies.
If the Phillies move multiple outfield positions, this will free up a spot for Domonic Brown. It is time to let him play every day and see what he's got.
John Mayberry Jr. has been a disaster this season. He simply does not have the skills to be an everyday player at the major league level.
Let's just hope Pierre is moved to a contender. His work ethic and great attitude makes Juan one of the greatest personalities in the game today. He works harder than the majority of the Phillies on the current roster, and they all could learn something from him.
Best of luck, Juan.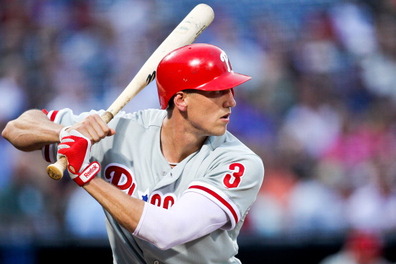 Daniel Shirey/Getty Images

Hunter Pence is 29 and will make $10.4 million in 2012, with another arbitration raise coming in 2013 somewhere between $12-$14 million.
What makes him the most valuable trade piece for the Phillies is that he is under team control for the 2013 season and will not just be a rental player.
He is one of the younger quality players on the Phillies, but he could bring a boatload of quality prospects in a trade.
Rumors report that there are two teams interested in Pence.
The Giants are eyeing Hunter Pence, Jon Heyman of CBSSports.com tweets.
Ken Rosenthal of FOX Sports reports the Dodgers might be able to afford him. Pence earns $10.4 million in 2012 and will get a raise through the arbitration process this coming offseason.
Which of these teams will be the better fit for the Phillies in a potential deal? Good question.
The Giants have two outfield prospects. One is Gary Brown, a first-round pick currently having a quality season in Double-A. The other is Francisco Peguero, who is currently in Triple-A and having a mediocre season.
The Giants also have some pitching prospects, but the Phillies need a high-end position player or two in order to make a deal worthwhile. Overall, the Giants have a very weak farm system that doesn't seem to have what it takes to make a deal.
The Dodgers' farm system is full of pitching prospects and not much else. In order for a deal to get done, it will have to include outfield prospect Joc Pederson, a 20-year-old with plus power.
Both teams do not seem to have what the Phillies would need in order to move a talent like Pence. As the deadline approaches, keep your eyes open to see if other teams will rise and get into the mix for Pence.