Boston Celtics: 10 Best Games of the 2012-2013 Season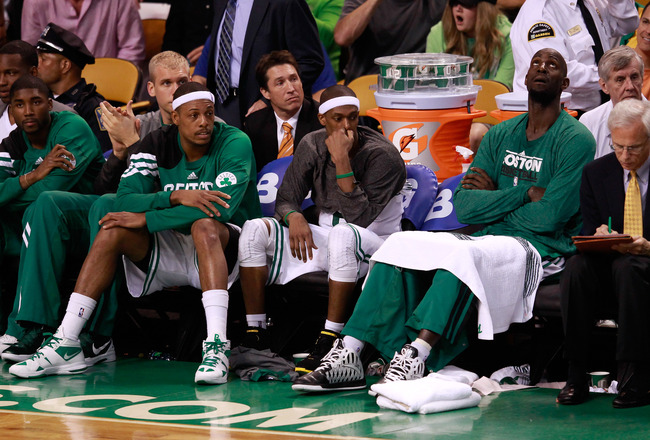 Jared Wickerham/Getty Images
The NBA recently released the schedules for all 30 teams, including the Boston Celtics. Personally, I look forward to every game, but let's be honest, it's hard to get pumped up for, say, a Wednesday night game against the Bobcats.
There are always games that carry more weight and, justifiably, draw a larger audience. Now, we can all take to the schedule and circle those big games. These games will be exciting and, likely, big tests for the Celtics. Every Celtics fan should tune in to these 10 games.
Oct. 30 at Miami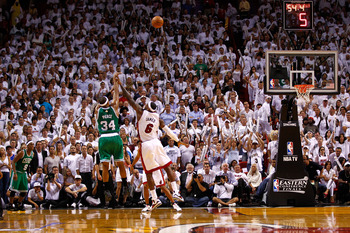 Mike Ehrmann/Getty Images
The Celtics ended their season at the mercy of the Heat. Next year, they will start the season against the Heat.
I can assure you that after a seven-game series and Ray Allen crossing sides, there will be no love lost between these two teams. Also, before the game, the Heat will be given their championship rings and I'm sure that the Celtics will not like seeing that after coming so close to competing for a championship themselves.
Expect the Celtics to come out swinging and take this first game of the season.
Dec. 7 and 8 Against the 76ers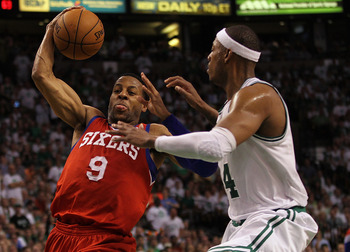 Jim Rogash/Getty Images
Sticking with the theme of playoff rematches, the Celtics will face off against their second-round opponent, Philadelphia 76ers twice in that many days. The 76ers may not have re-loaded like the Celtics have, but they still came within one game of advancing and will definitely be out for revenge.
Expect the Celtics to beat the 76ers in Philly on ESPN Friday night, led by Rajon Rondo who loves nationally televised games. However, the next night, in Boston, the Sixers could get their revenge as the Celtics do not play well in back-to-back games.
Dec. 14 at Houston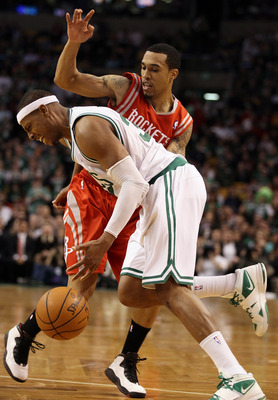 Elsa/Getty Images
Any time you make a trade with a team, it is always interesting the next time you play them. Such will be the case when the Celtics travel to Houston with newly acquired Courtney Lee. Not only will Lee be able to play against his former team but JaJaun Johnson may get to play against the team that drafted him.
Also, it is always fun when the Celtics play against Boston fan favorite Kevin McHale, just like how it is always fun when the Celtics make deals with McHale.
Dec. 15 at San Antonio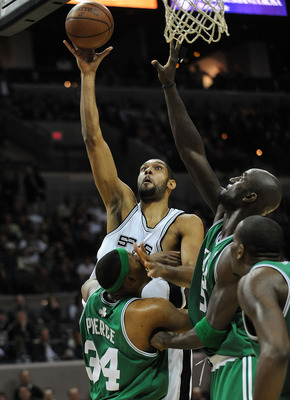 Ronald Martinez/Getty Images
The San Antonio Spurs and Boston Celtics are two incredibly similar teams. Both of them have an old and championship experienced core. More intriguing is that both teams have two of the best power forwards ever who aren't exactly good friends.
It's always fun to see two Hall of Famers like Garnett and Duncan go at it just like it's fun to watch two great coaches like Doc Rivers and Gregg Popovich game-plan against each other.
Given the Celtics better offseason though, they will likely take this one from their Western Conference counterparts.
Christmas Day at Brooklyn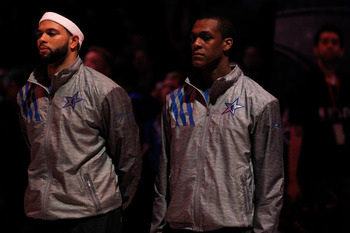 Ronald Martinez/Getty Images
Christmas is a great day filled with gift-giving, family time and, oh yeah, basketball. Last season the Celtics opened with a choke against the Knicks on Christmas Day. Next season, the Celtics will face off against the other and seemingly now better New York team on Christmas Day.
Two of the best point guards in the league will face off in Rajon Rondo and Deron Williams. Not only that though, but a faceoff of the two biggest competitors in the Atlantic Division. Come the end of the season, the head-to-head matchups between these two teams could have playoff seed implications.
Jan. 7 at MSG
Chris Trotman/Getty Images
The Celtics and Knicks were arguably the closest competitors last season. Their first two games against each other were decided by two points while the next game went into overtime. All of the games also featured big games from the stars, and Steve Novak. Paul Pierce had two big games, Rondo had a big triple-double and Carmelo Anthony had a huge triple-double as well.
The stars always come out at Madison Square Garden and this game should be no different. Expect another great one between these two old-time rivals.
Jan. 16 Against the Hornets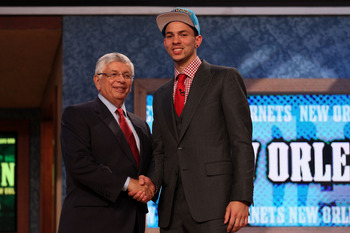 Elsa/Getty Images
Nothing like a good old father son matchup. Sure, this may not be like old times in the Rivers' driveway with Doc and Austin playing one-on-one, but it will still be fun to watch nonetheless. Austin will be a good NBA player and it will be fun to watch him play against his father's team.
Over the years, Austin has probably become friendly with a lot of the players on the Celtics. Now, he will be playing against them.
Another interesting sub-plot will be young Anthony Davis playing against Kevin Garnett. There is no doubt that this game will be fun to watch, even if the Celtics will win by double digits.
Jan. 27 Against the Heat at the Boston Garden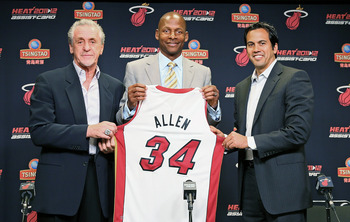 Mike Ehrmann/Getty Images
Ah, our old friend Ray Allen returning to the place where he was cheered for nearly five years. Will he be booed? Yes. As much as LeBron? Probably.
It's a sad day when Ray Allen is being booed at the Boston Garden, but he dealt his own hand when he signed with the rival Miami Heat. The best part of this game though will be that when Allen is being smothered by Avery Bradley and has a terrible game. Then, he will realize that he shouldn't have started.
Feb. 7 Against the Lakers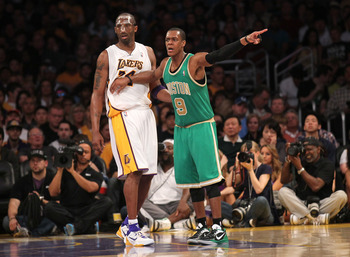 Stephen Dunn/Getty Images
The Heat may be the Celtics newest rivals, but that can still never take away from the intense and constant rivalry with the Los Angeles Lakers. It's also not too far-fetched that there could be a Celtics-Lakers Finals again.
Both teams have had great offseasons and appear poised to make strong runs at an NBA championship. Don't count either of these old teams out and make sure to tune in to this game between the biggest rivals in the NBA.
March 10 Against the Thunder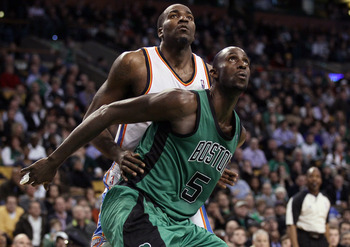 Elsa/Getty Images
Sunday afternoon games are always fun to watch, especially when the defending Western Conference champion Oklahoma City Thunder are playing. It will be youth and talent against age and talent.
The Thunder may have a better frontcourt with former Celtic Kendrick Perkins and Serge Ibaka. Meanwhile though, the Celtics may have better depth with former Thunder forward Jeff Green.
Both teams look to be supremely talented next season with the talent they lent each other, and this should make for another great game for the Celtics. Make sure to tune in to this game on Sunday at 1 p.m. EST.
Keep Reading

Boston Celtics: Like this team?