5 Trade Deadline Moves to Better the Philadelphia Phillies for 2012 and Beyond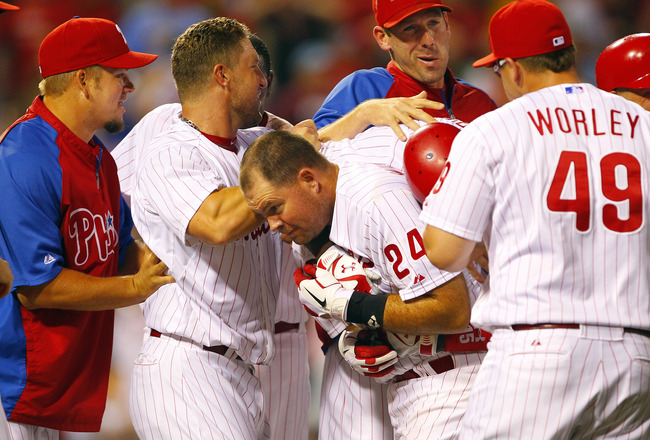 Rich Schultz/Getty Images
With the 2012 trade deadline rearing its ugly head, the Philadelphia Phillies have a little over four days to improve their club for a late season push. With Cole Hamels locked up for the next six to seven years, Phillies nation can finally breathe a sigh of relief. Unfortunately, there are still several voids on their current 25-man roster that need to be addressed for this season and the foreseeable future.
With a farm system that has been virtually depleted with recent acquisitions, the Phillies need to look outside the organization for help, unless they are willing to role the dice on prospects like Domonic Brown.
Furthermore, with Cole Hamel's $144 million deal, one or more of the Phillies players must be on the move to free up some money.
Middle relief, third base and two outfield positions are all a cause for concern, but with a trade or two the Phillies may be in the position to fill those roles.
Trade Joe Blanton for Middle Relief or Cash Consideration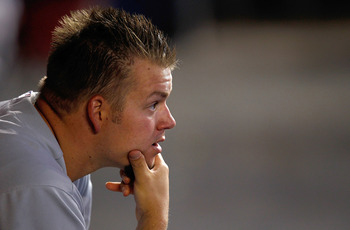 Sarah Glenn/Getty Images
Joe Blanton will earn $8.5 million in 2012, he is in the last year of a three year, $24 million deal. Joe has had an up and down season with brief showings of brilliance while managing to give up an insurmountable number of home runs, 22 to be exact.
If Ruben Amaro Jr. is able to move Joe Blanton for some sort of middle relief help and a few million dollars in cap relief he should jump all over it. With the budget for the starting rotation on lock for several years, it is almost guaranteed that Joe Blanton will not be in a Phillies uniform next season, especially with Phillies Triple-A starting pitcher Tyler Cloyd having one of the best seasons in Lehigh Valley Iron Pigs history.
Just about any veteran bullpen piece with a sub 4.00 ERA will do, just as long as his name is not Chad Qualls.
Trade Vance Worley for Middle Relief or Third Base Help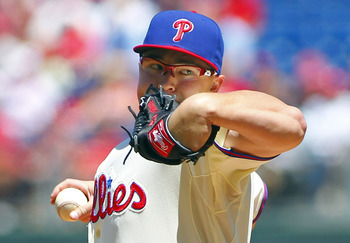 Rich Schultz/Getty Images
Vance Worley has put together a very respectable sophomore season. He's currently 5-6 with a 3.88 ERA in 17 appearances, while tossing 102 innings with 91 strikeouts and only 36 walks.
With starting pitchers coming off the market at a rapid pace and only two big names left on the market in Zack Greinke and Ryan Dempster. Vance could bring the Phillies some pieces they could use for the future. Whether Worley is apart of a combination of other Phillies in a deal or a centerpiece, quality-starting pitching is always in demand at the major league level, especially now with the second wild-card spot.
Vance will mostly likely bring the Phillies a quality relief pitcher, or help bring in a third baseman, preferably San Diego Padres Chase Headley.
Trade Cliff Lee for Mike Olt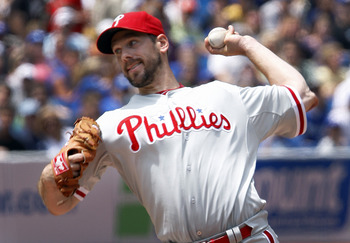 Abelimages/Getty Images
Cliff Lee is having one of the worst seasons of his otherwise quality career. 1-6 with 3.95 ERA appears like it's not worth the $21.5 million he will earn in 2012, but don't let his win-loss record fool you. He still has thrown over 118 innings with a great strikeout to walk ratio (112 Ks to 23 BB).
The Phillies are in desperate need for a third baseman with the light-hitting Placido Polanco on the disabled list and Ty Wigginton's inability to play third base at all.
Enter the Texas Rangers, who are in desperate need for a quality starting pitcher with Colby Lewis to miss the remainder of the season with a torn flexor tendon. They also happen to have one of the premier power hitting third base prospects Mike Olt, whose path to the major leagues is blocked by Adrian Beltre who is signed until 2015 with a 2016 voidable option.
If this isn't a match made in heaven, I don't know what is. Everything here makes sense and with the free-agent third base market looking quite terrible, this is an essential move for the Phillies.
If the trade happens, Olt could be starting at third base for the Phillies by next week.
Trade Shane Victorino for Middle Relief or Outfield Prospects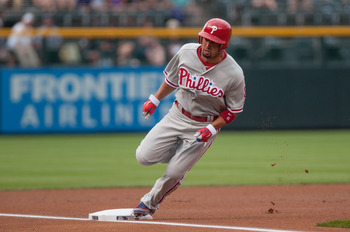 Dustin Bradford/Getty Images
Shane Victorino has had a disappointing season to say the least. His body language up until a week or two ago showed us his current contract situation is weighing heavy on his performance.
According to Multiple sources including Paul Daugherty of the Cincinnati Enquirer (via Hardball Talk) Shane Victorino was close to becoming a Cincinnati Red. Daugherty reported that the Reds turned down a trade for 26-year-old, relief pitcher Logan Ondrusek.
Thank you Cincinnati, while many were calling for Victorino's head earlier in the season, he has recently found his left-handed swing. The more improvements he shows, the higher his trade value becomes.
It seems the Phillies simply do not have the money to extend Victorino, so the Phillies should try and get something for him before he leaves via free agency. An outfield prospect would look nice for the Phillies, the Pittsburgh Pirates have Starling Marte, who would fit well in the Phillies lackluster farm system. Will the Pirates ship out one of their most highly prized prospects for a rental player? Probably not, but the Pirates haven't made the playoffs in what seems like forever, maybe investing in a spark-plug like Victorino can help them get to the promise land.
If the Phillies do not sweep or win this weekend's series against the Atlanta Braves, look for Shane to be dealt shortly after.
Trade Hunter Pence for Prospects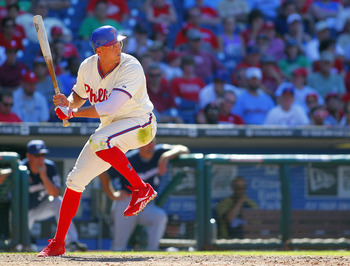 Rich Schultz/Getty Images
Phillies right-fielder Hunter Pence may have the most trade value out of any of their other players. He is a middle of the lineup power bat from the right side and is also under team control for the 2013 season.
Pence is a player who can be tough to watch, his concentration tends to scatter, mis-playing balls in the outfield and swinging at pitches feet out of the strike zone. On a positive note, he does have 59 RBI and 17 home runs. Many teams will be interested in that type of production.
In 2013, Hunter is arbitration eligible and is probably due another significant raise. Pence will make $10.4 million in 2012 and will make anywhere from $12-$14 million in 2013. Moving Pence will save a lot of money in 2013 and could bring a significant package of prospects to Philadelphia. Also, by moving his contract, the Phillies look to add a center fielder like Michael Bourn or Angel Pagan. The Phillies will also be able to bring in some bullpen pieces with their savings.
Again, it all comes down to the next few days, if the Phillies stay hot, they will likely hold onto Pence. If not, he could be dealt.
Only time will tell.
Please leave your thoughts and comments below.
Keep Reading

Philadelphia Phillies: Like this team?