Giants vs. Dodgers: Comparing the Position Players before the Weekend Showdown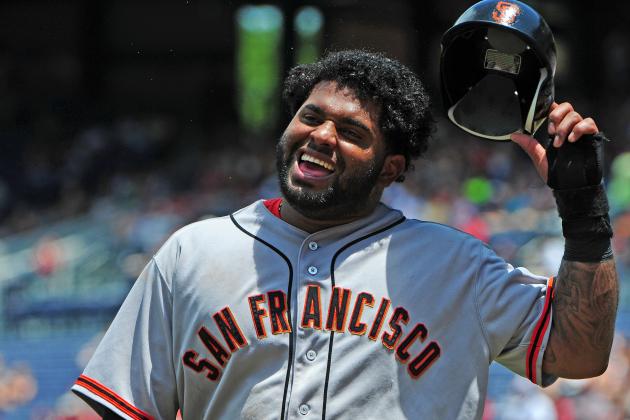 Scott Cunningham/Getty Images
The Giants need a healthy Panda to hold off the Dodgers.
Nearly one year ago to the day, the San Francisco Giants went into a weekend series against the Cincinnati Reds with a comfortable lead in the National League West, and the newly-acquired Carlos Beltran in the fold to fortify the offense. Alas, that weekend series was the beginning of the end, as the Giants were swept by the Reds, and Beltran went down with a wrist injury shortly thereafter.
The showdown out west between the Giants and Dodgers this weekend has a chance to be a turning point this season. The Dodgers made a big splash this week by acquiring Hanley Ramirez from the Miami Marlins, and rumors are swirling that the Dodgers will soon upgrade their rotation as well.
The Dodgers trail the Giants by 2.5 games, but momentum is on their side. The Giants may be without Pablo Sandoval this weekend as he attempts to avoid the disabled list with a hamstring strain. Meanwhile, Tim Lincecum was lit up again on Wednesday after two promising starts to begin the second half. His ERA is now a National League worst 5.88 after his latest debacle.
The Giants may also make a change at first base this weekend as Brandon Belt is mired in a 7-for-51 slump in July with 22 strikeouts and no home runs.
The Dodgers are third in the National League with a 3.32 ERA, slightly ahead of the Giants (3.45 ERA, fourth best in the NL). With the pitching staff's fairly even, let's break down the starting eight for both squads.
Begin Slideshow

»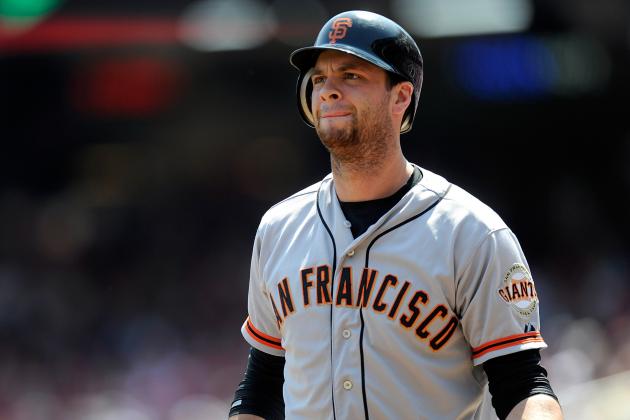 Greg Fiume/Getty Images

James Loney was Brandon Belt before Belt was even in high school. Loney was a top prospect in the Dodgers' farm system, and he looked like the real deal during his first two seasons in the big leagues when he hit a combined .321/.375/.543 with 19 home runs over 486 plate appearances.
Loney has gone in the tank since 2007, getting worse nearly every season while hitting a combined .278/.337/.402 from 2008 through this season. So far this year, Loney is hitting a career worst .248/.303/.328.
Loney is a good example that not all prospects, even those that start out well, cut it in the big leagues. Belt hit .343/.457/.596 in his minor league career, but has followed that up with a .227/.325/.391 line so far in the big leagues.
First base is basically a wash, with both teams eager for an upgrade that probably doesn't exist. The Giants may give Aubrey Huff another shot to reclaim the job this weekend, but over the past two seasons he's been worse than Loney and Belt, hitting just .237/.305/.359.
Advantage: No one.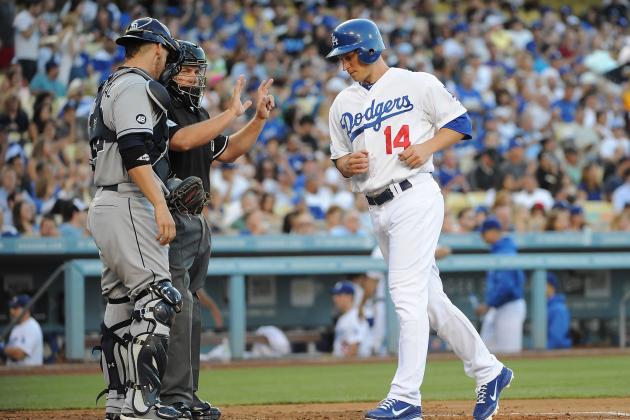 Lisa Blumenfeld/Getty Images

Second base is the property of gritty, veteran games for both squads.
Mark Ellis spent time on the disabled list with a severe leg injury earlier this season, but when he's been solid when healthy, hitting .260/.352/.354. It's an absolute travesty that Ellis has never won a Gold Glove because he's been one of the best defenders in the game over the past decade.
Ryan Theriot also spent time on the disabled list earlier this season after he attempted to play through an elbow injury that hampered his performance. Since returning from injury, Theriot has swung the bat very well, raising his seasonal line to .282/.328/.333.
Advantage: Slight edge to the Dodgers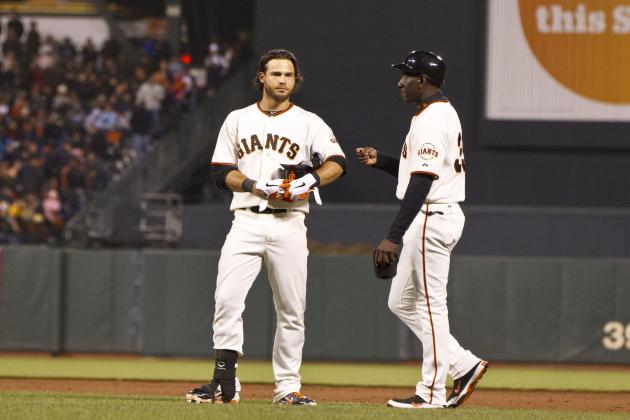 Jason O. Watson/Getty Images

While both squads went with veteran grinders at the keystone, youth has been served at shortstop.
The Giants turned the position over to the 25-year-old glove man Brandon Crawford, while the Dodgers went with 24-year-old speedster Dee Gordon, the son of former pitcher Tom "Flash" Gordon.
Crawford struggled a bit with the glove in the earlier going, but he's smoothed things out lately, showing off plus range and a big arm.
Gordon is currently on the disabled list, but he was even worse than the light-hitting Crawford at the plate while also struggling in the field (-13 Ultimate Zone Rating).
Advantage: Giants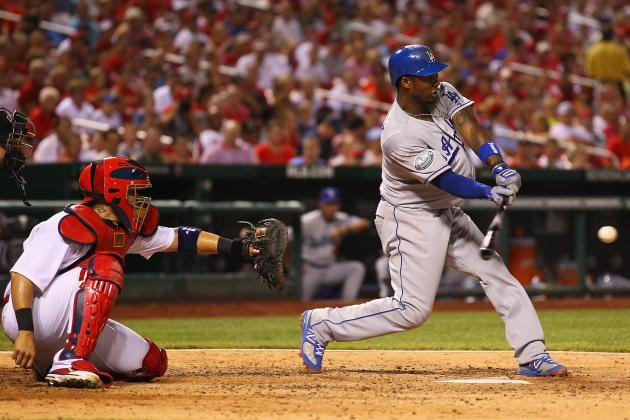 Dilip Vishwanat/Getty Images

The hot corner is another position where these two teams are very similar now. Before this week, the Giants had a huge advantage at third base, but the acquisition of Hanley Ramirez by the Dodgers levels the playing field.
Ramirez has struggled to hit over the past two seasons, but the change of scenery should help him rediscover the form that made him a perennial MVP candidate up until last season. Manager Don Mattingly was instrumental in turning around Matt Kemp's career, so perhaps he can work similar magic on Ramirez.
Pablo Sandoval has also battled inconsistency throughout his career as he struggles with discipline at the plate on the field as well as off of it. Injuries are starting to take a toll, as Sandoval has missed time with broken hamate bones in each of the last two seasons. He also battled a shoulder ailment last season and he recently suffered a hamstring strain that could force him to the DL.
Advantage: Slight edge to the Giants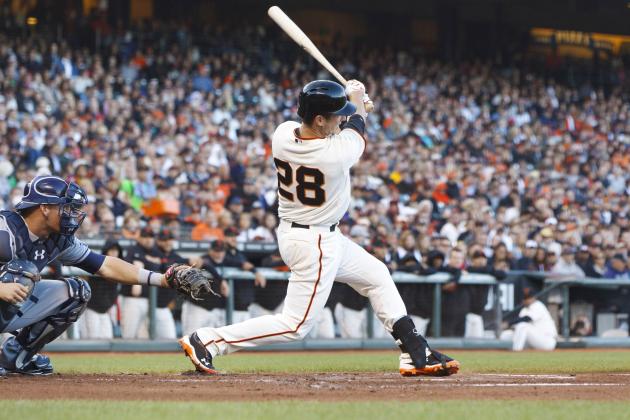 Jason O. Watson/Getty Images

Catcher has been a strength for both squads.
Buster Posey has returned from a catastrophic home plate collision that wiped out his 2011 season to hit .313/.379/.500 with a team-leading 13 home runs, good enough to start the All-Star Game for the National League.
Journeyman A.J. Ellis is making good on his first chance to be an everyday catcher at age 31. He's hitting a very respectable .277/.389/.403 with a team-leading 45 walks.
Advantage: Giants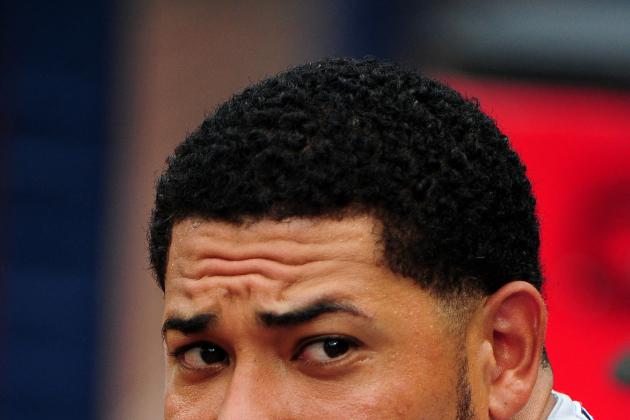 Scott Cunningham/Getty Images

Melky Cabrera also started the All-Star Game alongside his teammates Buster Posey and Pablo Sandoval. He's hitting .356/.398/.529 with 32 extra base hits and 11 stolen bases on the season.
Bobby Abreu was a shrewd waiver-wire pickup by Dodgers general manager Ned Colletti. Abreu's power is gone at this late stage of his career, but his .356 on-base percentage has been a massive upgrade over Tony Gwynn and Juan Rivera in left field.
Advantage: Giants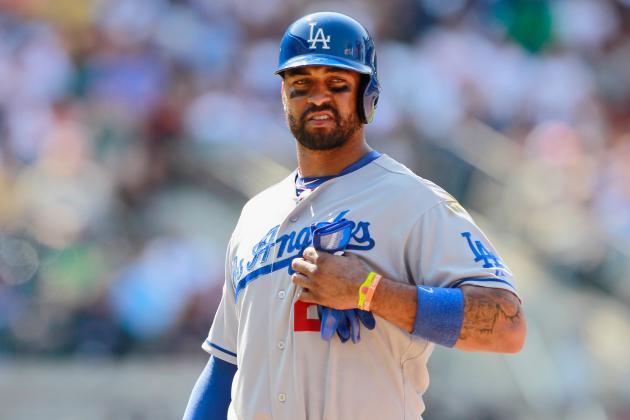 Mike Stobe/Getty Images

Matt Kemp has been a monster this season in the 48 games that he's been healthy enough to play. Unfortunately, a recurring hamstring injury forced him to the disabled list on two separate occasions during the first half.
When he has been on the field, he's hit .341/.418/.653 with 14 home runs. Kemp would win the award as the most gifted player on the planet if not for that other center fielder in Los Angeles, Mike Trout of the Angels.
It's been a Jekyll and Hyde season for Angel Pagan, who struggled during spring training and most of April before getting on a hot streak that carried him into June. Pagan has most recently been mired in a two-month long slump that manager Bruce Bochy has mostly ignored while trying to find a solution to the Giants' first base woes.
Massive Advantage: Dodgers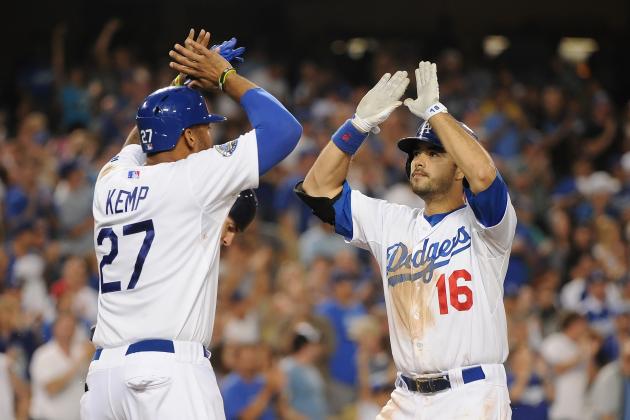 Lisa Blumenfeld/Getty Images

Andre Ethier isn't a star, but the new Dodger ownership group decided to pay him like one when they gave him an $85 million contract extension last month to prevent him from testing the market as a free-agent this winter.
Ethier is solid, if unspectacular. In seven big league seasons, he's never posted an OPS below .789 or above .885. This year, he's hitting a solid .294/.366/.484, which is similar to his career line of .291/.364/.479.
The Giants are using a three-man rotation in right field. Nate Schierholtz (.753 OPS) has been playing more recently, though Gregor Blanco (.709 OPS) was getting the majority of the playing time before a recent slump. Justin Christian, who is 6-for-31 since being recalled from Fresno, has also been filling in against lefties in recent weeks.
Advantage: Dodgers