Hanley Ramirez Traded: Grades and Analysis for the Dodgers-Marlins Deal
Sarah Glenn/Getty Images
Yet another big name has been dealt prior to the 2012 MLB trade deadline. The Los Angeles Dodgers have made a huge move and acquired Hanley Ramirez, according to Tim Brown of Yahoo! Sports. Dylan Hernandez of the Los Angeles Times has confirmed the deal.
In return for Ramirez and Randy Choate, the Miami Marlins will receive pitchers Nate Eovaldi and Scott McGough. This is obviously a shocking move that will have big implications down the stretch.
Trade Analysis
The Dodgers were not getting the offensive production that they were looking for from the left side of the infield this season, and Ramirez serves as a huge upgrade. By making this move, the Dodgers have become the unquestionable favorites to win the National League West this season.
As for the Marlins, it is clear that the team is having yet another fire sale. They have already traded Anibal Sanchez and Omar Infante to the Detroit Tigers, and it is possible that the Ramirez trade signals that there will be one or two more moves made by the Marlins over the coming days.
Los Angeles Dodgers Grade: A
Who won the Hanley Ramirez trade?
This surprising move is an outstanding deal for the Dodgers. Ramirez has proven that he is a great hitter and he will provide another spark to the Dodgers lineup. He was hitting .246/.322/.430 with 14 home runs, 47 RBI and 14 stolen bases through 92 games with the Marlins.
Ramirez is under contract through the 2014 season and he is owed $31.5 million after this year. Under their new ownership, the Dodgers can certainly afford this.
The most impressive thing about this deal is the fact that the Dodgers were able to acquire Ramirez without giving up their top prospect, Zach Lee. It was reported by Jon Paul Morosi of FOX Sports that the Dodgers may have had to give up Lee for Ryan Dempster. Ramirez is a better addition than Dempster and it did not cost them their star prospect.
Choate will be a solid addition to the Dodgers' bullpen. He has made 44 appearances this season and he has a 2.49 ERA in 25.1 innings. Adding Choate is just another addition that will help push the Dodgers towards the playoffs.
Miami Marlins Grade: C
Following the Anibal Sanchez trade, it looked like the Marlins had decided that they would not be contending this season. After spending an enormous amount of money this offseason, the Marlins will be saving some cash in the future after dealing Ramirez.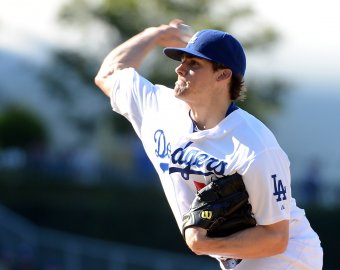 Harry How/Getty Images
Obviously this is not what the Marlins' management envisioned after they went out and signed Jose Reyes and Health Bell this offseason and then traded for Carlos Lee earlier this July.
In return for Ramirez, the Miami Marlins got Nate Eovaldi and Scott McGough. Prior to the season, John Sickels of Minor League Ball ranked Eovaldi as the Dodgers second-best prospect.
Eovaldi has been given 10 starts in the majors this year and he has struggled to the tune of a 1-6 record and a 4.15 ERA. He has also made eight minor league starts this season with better results, going 2-2 with a 3.09 ERA at Double-A.
While Eovaldi does have talent, he may become nothing more than a middle of the rotation starter for the Marlins in a best case scenario.
McGough was not considered to be one of the Dodgers' top 20 prospects by John Sickels prior to the start of the 2012 season. The Dodgers fifth-round draft pick in 2011, McGough has spent the whole season at High-A.
Through 35 relief appearances, McGough has a 3-5 record and a 3.99 ERA. McGough is striking out slightly more than a batter an inning and has held hitters to a .249 batting average.
This article is
What is the duplicate article?
Why is this article offensive?
Where is this article plagiarized from?
Why is this article poorly edited?

Los Angeles Dodgers: Like this team?