5 FC Barcelona B Starlets Destined for the Lights of La Liga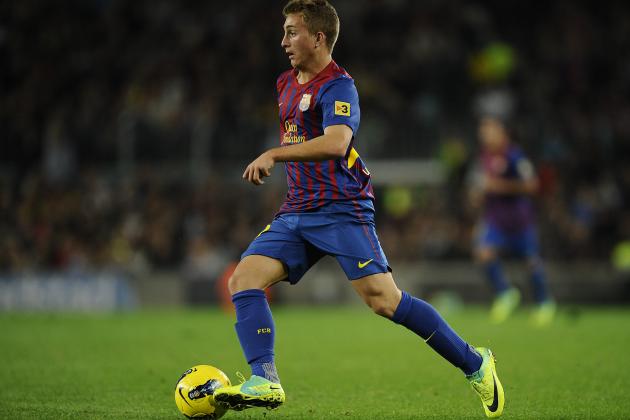 David Ramos/Getty Images
Gerard Deulofeu has magnificent fleet of foot.
La Masia, FC Barcelona's famed youth academy, has been called home by many of the game's greats. Lionel Messi, Xavi, Iniesta, Cesc Fàbregas, Puyol... just to name a few of the more recent graduates who now star weekly in La Liga.
This golden generation must soon pass the weight of expectation on to a new breed of youngsters with talents of their own.
Eusebio Sacristán, the manager of Barcelona B, is currently overseeing an influx of new talent into his squad, which competes in La Segunda, Spain's second division. His job is not easy, and often goes underappreciated; he is charged with molding Barça's most promising youth into the players they always dreamed of becoming.
This current crop of starlets is full of potential. Here are five players I believe will make the big time.
Follow me or leave a comment at Follow @KieranSobels
Begin Slideshow

»
Age: 20
Position: Central Midfielder
Roberto has La Liga experience already, earning two caps under Pep Guardiola and even managing a goal in the Champions League.
He is unlike the typical La Masia midfielder. While he possesses the trademark technique and intelligence, Roberto is also blessed with the stamina, strength and energy often associated with English midfielders. This might be why reigning European champions Chelsea continue to show interest in the budding Barça talent. Indeed, more recent performances with the first team draw comparisons with the likes of Cesc Fàbregas and Frank Lampard due to an uncanny knack of making late, dangerous runs into the box.
His rare blend of dribbling, passing, work-rate and strength makes him an interesting tactical option for Tito Vilanova, and seemingly the perfect replacement for the recently departed Seydou Keita.
With Fàbregas' return last season, however, the path may be blocked for Roberto. Nonetheless, his talent will light up La Liga, whether he makes his way at the Camp Nou or not.
Age: 19
Position: Attacking Midfielder/Forward
Thiago Alcântara is one of the best midfield prospects in world football today. If we are to believe the hype, however, his brother Rafinha could be even better.
Taller and more robust than Thiago, Rafinha caught the eye playing in Messi's 'false-nine' position last season in his debut in the Champions League against Bate Borisov. Amidst a team of youngsters, the Brazilian-Spaniard managed to shine.
He is a strong, powerful dribbler, blessed with the same delightful technique and touch possessed by his brother. His eye for goal makes him equally adept at playing up front.
He managed eight goals last season in the Segunda division, consistently one of his team's best performers. Again, he will be a key player and will be knocking on the door for first team opportunities.
Age: 16
Position: Left Back
When Grimaldo played in the final of the Copa Catalunya last season against Espanyol, he was literally a boy amongst men. To be exact, he was just 15 years, 10 months and 20 days old.
Although Barcelona fielded their reserve team that day, the Juvenil A starlet was playing against a fully-fledged La Liga outfit. He looked every bit the part too, inspiring a great deal of confidence in Barcelona's future defensive stocks.
Not dissimilar to the recently signed first-teamer Jordi Alba, Grimaldo is a little bullet—small, but with searing pace. His attacking game benefits from a past playing further up the field, as he possesses excellent dribbling ability, touch and passing to match. He's not a pushover in defense either, reading the game well, adept in the tackle and excellent in the air for his height.
He joins the B team permanently this season as he continues shooting up through the ranks at an incredible pace.
It looks like Jordi Alba may have some competition on his hands.
Age: 17
Position: Centre Forward
In an interview with totalBarça, Barcelona-based journalist Graham Hunter raved of the young Cameroonian's potential.
"I saw Messi at sixteen but Dongou from Cameroon is the best footballer at sixteen I've ever seen in my life. He is phenomenally quick, finishes brilliantly and works, he has been taught to work and press a lot."
If the young forward is to become even half of what Messi has, he is definitely one to keep an eye on.
Dongou is small, but strong, built impressively for a 17-year-old. His physique, pace, predatorial instinct and impressive first-touch makes for a scary combination of assets. In The Age, Hunter wrote that defenders "should start having nightmares now just to get in practice".
Indeed, Dongou has scored goal after goal at youth level, and starred in last season's under-19 NextGen Series.
Having already made an impressive start to his career with Barça B, scoring two goals in a handful of appearances, Dongou is set for a breakout 2012-13 season having earned his full promotion.
With Rodri misfiring, the Cameroonian could prove an important player in Eusebio's young team.
Age: 18
Position: Wing-Forward
The current gem of La Masia recently starred at the U19 Euro Championships in Estonia.
Deulofeu ended with two goals and three assists in just five games (stats courtesy of UEFA), highlighting why he's been hyped from a very young age.
Last season with Barcelona B he improved throughout the campaign, ending as arguably the team's most influential player with nine goals.
The 18-year-old is still raw and lacks consistency, his confidence often betraying him. His ability, however, is there for all to see. He is a quick, inventive and skilful dribbler with an eye for goal, comfortable cutting in off either side.
Both his playing style and his attitude is more reminiscent of Cristiano Ronaldo than Lionel Messi, and it is perhaps his ego that is his only real obstacle on his road to stardom. At 18, however, he has plenty of time to mature and refine his game.
The idea of Deulofeu linking with Messi and perhaps even Neymar is simply mouthwatering. According to talkSPORT, the youngster's talents have already drawn attention from the likes of Liverpool. It's clear Barça have their next superstar in the making on their hands, and they'll do anything to hold on to him.