5 Carolina Panthers Who Cannot Afford to Get Hurt in 2012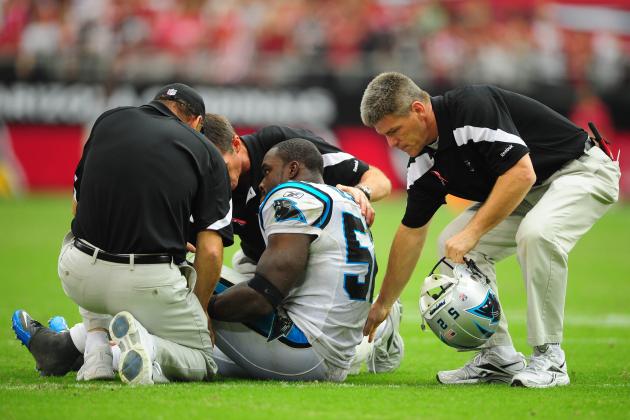 Mark J. Rebilas-US PRESSWIRE
Jon Beason (52) injured his Achilles tendon in Week 1 and was lost for the entire 2011 season.
The Carolina Panthers were decimated by injuries in 2011, and they cannot afford to suffer the same fate in 2012 if they are going to live up to heightened expectations.
Carolina's defense was especially hard-hit on the defensive line and at linebacker, and it showed in its final defensive rankings in 2011.
The Panthers finished the season ranked 24th vs. the pass, 25th vs. the run, 27th in scoring defense and 28th in total defense.
Carolina's offense was not completely immune to injury either, but it fared much better than the defense in 2011, finishing third in rushing, fifth in points, seventh in total offense and 13th in passing yards.
Football is a team game, though, and both units need to remain healthy for a successful Panthers season in 2012.
Early and Often
The superstitious would argue the Panthers initiated their own string of bad luck last season by drafting PUP-bound cornerback Brandon Hogan in the fourth round of the 2011 NFL draft.
Hogan tore his ACL in his final collegiate game against Rutgers, and he could not practice or play until late in the season.
David Gettis (ACL) and defensive tackle Ron Edwards (biceps) each suffered season-ending injuries in training camp last year and never saw the field.
Starting linebackers Jon Beason (Achilles) and Thomas Davis (ACL) were lost to injury in the first two games of the season, and starting right tackle Jeff Otah (left knee) only made it through Week 4.
Sione Fua (hamstring) and Terrell McClain (sprained knee), both third-round draft picks who started the first 12 games of the season, were placed on injured reserve following the Panthers' Week 13 victory over the Tampa Bay Buccaneers.
Fresh Start in 2012
Carolina's roster is much healthier entering the 2012 NFL preseason and training camp.
Projected No. 3 wide receiver David Gettis is the only player not quite ready to return to practice this week, according to the AP's Steve Reed.
Gettis is on the PUP (physically unable to perform) list heading into training camp, but it appears to only be a precautionary measure, and he should be back on the field soon.
Carolina traded the injury-prone Otah to the New York Jets just four days before the start of camp.
The rest of the Panthers roster has a clean bill of health heading into final preparations for the 2012 NFL season.
Injuries are an unavoidable truth in professional football, and no NFL team is likely to be injury-free in 2012, but there are five key players the Carolina Panthers cannot afford to lose this season.
Begin Slideshow

»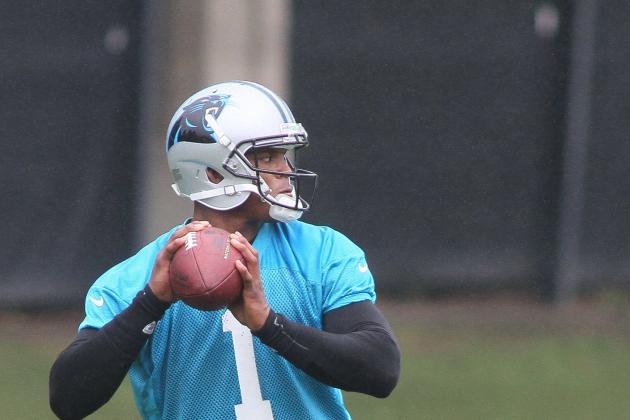 Jeremy Brevard-US PRESSWIRE
Cam Newton is the one player Carolina cannot afford to lose in 2012.
Cam Newton is that dude for the Carolina Panthers.
The Panthers offense is built around Newton's considerable strengths as the NFL's best dual-threat quarterback.
Newton is the NFL's best running quarterback and an emerging top-10 passing quarterback heading into his second professional season.
An injury to the 2011 NFL Rookie of the Year would be damaging to the Carolina offense.
It would also deflate the considerable buzz and excitement surrounding the Panthers franchise.
Ron Rivera's club needs Newton to play well for 16 games to have a shot at making the playoffs this season.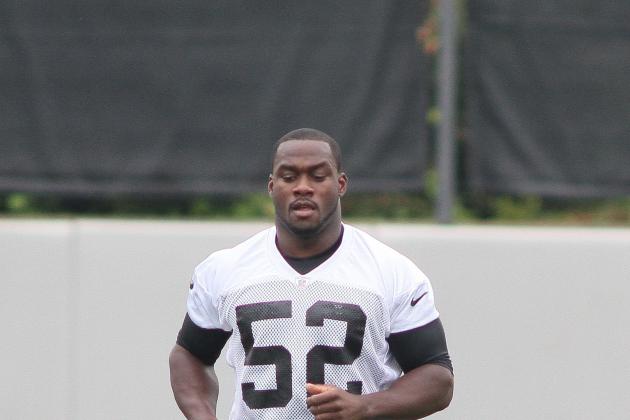 Jeremy Brevard-US PRESSWIRE
Jon Beason (52) is not showing any signs of the Achilles injury that ended his season in 2011.
The Panthers have one of the deepest and most talented linebacker corps in the NFL.
However, they cannot afford to lose Jon Beason, their captain and leader, for the second consecutive season.
Luke Kuechly has defensive-ROY potential and James Anderson was the NFL's sixth-leading tackler with 145 stops in 2011, but Beason is the straw that stirs the drink for the Panthers defense.
Panthers coach Ron Rivera told the Charlotte Observer's Joseph Person that one of the biggest problems with the defense last season was a lack of communication in the middle of the field. Rivera said:
But now you've got Jon Beason, who communicates like you can't believe. You've got Luke Kuechly, who shows he knows how to communicate. So right through the middle of our defense we've gotten better. Now, knock on wood, we stay healthy. Because that's probably the biggest problem we had more so than anything on defense really was getting healthy. Once the injuries started coming, we had to change the personality of how we wanted to do things and what we wanted to do.
Beason will likely start the season at middle linebacker with a possible move to the weak side to allow Kuechly to play in the middle of the Panthers' base 4-3 defense, and both linebackers can play the inside backer positions when Carolina lines up in a 3-4.
Wherever Beason lines up, Carolina's defense needs its veteran leader on the field in 2012.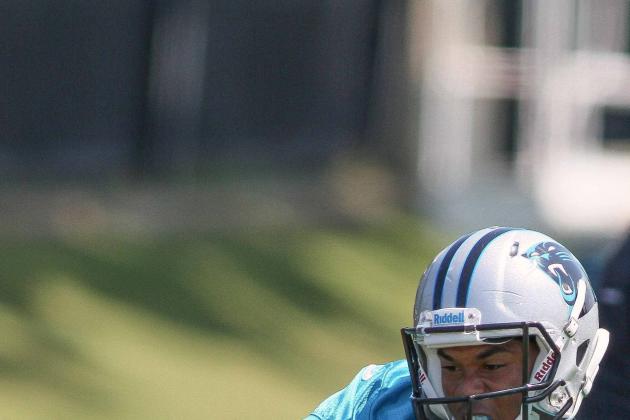 Jeremy Brevard-US PRESSWIRE
Steve Smith is a game-changer.
Steve Smith is the Carolina Panthers' best wide receiver and perhaps their best offensive player.
Smith is a top-five NFL wide receiver and the dropoff between No. 89 and the rest of the Panthers receivers is gargantuan.
No offense to Brandon LaFell and David Gettis, but Smith is simply that good.
There is not another proven top-flight receiver on the Carolina roster, even with the recent addition of former Oakland Raider Louis Murphy.
Smith was rejuvenated by playing with Cam Newton in 2011, and he has three or four more productive years left in the NFL.
If he stays on the field for all 16 games in 2012, Smitty could come close to matching or surpassing his career-best totals of 103 catches, 1,563 yards and 12 touchdowns set in 2005.
Not bad for a 33-year-old wide receiver under six feet tall.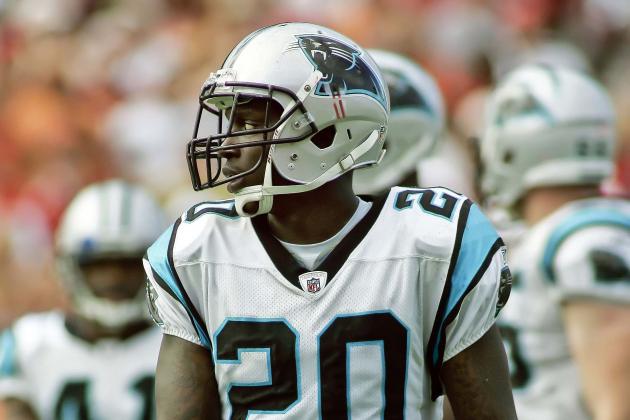 Phil Sears-US PRESSWIRE
Chris Gamble is the Panthers' leader in the secondary and the team's only proven shutdown defender against the pass.
Chris Gamble is the best player in a Carolina Panthers secondary that was among the NFL's worst last season.
2011 starter Captain Munnerlyn is expected to return to the nickelback position where he played well in his first two seasons.
Brandon Hogan or Josh Norman will take over the starting cornerback spot opposite Gamble.
Hogan spent all but two games of his rookie season on the PUP list, and Norman is a rookie fifth-round draft pick out of Coastal Carolina.
No matter who starts at the other cornerback position, Gamble will be tasked with covering the opposition's best receiver every week this season.
Though he did not receive any postseason accolades, Gamble played at a Pro Bowl level in 2011, and the Panthers need him to excel again in 2012.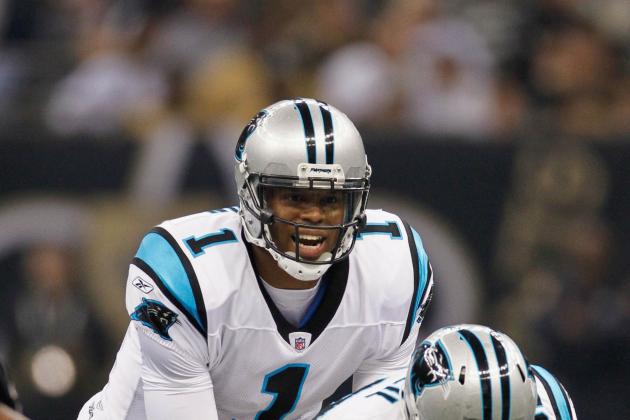 Derick E. Hingle-US PRESSWIRE
Ryan Kalil (67) is where it all begins for the Panthers' offensive line.
Ryan Kalil is among the top three centers in the NFL along with the Pittsburgh Steelers' Maurkice Pouncey and the New York Jets' Nick Mangold.
Kalil is an elite blocker who sets the offensive line's pass protection and run-blocking schemes for each play.
Perhaps most importantly, Ryan Kalil is a team leader with enough confidence in his team to take out a full-page ad in the Charlotte Observer predicting a Panthers victory in Super Bowl XLVII.
Offensive line play is crucial to Carolina's running and passing games, and Kalil is the player they can least afford to lose, especially after trading veteran right tackle Jeff Otah to the Jets.
Carolina will start rookie second-round draft pick Amini Silatolu at left guard and second-year tackle Byron Bell at right tackle, and Kalil's leadership and communication are critical to both players' success.
Journeyman Jeff Byers is the only other center listed on the Panthers' website, and guard Geoff Hangartner is a serviceable backup; but Carolina would suffer a huge dropoff at center if anything happened to keep Kalil off the field.
Jimmy Grappone is a Featured Columnist covering the NFL and the Carolina Panthers for Bleacher Report since 2008.
Follow the Panthers' writer on Twitter @jimmygrappone.
Recent articles by Jimmy Grappone:
5 Panthers Backups Who Could Start for Other Teams
Carolina Panthers' Complete 2012 Preseason & Training Camp Guide
Predicting Panthers' Depth Chart at WR
5 Biggest Media Misconceptions About the Panthers