London 2012: 5 Under the Radar Swimmers Who Will Shine in the Olympics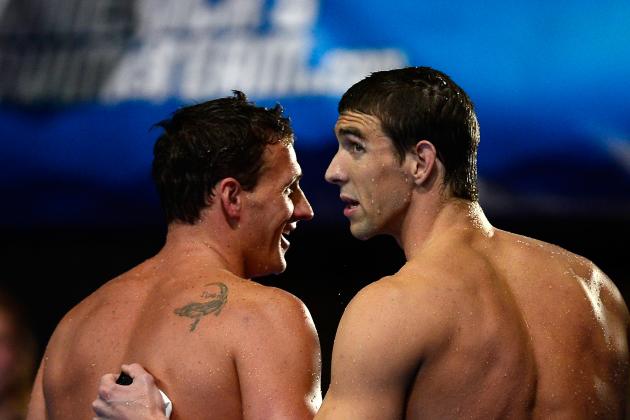 Jamie Squire/Getty Images
Michael Phelps and Ryan Lochte poised to shine in London
The world will be tuning in to watch two of Swimming's greatest cultural icons—Michael Phelps and Ryan Lochte, who will test their mettle against the best in the world, and each other, in two individual events...The 200 and 400-meter Individual Medley.
At the 2008 Beijing Olympics, Phelps did the seemingly impossible, by winning eight gold medals and toppling swimmer Mark Spitz long-held record of seven-golds in one Olympic Games. He did what he had always dreamed of doing, raising the status of swimming in the US to unprecedented heights.
Ryan Lochte, being buoyed up by his ever-growing "LochteNation" fan base, will try to add at least five more gold medal wins to the three golds in his war-chest and potentially dethrone Prince Phelps in two events as he did in the US Olympic Trials last month and at the FINA World Championships in 2011.
Added to the Gator and the Wolverine's push for greater Olympic glory will of course be USA's female breaststroke wonder, Rebecca Soni who burst onto the Olympic scene in Beijing 2008, seemingly out of nowhere and went on to secure Gold in the 200-Meter breaststroke, stunning the world by beating "Lethal" Leisel Jones, Australia's Queen of Breaststroke. She has remained dominant in both the 100-meter and 200-meter breaststroke since 08 and shows no signs of slowing.
First time Olympian Missy Franklin, already holding an American record in the backstroke at age 17, has been touted as USA's greatest hope of bringing home multiple Golds along with Lochte and Phelps.
And while the known swimming studs help ignite the Olympic Opening Ceremony fireworks, one aspect that makes the Olympic games so exciting are those under-the-radar athletes who go from living in the shadows to taking center stage.
Here are my top five picks for the lesser-known but deadly fast US Olympic swimmers that could climb to the top of the podium and emerge from London as stars.
@ErinQuinn11
Begin Slideshow

»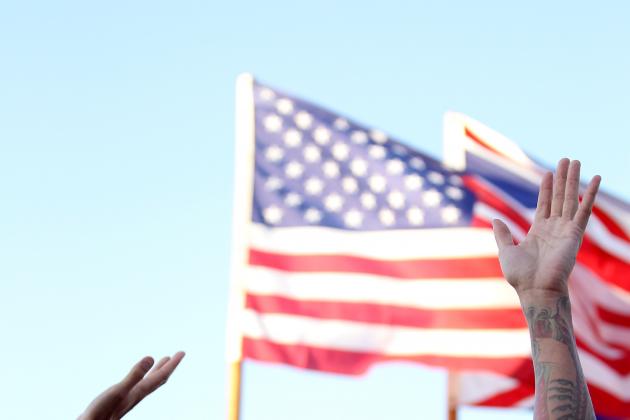 Ezra Shaw/Getty Images
Antony Ervin
He doesn't look the part of an Olympic gold medalist 50-meter freestyle champion, with tattoos covering both arms from shoulder to finger tips, wiry hair, in need of glasses to see the scoreboard, pecs that are solid, but certainly not Men's Health-cover status.
At 31, Anthony Ervin, who tied for Gold with the famed USA sprinter, Gary Hall Jr. at the Sydney Olympics in 2000, went off the grid for nine years, playing in a band, serving as swim instructor, couch surfing, reading and trying to define himself outside of the media spot-light he was thrust into at just 19.
When he did resurface, he did so in high style with an unexpected runner-up finish in the 50 freestyle at the US Olympic Trials, and posting the third fastest time in the world this year--21.60 seconds, just a hair's breath away from teammate Cullen Jones at 21.59 and reigning Olympic gold medalist from 2008, Cesar Cielo of Brazil with a time of 21.38.
Scripted by the media after his 2000 gold medal win as a symbol for his mixed African-American, Jewish and Native-American heritage, Ervin, at 19, a free-thinking kid not ready for the spotlight, soon left the sport entirely, living a Jack Kerouac-type of experience that we know little about until he surfaced, briefly in 2004, auctioning his gold medal on eBay and donating the $17,000 proceeds to Asian tsunami relief.
His non-linear path did lead him back to Cal Berkeley where he re-enrolled to finish his English degree and maybe as importantly came under the training and tutelage of Cal coach and now US Olympic Coach, Teri McKeever, whom he trusted and began swimming in earnest.
The results? Ervin was ecstatic with his unbridled success at US Olympic Trials going a personal best and beating out the likes of Nathan Adrian and other great USA sprinters. His joy and gratitude was palpable as he took the mic and thanked his fans and coaches and supports and Gary Hall Jr.
While the majority of his teammates tweet from the Olympic Village about clothes and meeting other athletic stars, and posting pics of great views, Ervin keeps his ever-growing twitter fan-base abreast of his reading. The Alchemist, which he said first inspired him to sell his gold medal on eBay to support those in desperate need and then more recently a Smithsonian article he thought his more heady fans would enjoy.
Regardless, the tattooed, decorated Olympian is back at age 31, and ready to take on Cielo and Jones and make his way to the podium for a second time, with a heartfelt understanding of what it means to be an Olympian and what it means to be human. Go Anthony!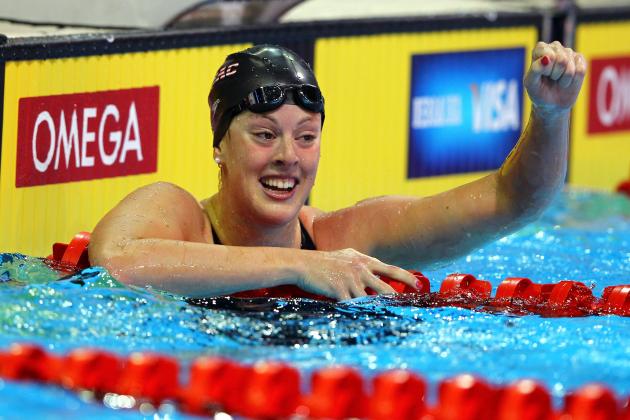 Al Bello/Getty Images
Allison Schmitt
The University of Georgia Bulldog Alum, Allison Schmitt, 22, made headlines last month at the US Olympic Trials after she broke her own American record in the 200-meter freestyle with a time of 1:54.40, which is also the fastest time in the world this year.
Adding to that record-breaking win, the Pittsburgh native went on to take first in the 400-meter freestyle at Trials with a time of 4:02.84 the third fastest time posted in the world this year behind Britain's Rebecca Adlington (4:02.35) and Camille Muffat of France (4:01.13.) She also came in third place at US Olympic Trials in the 100-meter free which sets her to be a critical player in the US Women's 4x200-meter free relay and the 4x200-meter relay.
Little was known about Schmitt in the larger swimming world until this year when she broke then re-broke the American record in the 200-meter freestyle(post-suits,) even though she was a 6-time NCAA Champion in the 200 and 500 Freestyle and was part of the Beijing Olympic team.
In 2008, Schmitt won bronze as a member of the US women's 4x200-meter freestyle relay team and finished ninth in the 200 freestyle, just one spot shy of making the finals.
A lot has changed for Schmitt this past year as she made the difficult decision to leave her beloved Georgia swim team before her senior year and instead focus solely on training preparation for the US Trials and London games, compete in international competitions and train with the Club Wolverine program with Coach Bob Bowman and his protege Michael Phelps Based on her performances at the US Trials, it appears to have been the right move.
At trials, Schmitt appeared relaxed, confident and smooth in the water, as if she were giving it just enough to secure her place on the team, but saving up enough gas in the tank to implode on the world stage in London.
"This last year, I really focused on every little thing--every little detail--rather than just going to the pool and practicing...." she said to the Athens Banner-Herald. She worked on getting more sleep, better nutrition and concentration which she attributed to her success at trials. "When I got to trials, I didn't feel like I was a trials. I felt like I was just at another swim meet."
This is not just "another" swim meet it's the Olympic games, but Schmitt said that while the 1st time around in Beijing she tired herself out by running around and wanting to see "every little thing," this time she's more seasoned and grounded and ready to conserve the energy she will need to compete alongside the likes of Gold medal defender, Addlington and France's Muffat to bring home the gold for the USA.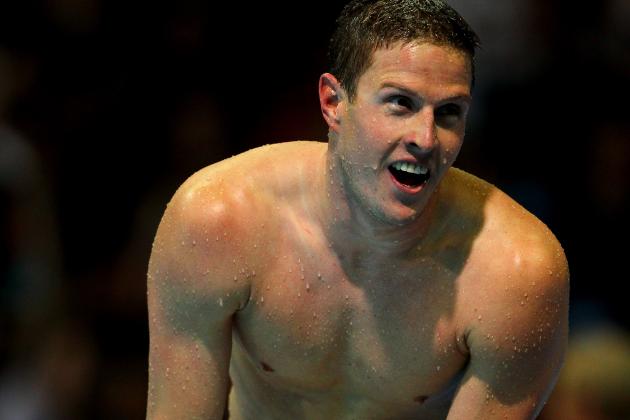 Al Bello/Getty Images
Scott Weltz
There's no doubt that rookie Olympian Scott Weltz is up against a scorching hot 200-meter breaststroke field, but his performance prior to and at the US Olympic Trials this past month places him as the white-horse in a dark-horse field.
In the 200-meter breaststroke finals at the US Olympic Trials this past June, Weltz made the improbable probable by beating favorites and Olympians Brendan Hansen and Eric Shanteau to make his first Olympic team – giving other swimmers hope that they, too, can be an Olympian. '
"Never count an Aggie out," Weltz told usaswimming.org following his unexpected but commanding win in the finals of the 200 breaststroke at Trials. "I came into the meet with a little chip on my shoulder and had something to prove to people."
His unexpected win at the US Trials with a time of 2:09.01, places Weltz as the fifth seed going into the London Olympic games.
Weltz has said that to inspire him before big races like the Trials and now London that he would watch The Miracle, a documentary centered around the 1980 gold-medal winning 1980 US hockey team's shocking win, repeatedly before his big races.
Anything is possible in this rookies mind as it should be based on his lack-luster college recruiting options where only Pete Motekaitis, then head coach of the men's UC-Davis swim team took notice of Weltz raw talent and versatility.
Near the end of his senior year, due to budget cuts, the men's program at UC-Davis was suspended. Rather than leave to train elsewhere or stop swimming competitively altogether, Weltz stayed with Motekaitis, who joined the Aggie women's program, as a volunteer assistant to keep his Olympic dream alive.
It is not only alive, it is on fire and while he's up against the reigning two-time Olympic Gold Medalist and World Record Holder Kitajima Kosuke, of Japan, no one should count Weltz out.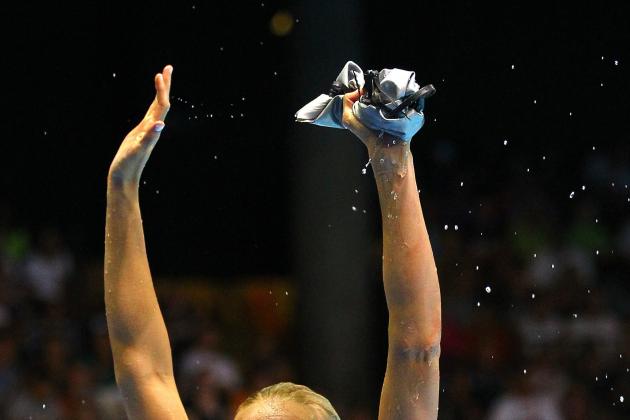 Al Bello/Getty Images
Dana Vollmer at US Olympic Trials
Get ready world. There is a new 100-meter female butterfly star in London, ready to take center stage.
Dana Vollmer, 25 won the US Olympic Trials in the 100-meter butterfly, with the top time in the world this year at 56.42. At the trials she also secured herself as a part of the US women's 4x200 free relay with a 3d place finish at US Trials with a 1:57.29.
Not only is she stunningly beautiful and an exceptionally fast swimmer in multiple events, but Vollmer is now a seasoned-swimmer who has had to overcome great obstacles including heart-surgery at 15 after being diagnosed with supra ventricular tachycardia, an unsettling and life-threatening condition that can escalate the heart beat to dangerous beats per minute.
Vollmer underwent the surgery and came back to make the US Olympic team at age 17 in the 200-meter freestyle and the 2x400 freestyle relay where she helped her three teammates to secure a Gold Medal for the US.
One would think that Vollmer, who overcame a life-threatening heart condition and was the youngest swimmer ever to qualify for the US Olympic trials at age 12 in 2000, might be immuned to stage-fright or pressure---but not so.She experienced a devastating performance at the 2008 US Olympic Trials failing to qualify for the team in five different events citing nerves as her nemesis.
But Vollmer, at 6'1" is never one to quit and under the tutelage of Cal Berkely Coach and now 2012 Co-Head coach Teri McKeever, went back to the venue in Omaha, Nebraska this past June determined not to let her butterflies get the best of her and guess what? They didn't.
She secured her bid to London with a first place win and top time in the world in the 100-meter butterfly and a 3d place finish in the 200-meter freestyle to Allison Shmitt and 17-year old phenom, Missy Franklin, positioning her, 8 years later, for another chance of USA women's relay gold!
This time around, after taking Gold in 2004 and losing what many thought was a shoe-in on the 2008 US Olympic team, she is older, wiser and ready to tackle those nerves and shine in London.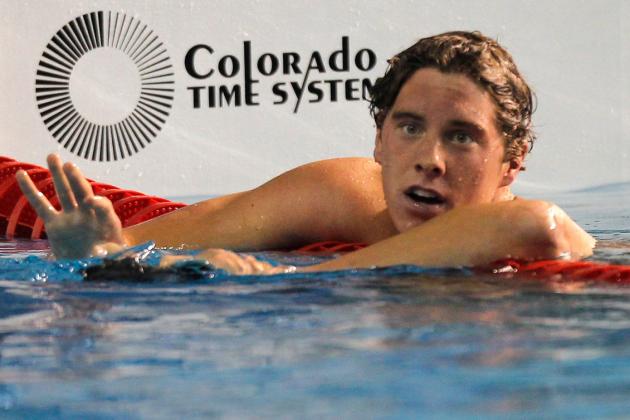 Mike Ehrmann/Getty Images
Conor Dwyer
The 23 yr old alum of the University of Florida, Conor Dwyer qualified in a steep USA Olympic Trials meet to compete in the 400-meter freestyle and the 4x200 freestyle relay. The Illinois-born, turned Gator has made waves in the NCAA's in the 400 and 200 individual medley events, but with the US team so stacked in those events--Michael Phelps, Ryan Lochte, Tyler Clary, Dwyer focused on the 400 and 200-meter free at the trials earning his berth at the 2012 London games.
While he may not cash in on the medals of his training-mate Ryan Lochte, the King "Lochetenator" he could very well medal in the 400-meter freestyle and serve make his country proud with a repeat of Gold in the 4x200 freestyle-relay in London.
At the very least, this mid-western boy, with a winning smile and a training ethic that makes Rocky look lame, will either make the podium and/or steal a few female fans from Lochte as his Gator-grin is already stirring the heart-strings of swim fans around the country.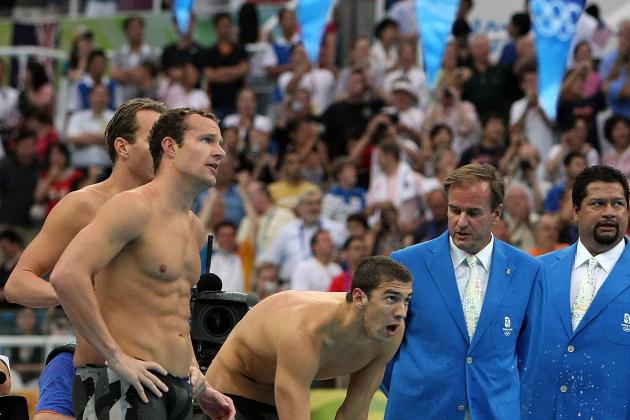 Al Bello/Getty Images
Team USA Relay Beijing 2008
As a USA swim coach and mother of swimmers as well a swim-enthusiast and writer it was difficult to chose my Top 5 under-the-radar US Olympic swimmers. But now, I will expand my dark-horse vision to the international scene where accomplished swimmers in every discipline, will push our Americans to the ultimate test.
What's on paper is not what necessarily wins as evident in the 2008 4x100 Men's winning freestyle relay.The years and hours of grueling training along the black-line at the bottom of the pool can ignite at any moment at any time in any part of the world.
Here's one of my top international pics. The rest to follow shortly.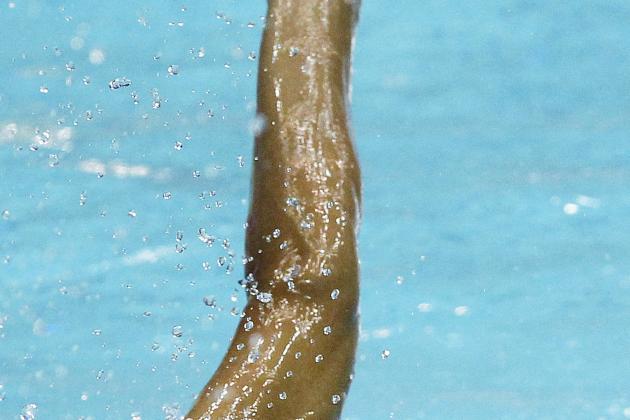 Kiyoshi Ota/Getty Images
Ryosuke irie
The world is well-aware of Aaron Peirsol's dominance in the 100 Meter Backstroke as the 2004 and 2008 Olympic Gold Medalist and still the owner of the 100-meter Backstroke. They're also aware that Ryan Lochte won his 1st individual gold medal in 2008, taking down his friend and teammate Peirsol who came in second and setting the current World Record. But there's a smaller, less known backstroker that is poised to take the podium in London.
Going into the 2012 Olympic games, 22 year old Japanese backstroke wunderkind, Ryosuke Irie, standing only 5'10 and 137 pounds, a light-weight in a field of big-boys could pose the greatest threat to Ryan Lochte in the 200-meter backstroke and USA's Matt Grevers and Nick Thoman in the 100-meter backstroke.
Going into the London games he holds the world's fastest time in the 200-Meter Backstroke, with 1:54.02, a half-second faster than Olympic gold medalist defender Lochte.
He posted the 4th fastest time in the world at the Japanese Nationals in the 100-Meter backstroke with a time of 52.91 putting him in contention with top seed Grevers 52.08, France's Camille Lacourt's 52.75 and Thoman's 52.86.
While he might well be the smallest backstroker in the field, don't let his size fool you. Irie has been a consistent player on the International scene, and one of the leading trend-setters of the straight-back start that launches him into the water faster most of the big guns.
Swimming commentators and World Record holder, Aaron Peirsol in the 100-meter backstroke, who announced his retirement in 2010 have often noted that Irie has a classical backstroke that is not only fast, but beautiful to watch.
"He knew how to swim perfectly straight without being taught that," recalls Akemi Morita, his coach at the Itoman Tamade school in a recent interview with the The Asahi Shimbun. "I feel bad saying this as a coach, but some swimmers have limited potential even if they try really hard. But Ryosuke was a natural talent."