NASCAR 2012: Sprint Cup's 6 Most Surprising Winless Drivers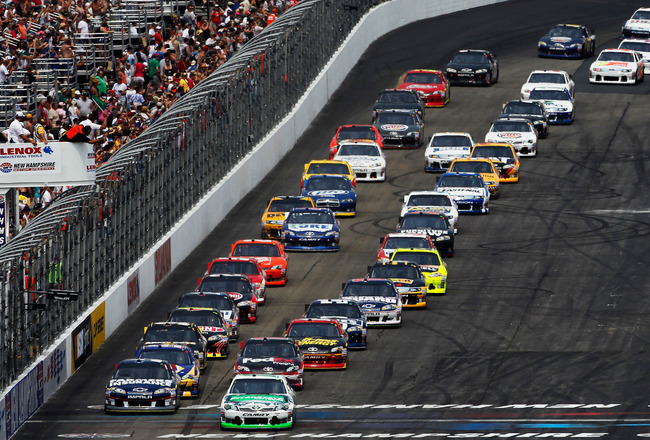 Tom Pennington/Getty Images
Fresh off its final off weekend of the 2012 season, NASCAR's Sprint Cup Series roars back into action Sunday as they make their annual visit to the famed Indianapolis Motor Speedway.
NASCAR's top series is one race past halfway in its season, and the list of winners includes many of the usual suspects. However, a handful of the biggest names in the sport are still looking for their first victory of the year.
Some of the names on this list have been in contention and had victory slip away because of horrible luck. Some haven't even been close to contending the way they usually do. Some are a mixture of both.
But, for whatever reason, here are the six most surprising winless drivers to this point in 2012.
Jeff Gordon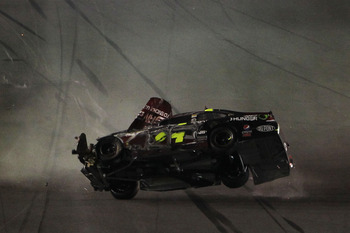 This flip in the Budweiser Shootout started Jeff Gordon's year on a sour note.
Jamie Squire/Getty Images
Jeff Gordon and crew chief Alan Gustafson won three races, made the Chase, and finished eighth in the Sprint Cup standings in their first season together last season.
But Gordon is still winless thus far in 2012 and mired deeper in points (17th) than he has ever been in his career this far into a season.
The No. 24 team's struggles have not been for lack of performance. Indeed, Gordon has had countless potential top-five finishes this year taken away because of horrible luck.
A blown engine in the Daytona 500 resulted in a 40th-place finish. A cut tire from contact with Dale Earnhardt Jr. while racing in the top five at Bristol caused him to finish 35th. A potential victory at Martinsville was undone by contact with Clint Bowyer and Jimmie Johnson on a late restart.
Gordon had the dominant car at Dover in June, only to be caught a lap down by a caution following a green-flag pit stop. He finished 13th.
The four-time Cup champion has gone winless in a season just three times in his career (1993, 2008, 2010). But this team has shown enough speed to win on multiple occasions this year, unlike the second name on this list.
Carl Edwards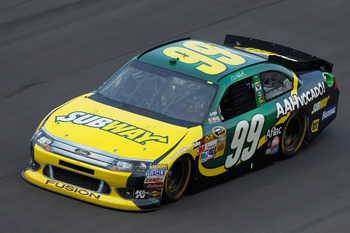 Carl Edwards' 2012 performance is a steep drop from a season ago.
Todd Warshaw/Getty Images
Carl Edwards was supposed to be the man to beat for the 2012 Sprint Cup championship.
He was remarkably consistent last season. Though he only won one race in 2011, it took Tony Stewart's once-in-a-lifetime run though the Chase to pry the title from Edwards' fingers.
But 2012 has been nothing short of a disaster for Roush Fenway Racing's premiere team. Edwards sits 11th in the standings, and a team that performed nearly flawlessly a season ago has seen its performance dip so low that Edwards will go to Indy with a new crew chief after longtime crew chief Bob Osborne stepped away last week.
Edwards has had one legitimate chance to win a race in 2012—in May when he led 206 laps at Richmond. He appeared to have the car to beat that night before a late penalty for jumping a restart took him out of contention.
Unlike Gordon, who would stun the NASCAR world if he's not in victory lane by year's end, Edwards appears nowhere close to getting back to the winner's circle, and his stunning descent into mediocrity has to be right up there as one of the biggest stories this season.
A small postscript, though: Many said the same about Tony Stewart last year, when he headed into the Chase without a victory. How did that one turn out?
Kevin Harvick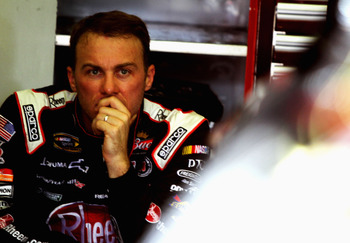 2011's lucky breaks are nowhere to be found for Kevin Harvick in 2012.
Jerry Markland/Getty Images
By this point in 2011, Kevin Harvick already had three memorable victories under his belt.
He made a spectacular last-lap pass on Jimmie Johnson to win at Fontana, then passed Dale Earnhardt Jr. with four laps remaining to win the next week at Martinsville.
Six races later, it was another last-lap pass that netted Harvick a win in the Coca Cola 600, this time passing Earnhardt Jr. coming off the final corner as Earnhardt ran out of fuel.
There have been no heroics for Harvick thus far in 2012, though. He is winless through 19 races, though he still sits sixth in points and stands a good chance of making the Chase barring anything catastrophic.
But the No. 29 team has shown none of the strength that put them in position for those wins in 2011. His four wins in 2011's regular season (he also won the final race before the Chase at Richmond) made him the co-points leader heading into the playoffs and set him up for an eventual third-place finish in the standings. If the Chase were to start today, he would be tied for last.
Perhaps the Brickyard could be just what Harvick needs to get back on the winning track. He won there back in 2003.
Martin Truex Jr.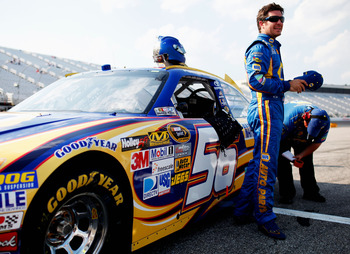 2012's early promise has yet to be fulfilled for Martin Truex.
Jeff Zelevansky/Getty Images
Martin Truex Jr. started out 2012 on fire, registering six finishes of eighth or better in the first 10 races.
He dominated at Kansas in April, leading 173 laps before finishing second to Denny Hamlin, and it seemed only a matter of time before Truex would take the second checkered flag of his career.
But a fifth place finish at Darlington on Mother's Day weekend is the last time that Truex finished in the top-five. He's had just two top-10 finishes in the last eight races, and has led laps in just three races since Darlington.
A victory for this team looked like it was a full-gone conclusion in the early stages of 2012. Now, Truex and his gang have some work to do if they want to get him to victory lane for the first time since his first win at Dover back in June 2007.
Paul Menard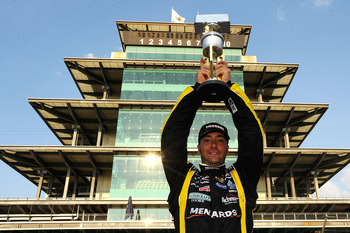 Paul Menard broke through at the Brickyard in 2011, but has yet to sniff a victory since.
Jason Smith/Getty Images
About this time last year, Paul Menard was at or near the top of everyone's list of best Sprint Cup drivers without a victory to their name.
Then he went out at Indianapolis and outran Jeff Gordon to his first career win and an opportunity to kiss the famed bricks.
The win shot Menard into wild-card contention for the 2011 Chase, and, though he missed out last year, his Richard Childress Racing team appeared to be right on the cusp of graduating to full-blown Chase contention in 2012.
Menard is again hanging around wild-card contention (he's 15th in points), but he has registered just three top-10 finishes this season—and two of those were in the first three races of the season.
Menard heads back to the scene of his 2011 triumph this weekend, and perhaps that will be the place where he breaks through for victory No. 2. If so, he'll have to show a lot more power than he has in the 19 races so far this year.
Marcos Ambrose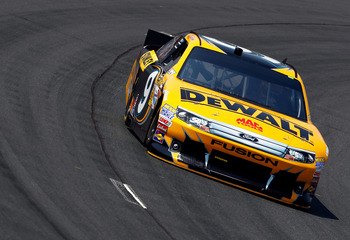 Marcos Ambrose is one of NASCAR's best road racers, but struggled at Sonoma in June.
Jeff Zelevansky/Getty Images
The fact that NASCAR's resident Tasmanian makes this list really boils down to one simple thing: The Sprint Cup Series has already visited a road course.
While Marcos Ambrose may not have the oval-racing credentials to put anyone to shame, the man is arguably the best road racer in NASCAR, and the argument against that is thin, at best.
Entering 2012, Ambrose had earned six top-five finishes in seven NASCAR road course starts. The seventh finish was a sixth-place effort at Sonoma in 2010, a race that Ambrose appeared to have locked up before his car would not restart after he shut it off to save fuel under a late caution.
When the Sprint Cup Series returned to Sonoma this past June, Ambrose was again on top of his game. He was the fastest in both practices and started the race from the pole. Most figured that the real race on this day would be for second place because Ambrose simply could not be beat.
Instead, Ambrose led just the first 11 laps before fading into obscurity, running much of the race in the back half of or outside the top 10 on his way to a 12th-place result.
The Cup Series goes to Watkins Glen in a couple of weeks, where Ambrose broke through and earned his first victory last season. But his weekend domination at Sonoma and then subsequent disappearing act put him on this list of 2012's surprisingly winless drivers.
Keep Reading