Detroit Lions 2012: Does Head Coach Jim Schwartz Have Control of This Team?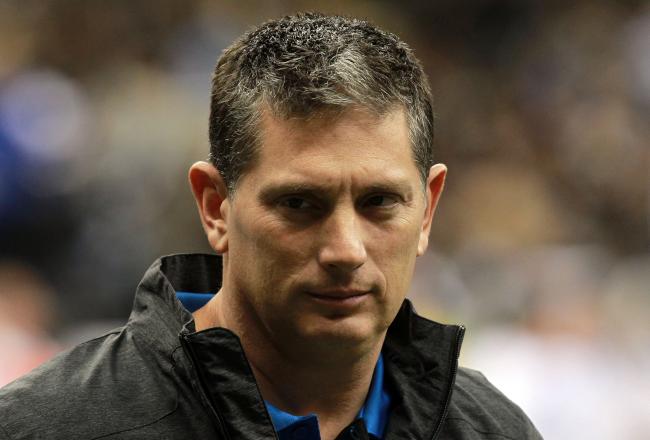 Ronald Martinez/Getty Images
NFL pundits are constantly cracking jokes about the Detroit Lions, questioning whether head coach Jim Schwartz has lost control of the team, but they are really missing the mark. Certainly the players have thrown logs onto the fire by making horrendous decisions during this offseason. The Lions were also guilty of far too many personal fouls in 2011, leading to speculation that Schwartz has lost the team.
It is an easy conclusion to come to when considering the personal fouls and offseason issues. It is also easy to pile on, to make jokes about the number of arrests that they have compiled during the 2012 offseason. If interested, go ahead and log onto any social media site, and see for yourself.
The question is fair, but the answer is far more complicated than a simple condemnation of Schwartz and the players. Is it entirely fair to pin the discipline of an entire franchise on the coach? General manager Martin Mayhew has brought in these players. Is there some blame for Mayhew? These are also fair questions.
One of the reasons why the analysis of Schwartz misses the mark is because it does not take into account how Lions fans feel about Schwartz. The city of Detroit loves Jim Schwartz and what he brings to the table for the Lions. As Bleacher Report's own Andrew Garda told me earlier, Detroit Lions fans are content with their head coach. Detroit Lions fans love that Schwartz fights for his players and them.
For as long as I can remember, Lions fans feel as if they get the shaft from the NFL. This is not entirely true, but things like the Calvin Johnson "complete the process" non-catch reinforce this feeling to the fans. It is a catch and a touchdown if it is any other team in that scenario.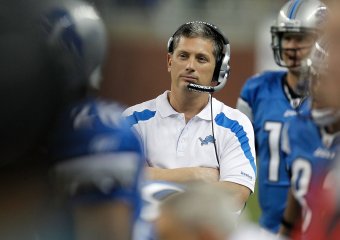 Gregory Shamus/Getty Images
From that perspective, fans feel like Schwartz has their back, that he is willing to go to battle for them. This does not mean that all fans love everything that Schwartz does. Most fans reacted negatively to Schwartz's behavior during the handshake dust-up between Schwartz and San Francisco 49'ers head coach Jim Harbaugh.
When NFL pundits knock Schwartz for being a bad coach, or not having control of the team, it seems illogical to people who have watched what he has done since 2009. The Lions were a complete disaster when he took over as head coach, and he has done an incredible job.
What kind of coach is Jim Schwartz? There are several components to think about when answering this question. The facts speak volumes about the answer, and they erode the concept that he is a bad, out-of-control coach. The facts negate the criticism, and it seems like the criticism can't be about football.
The Lions came back from very significant margins to win critically important games in 2011. They were down by 20 points in Week 3 against Minnesota to win in overtime, 26-23. They were down 27-3 in Week 4 against Dallas to come back and win 34-30.
In Week 11 against Carolina, the Lions were down 24-7 in an enormous NFC game. They came back to win 49-35. The capper was in Week 15 against the Oakland Raiders when they were down 27-14 in the 4th quarter and came back to win 28-27.
These comebacks are the mark of an incredibly resilient football team, and not that of a team with an out of control coach. If anything, it speaks to the amount of control that the coach actually had on the team during extremely stressful times in 2011.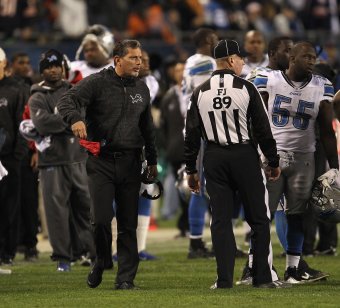 Jonathan Daniel/Getty Images
The Lions have won a lot of games with Schwartz as their head coach. This erodes the idea that he is a bad coach with no control. Remember, the Lions were winless in 2008, going 0-16 before he became their head coach.
Schwartz took over in 2009, and the Lions won two games. In 2010, they won six games and in 2011 they won 10 games. The wins speak for themselves and are a testament to the character of the team and their head coach.
The turnaround has been terrific, and it has happened extraordinarily quickly. The Lions went from the basement of the NFL to the playoffs in three years, and Schwartz has been an enormous part of it. He has instilled a winning mentality, and he does not accept failure. This turnaround is an indication of just how much talent the Lions are putting on the field and the job that the coach is doing.
What is apparent is that some people do not like Schwartz's abrasive personality, and some of the critical comments about Schwartz come from the dislike of how he goes about his business. It is a fair criticism, but ironically something that Schwartz doesn't care about.
Some NFL experts are trying to define him with a few incredibly poor decisions that his players have made, but concerns about Schwartz can't come from his ability to coach, as his record speaks for itself.
Jim Schwartz has done phenomenal things as the head coach for the Detroit Lions. He has taken a team that was as terrible as possible and put in into contention very quickly. There are not too many Lions fans that would argue with the results to this point, and that is point, because the results have been fantastic.
This article is
What is the duplicate article?
Why is this article offensive?
Where is this article plagiarized from?
Why is this article poorly edited?

Detroit Lions: Like this team?