The Craziest Surfaces in Sports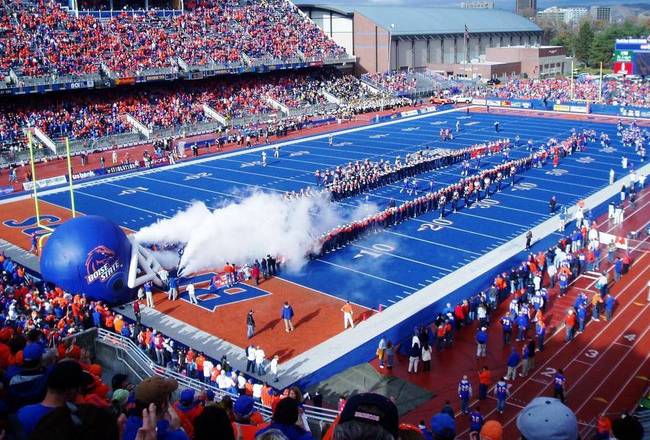 Image via rieselisd.org

In the same manner slow-motion video taping adds effect and intrigue to any ridiculously mundane activity, vibrant fields of play can make any blood-thirsty scrimmage a visual masterpiece.
Environment is an underrated, perhaps unappreciated, aspect of sports that has yet to earn the respect it deserves. We've had enough of the subtle-orange hardwoods and the routine green gridirons. It's about time for a change.
Thankfully, several crafty architects have already made their mark on the world of sports with their provocative displays of colorful brilliance. From two-tone blue to lava red, the options for a colorful field are endless.
Let's check out the craziest floors (and fields) in sports.
Enjoy the fresh terrain.
15. Alamodome, San Antonio, Texas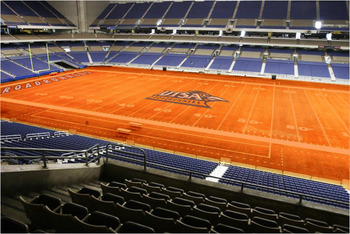 Image via blog.mysanantonio.com
It was UTSA promotions ace Jim Goodman who once said, "We can neither confirm nor deny that we would have an orange field."
In other words, innocent until proven guilty.
You can bet the University of Texas at San Antonio Roadrunners would dream of an opportunity to play on sun-like turf. And we'd love the opportunity to see it.
14. Roos Field, Cheney, Washington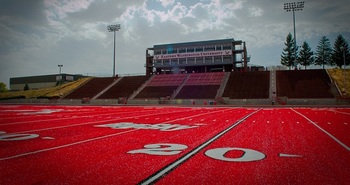 Image via action81.com
With Titans lineman and Eastern Washington alum Michael Roos sparking donations with $500,000 of his own, the bloody surface finally seemed like a reality.
A lava-esque terrain was undoubtedly the perfect way to improve lacking attendance and limited media attention, as well as to terrify opponents.
13. Bill Pate Stadium, Hidalgo, Texas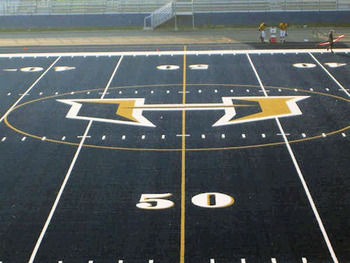 Image via texasbob.com
To counter its bright peers, Bill Pate Stadium installed a calming navy blue surface.
We'd like to believe that the Hidalgo Pirates feel a subtle warmth under their feet every time they step on the field.
12. Matthew Knight Arena, Eugene, Oregon
Image via nikeblog.com
When this abstractly intriguing court opened up last year, we weren't sure how to feel.
The shadowing of trees are meant to surround the middle, but only seem to create a tainted centerpiece that haunts the eyes.
In reality, they could've gotten the same effect by allowing a flock of pigeons to release their uncontrollable bowels over center court. But somehow it works.
11. Cougar Stadium, New Braunfels, Texas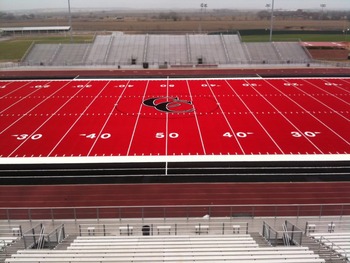 Image via kgnb.am
As the first and only high school in the country with a red football field, Canyon High School can embrace its Cougar Stadium with a genuine appreciation that others can't.
Opponents and fans alike absorb the vibrant red for hours before becoming numb to the effects.
10. Ralph F. DellaCamera Jr. Stadium, West Haven, Connecticut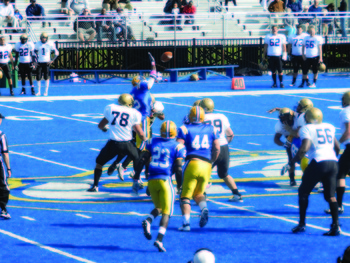 Image via chargerbulletin.com
When they D-II New Haven Chargers returned to Northeast-10 Conference play in '09, they wanted to make a statement.
Various shades of blue and a mustard-yellow finish offer quite the visual compilation for viewers.
Like a juiced-up San Diego Chargers throwback jersey laid out on the field.
9. LSU Tiger Stadium, Baton Rouge, Louisiana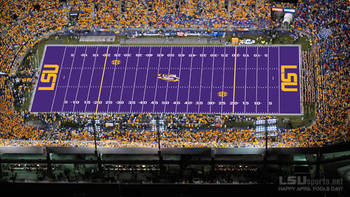 Image via lsusports.net
For a powerhouse like the Tigers, a purple field with yellow markings seems like the only acceptable choice for a regal surface. At least that's what the respected gents in Louisiana seemed to believe.
On second thought, this proposal was delivered on April 1st...
8. Lovington Field, Lovington, New Mexico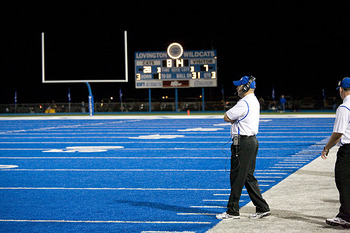 Image via espn.go.com
As the home of Bears great Brian Urlacher, Lovington High knows it has a reputation to uphold. It's a place where legends are built.
Pure blue is the color of inspiration, calmness and understanding. A hectic environment can be immediately smoothed by such a delicate visual.
Well done Wildcats, well done.
7. Lindenwood University-Belleville Football Field, Belleville, Illinois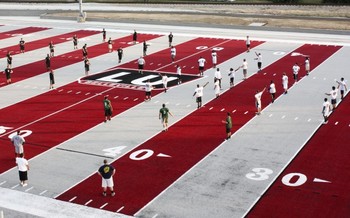 Image via sports.yahoo.com
Maroon and grey are rarely associated with each other, but it seems NAIA Lindenwood University-Belleville (Illinois) decided to flip the script and pioneer a more artistically-adventurous future as part of their $2.3 million stadium renovation.
Sure it's the Lynx's colors, but it's not exactly traditional when covering the field of play. However, nothing these days seems routine.
6. Battle of the Surfaces, Palma De Mallorca, Balearic Islands
Image via maletennis.com
Nineteen days and $1.63 million is all it cost organizers to construct the most unique tennis court known to man.
Having rivals Roger Federer and Rafael Nadal battle dual terrains in '07 was perhaps the most intriguing sight in tennis history.
5. West Hills High Field, Santee, California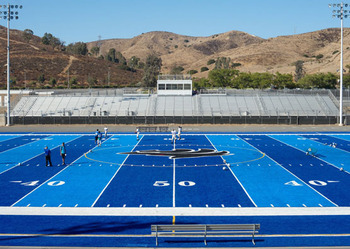 Image via parkwestlandscape.com
To eclipse the pack of single-colored fields around the world, West Hills High near San Diego decided to alternate creativity and freshen up its presentation.
It's become the only stadium in the nation with a non-green, two-tone turf field. A visual masterpiece.
At least the Wolf Pack will never be confused with Boise State.
4. Estes Stadium, Conway, Arkansas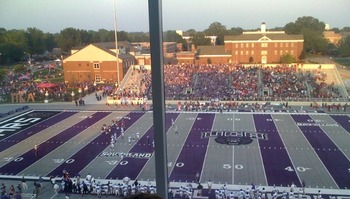 Image via arkansassports360.com
Central Arkansas seemed determined to keep its viewers feeling level and engaged when it installed its purple-and-grey turf last year.
The voluptuous purple offers a taste of something unique, while the grey presents a calming contrast. Willy Wonka would be proud.
3. Bronco Stadium, Boise, Idaho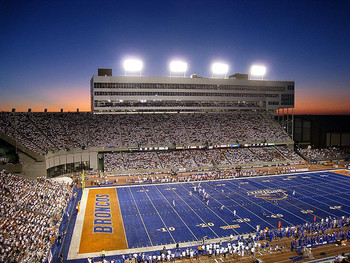 Image via flickr.com/photos/jasonhaberman
Located in Boise, Idaho, Bronco Stadium installed its memorably-blue turf in 1986 as the first non-green playing surface (not including colored end zones) in football history.
The illustrious Smurf Turf is a NCAA wonder—a bucket-list necessity for diehard football fans.
Watching the Boise State Broncos has become a sight to behold, especially during a glistening sunset.
2. Cathy Parker Field, Barrow, Alaska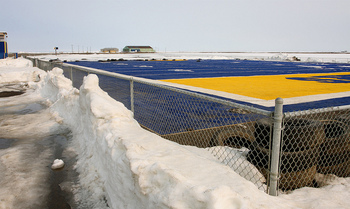 Image via flickr.com/photos/travelingotter
The northernmost community in the United States once played on a "glorified gravel pit."
The one and only Arctic high school football team in America is only 340 miles north of the Arctic Circle—"a place with no grass, no trees, but plenty of permafrost (snow and ice covers the landscape eight months a year)."
But thanks for Cathy Parker and her national fundraising campaign through ProjectAlaskaTurf.com, the Barrow Whalers now have a glorious new home.
The top of the world is no longer a freezing tundra that prevents safe football: it's now heaven.
1. 3D Basketball, Munich, Germany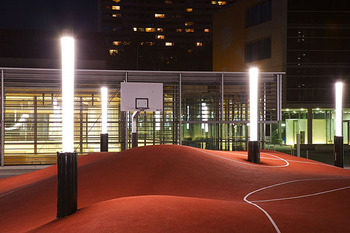 Image via sports.yahoo.com
Lights, lumps and resulting limps. The third-largest city in Germany has eloquently combined creativity with craziness to build perhaps the most unique arena in history.
It takes a certain kind of artistic ability to play an actual game on this court, and we respect those willing to give it a shot.
In case playing ball on curvaceous terrain gets frustrating, naps and star-gazing are possibilities as well.
Keep Reading