Indianapolis Colts: 3 Things Andrew Luck Must Show Us in Training Camp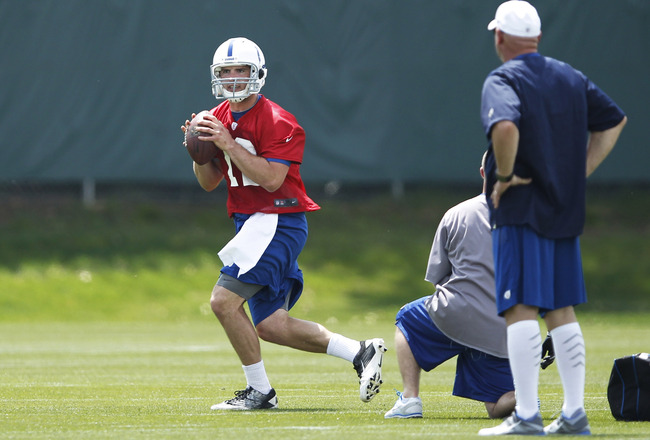 Joe Robbins/Getty Images
After missing all of the Indianapolis Colts' OTAs in the beginning of the offseason, Andrew Luck has a lot to show his teammates and the fans when the team gears up for training camp on July 29th.
Luck was busy finishing up his degree requirements from Stanford University as the rest of the Colts were getting a head start to the season. Not the way the team wanted to start off their new Manning-less era.
As all the hype has been saying, Luck is the answer to the Colt's questionable 2-14 performance last season. He is Indianapolis's version of Tim Tebow.
So yes, you could say there's a lot of pressure riding on Luck's performance even before the season starts. Training camp will be the perfect opportunity for the team and coaches to see how Luck performs with Indianapolis's audience. And it will give the fans a chance to see their new football savior on the field and in action.
To make sure he does not disappoint, there are three main things that Luck must show us in training camp to prove that he is what the Colts need to bounce back in 2012.
Come Prepared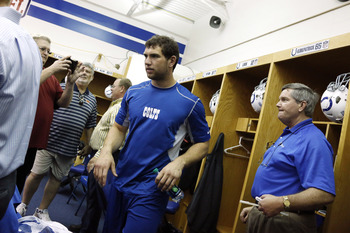 Joe Robbins/Getty Images
Luck missed all of the Colts' OTAs to finish up his studies at Stanford University. That means he needs to come to training camp as if he didn't miss anything at all.
Seriously.
The start of training camp means the team is buckling down for preseason up ahead. Luck needs to come in knowing all the plays, the routes, his offensive teammates...everything.
When the gates to Anderson University open up on July 29th, a hopefully newly-signed Luck needs to be ready to perform for everyone who has invested their money and crossed their fingers.
Luck will need to show that he is every bit as capable as he has been built up to be, and that missing OTAs will not affect his play.
Confidence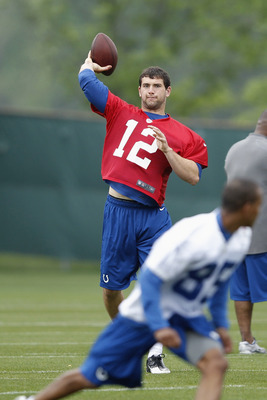 Joe Robbins/Getty Images
Despite missing OTAs and being a rookie, the most important thing Luck will need to show in training camp is confidence.
Whether it's fully sunk in yet or not, Andrew Luck is the new leader of the Indianapolis Colts.
That's quite a title for a 22-year-old fresh out of college. And he's going to have to catch on quick. Luck needs to display strength and confidence to lead his offense in training camp in preparation for the upcoming season.
The Colts are one of the most valuable franchises in the NFL, and now that Luck is the new face of the franchise, he needs to show that he's ready to bring the team back to their former powerhouse reputation.
Granted, being a rookie quarterback, he's probably beyond nervous. But it would be in Luck's best interest to hold it in and set his focus on the field.
Stanford Throwback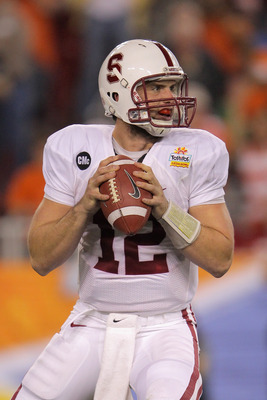 Doug Pensinger/Getty Images
Hopefully, this will come naturally to Luck. What he needs to show us in training camp is what he wowed audiences with in college football.
We know he's good at the collegiate level. Luck was two-time runner-up for the Heisman trophy. He was considered the most accurate passer in college ball, and he was Stanford's star quarterback for three years.
Coaches, analysts and fans rave about his skills and raw talent as a quarterback. He has incredible field vision; he can read the defense and lead his receivers.
What Luck needs to show at training camp is what he showed while playing for Stanford. He played with strength, confidence and a cannon of an arm.
He needs to place his NFL first-day jitters aside and play like he did at Stanford. Of course, the level of play is different. The pros are at an entirely different pace than in college. But it's the way Luck played that will help him the most on the field.
A lot of the skills he developed and executed at Stanford will help him as a professional quarterback.
The kid has talent.
Now he just has to prove it to Indianapolis.
Keep Reading

Indianapolis Colts: Like this team?