Penn State Football: Why There Should Be No Debate over Joe Paterno Statue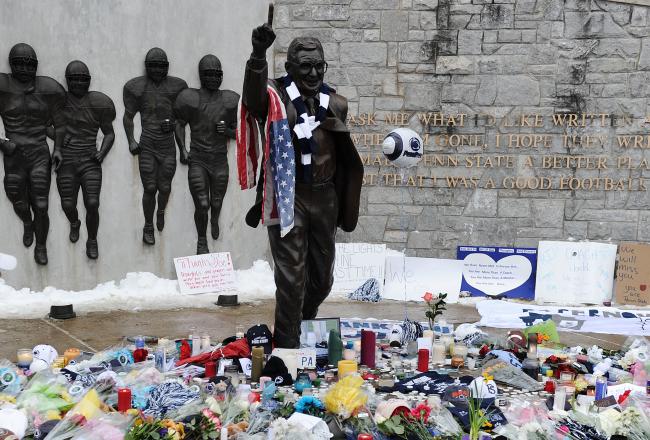 Patrick Smith/Getty Images
Over the weekend the Penn State Board of Trustees decided to keep the Joe Paterno statue despite cries to tear it down following the fallout of the Freeh Report. As ESPN reports, the trustees chose to keep the statue of the longtime head coach.
As one board member stated, "You can't let people stampede you into making a rash decision. The statue represents the good that Joe did. It doesn't represent the bad that he did."
That's not "good for Penn State." It also is not "shame on Penn State." To go with the standard sports cliché, "it is what it is" in the grand scheme of things. It's Penn State's statue, it's Penn State's stadium and overall it's Penn State's call. If it believes that its donors, its students and its faculty are comfortable passing that statue on game day then keeping it should be a non-issue.
The fact of the matter is the clear fixation on a statue is the problem. It's a chunk of bronze that sits outside of the stadium. It is not a school president, a football coach, a member of the Board of Trustees or any of the factors that matter. If you're obsessing over a statue on campus, then you're missing the point.
This case. This scandal. For all of the ugly that was allowed to take place because of the silence of and cover-up by four key individuals, the focus should be on fixing Penn State. Don't focus on a statue or a football program; rather, focus on fixing the school from the inside out—fixing Happy Valley from the top down.
As the Freeh Report showed, Penn State lacked the organizational protocol of accountability. If you really care about what happened in State College, Pennsylvania, then focus on that. Not a statue.
Should Penn State have taken down the statue?
To be blunt, I've never cared about Joe Paterno. In my 27 years of life, he was just an old guy who was overrated as a coach but was at his job a long time. Certainly, you get statues for winning national championships, but for me, he's never been much more than a guy who stayed at his job as long as they let him.
This is not about protecting his legacy. The fact that people care so much about legacy, on both sides, is part of why something like this was able to be perpetrated in the first place: desire to protect the legacy. Now the rush is to crumble a legacy. It all prioritizes a legacy, something that shouldn't matter much at all, over fixing the problem and installing the checks and balances required to safeguard against this happening again.
If you're focusing on a statue, then you're missing the point. Keeping a statue isn't a sign that Penn State doesn't recognize the horrors. The symbol of it not recognizing the horrors would be if it did not change and grow from this point forward. If the school does not have a more aggressive approach to protecting victims, reporting crimes and working to establish a protocol, then it has not learned its lesson.
Tearing down a statue is not going to fix that.
This article is
What is the duplicate article?
Why is this article offensive?
Where is this article plagiarized from?
Why is this article poorly edited?