Lionel Messi vs. Cristiano Ronaldo: Battleground La Liga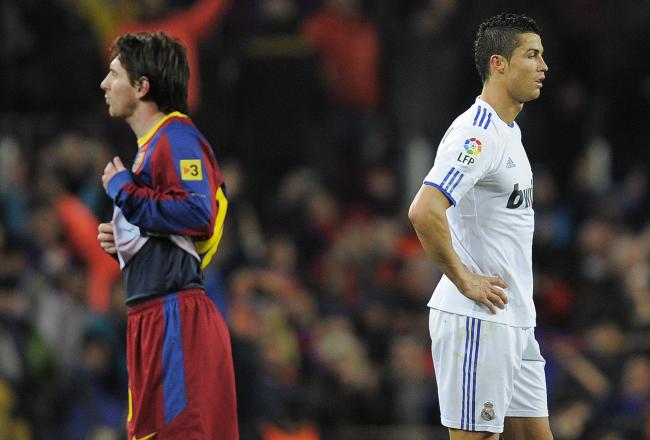 David Ramos/Getty Images
There is a bit of comic book rubric surrounding the two best footballers in the world right now.
Lionel Messi is generally considered top of the heap; quiet and unassuming, he lets the sorcery of his unparalleled football do the talking. Cristiano Ronaldo, while equally spellbinding on the pitch, tends to polarize neutrals with his egotistical and abrasive personality.
It's hard to label a multi-millionaire footballer a hero, but for the purposes of this scenario, Messi is a leader of the Football Hall of Justice while Ronaldo occupies a seat in Football's Legion of Doom.
Ah, Cristiano Ronaldo, Mr. Humility. We like to think of a classic Austin Powers scene when considering his current inferiority complex.
Messi is no saint either, as former Madridista Royston Drenthe has asserted, but we do know the 25-year old Argentinean has every reason to be a megalomaniac (three consecutive Ballons d'Or, a record-setting 73 goals in all competitions last season as well as a record 50 goals in La Liga) yet chooses a more subdued path.
CR is a petulant child-man, scowling and preening for the cameras every chance he gets. If there were no Messi, his Ballon d'Or total would surely be more than one (2008 winner) and his Golden Shoe total would have eclipsed two.
Messi always seems to be on Ronaldo's mind and the enmity between Barcelona and Madrid remains the European equivalent of a Hatfield/McCoy (Yankees/Red Sox, Michigan/Ohio State, USC/UCLA) situation.
This all begs the question: does Cristiano Ronaldo lie awake at night thinking about Lionel Messi? Only Irina Shayk might know the answer to that.
What will be Lionel Messi and Cristiano Ronaldo's combined goal total in all competitions in 2012-2013?
Cristiano need only look to the LeBron James model for a way to proceed. Transcendental meditation, not letting personal demons consume him or simply lightening up could help him achieve long sought-after goals (like winning the Euros or World Cup; granted Messi hasn't had much success on the international stage either).
In a world without Messi, Ronaldo would have taken the 2011-2012 scoring title with 46 La Liga goals. Ronaldo's 60 goals in all competitions was good enough for sixth on the all-time European season list but he still found himself looking up at the diminutive Leo (to Cristiano's credit, Messi appeared in 60 total club matches last season to his 55).
Messi was clearly the better playmaker in 2011-2012, notching 29 assists to CR's 15. Overall numbers also demonstrate a staggering advantage for Little Leo. In 329 club appearances for Barca, Messi has racked up 253 goals and 102 assists. Cristiano has 269 goals and 87 assists in 467 total club appearances.
While Cristiano's Real Madrid side captured La Liga in 2011-2012 in his third season with the club, Messi's Barcelona owned the previous three. Barca may in fact still be reeling from their Champions League semifinal loss to Chelsea but Messi's form should remain at an alpine high.
The summer of 2012 will have likely left a bad taste in Cristiano's typically sour mouth. He will have an axe to grind when La Liga kicks off August 18. Messi may be the hunted man in this media-fueled duel, but nothing really seems to phase him.
With six regulars (Real have four) from Spain's Euro 2012 Championship team (transfer rumors surround Gerard Pique but no move as of yet) the Blaugrana will have additional swagger (as if Messi needed more of an edge).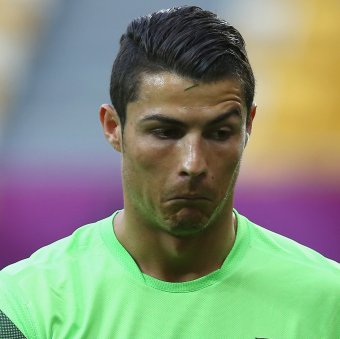 Pre-Tantrum Face?
Martin Rose/Getty Images
Ultimately, the mano y mano between Messi and Cristiano Ronaldo is just another Barcelona vs. Real Madrid subplot. Both players are in interstellar form. It's hard to see how Messi could top his 2011-2012 campaign, but he's not the type of player to rest on his laurels. Ronaldo will have had less downtime heading into 2012-2013 with the training and stress of the Euros.
There's no real statistical criteria to suggest Messi is going to have a better season than Cristiano Ronaldo in 2012-2013. Both players have superior technical ability with unrivaled first touches, blinding pace and Navy Seal-like stamina and agility. Messi has better close control and can slalom on a dime, but Cristiano has superior size and is probably a better all-around athlete.
In the end, we just think Leo's mojo is stronger right now. Real Madrid may win La Liga again this upcoming season, but Messi is simply cruising in his prime.
Advantage, King Leo. He'll see you on round the bend, Cristiano.
This article is
What is the duplicate article?
Why is this article offensive?
Where is this article plagiarized from?
Why is this article poorly edited?

FC Barcelona: Like this team?