New England Patriots: Why the Defense Will Be Top-10 in 2012-13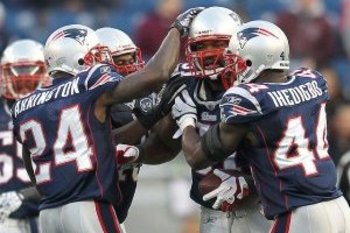 2011 was a season to forget for Bill Belichick and the Patriots defense. They had the worst year statistically since Belichick took over in 2000. The defense allowed 411.1 yards per game, second worst only to the Green Bay Packers.
Opposing quarterbacks were grinning from ear-to-ear when they saw New England on the schedule. They especially struggled stopping the pass and inexplicably gave up 353 yards, two touchdowns, and a 113.2 passer rating to Dan Orlovsky in Week 13. The defense stiffened up when it had its back against the wall, surrendering 21.4 points per game, good for 15th in the league.
With a healthier squad, a full offseason for players to develop, and new additions picked up through the draft and free agency, Belichick will find a way to have another top-ten defense in 2012.
In 2012 the Patriots Will Boast One of the Youngest Average Starting Lineups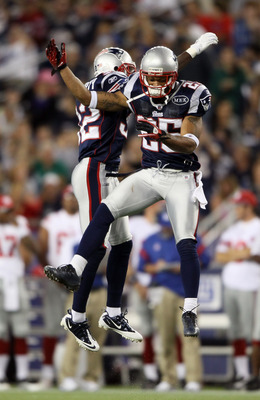 Elsa/Getty Images
I believe last season was a fluke for the Patriots. There is no way a Belichick-led defense can be THAT bad two years in a row, right? What isn't a fluke, however, is how young this defense is.
In 2012, the Patriots will suit up one of the youngest defenses in the league with a projected starting average age of just 26 (and yes that's including defensive lineman Vince Wilfork and Jonathan Fanene who have hit the 30-year-old mark).
The top-six leaders in tackles, LB's Jerod Mayo and Rob Ninkovich and DB's Kyle Arrington, Devin McCourty, James Ihedigbo and Patrick Chung have a combined average age of 25.8.
Mayo (26) and Chung (24), who seem to have been in Foxborough for decades, along with McCourty (24), Arrington (25) and Brandon Spikes (24) are just entering their primes and will only continue to improve and get better.
Last season marked the fourth consecutive season Mayo has eclipsed the century mark in tackles. Although Chung missed eight games due to injuries, he still managed 62 tackles, good enough for sixth on the team.
Mix in rookies Chandler Jones, Jake Bequette, and Dont'a Hightower, assuming they can steer clear of the injury bug, and the Pats will be greatly improved in 2012
The Defense Will Be Deeper and Healthier This Coming Season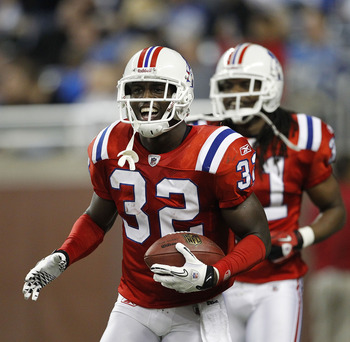 Leon Halip/Getty Images
Injuries have always been and will continue to be a big part of the game, but the Patriots were absolutely decimated with injuries on the defensive side of the ball. Free safety Patrick Chung, the vocal leader, missed eight games with multiple injuries.
Due to Chung's absence, Belichick was forced to play Devin McCourty (who missed two games due to injury himself) in spot duty at safety. Moving your best cornerback to safety leaves a big hole at cornerback, which was supposed to be filled by 2011 second-round pick CB Ras-I Dowling.
Dowling started the first two games of the season opposite McCourty before being placed on injured reserve with a torn tendon in his hip.
Luckily for the Patriots, they have Mr. Everything Julian Edelman, who did a decent job playing the nickel back position. Edelman saw action on defense in eight games, tallying 18 tackles.
Also missing some time were linebackers Brandon Spikes and Jerod Mayo, who missed eight games and two games, respectively.
Having so many key guys miss games due to injuries, coupled with the fact that Belichick lined up an ex-college quarterback as his third corner, led to some struggles.
With a full offseason for players to recover and develop, I don't expect that to happen again this season. The Patriots also did a good job drafting and bringing in players and will be much deeper across the board defensively.
The Offseason Acquisitions Will Pay Immediate Dividends
Another reason the Patriots defense will be much improved is the key offseason acquisitions they made via free agency and the NFL draft.
The Patriots brought in eight-year veteran Jonathan Fanene, who will attempt to fill the void left by Mark Anderson, who departed for Buffalo. Fanene isn't a pass-rushing specialist like Anderson, who tied for the team lead with 10 sacks last season, but he will help shore up the run defense alongside Vince Wilfork. Fanene can also get to the quarterback when needed after recording a career high 6.5 sacks for the Bengals last season.
The Patriots also did extremely well in the NFL draft, trading up in the first round to select Syracuse DE Chandler Jones and Alabama LB Dont'a Hightower.
Jones should initially be used primarily as a pass rush specialist, as he is still slightly undersized (6'5" 260 pounds). Jones missed four games due to a knee injury last year, but still managed 4.5 sacks for the Orange. He is also an absolute freak of nature that can run a 4.8 40-yard dash to go with a 35-inch vertical leap.
Hightower will most likely step in and be a starter from day one. He is big, fast, strong and extremely physical. He won't make the flashy plays Jones will eventually make, but he will be a consistent ball hawk who can put pressure on the quarterback. He also brings a high football IQ after starting 42 games for Nick Saban at Alabama, who runs a complex NFL-style defense.
I also expect draft picks Jake Bequette and Alfonzo Dennard to make a small impact right away. Bequette was a four-year starter at Arkansas where he racked up 23.5 career sacks. The way the Patriots love to rotate defensive linemen, Bequette could see a good deal of playing time early on.
Dennard was a second-round talent who dropped to the seventh round due to off-field issues. If he can mature and stay out of trouble, he can help shore up the defensive backfield.
The Patriots Still Have Bill Belichick Running the Show in Foxborough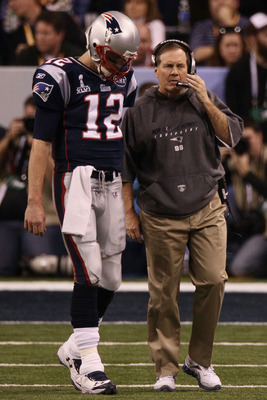 Win McNamee/Getty Images
The biggest reason the Patriots will be much improved defensively is because they still have one of the greatest football minds running the show, Bill Belichick.
Although BB and the defense had a terrible year, he still found a way to lead the Patriots to their fifth Super Bowl appearance in his 12 seasons as head coach.
"The Hoodie", as he is known, found ways to keep opponents out of the end-zone. After allowing opposing offenses to move the ball at will to the tune of 411 yards per game (ranked 31st), the defense only surrendered 21.4 points-per-game, good enough for 15th in the league.
The defense was depleted by injuries, but Belichick found a way to maximize what he had. With the high powered offense, BB didn't need to rely on the defense to win games, he just needed them to keep it close, which they did. The Patriots led the AFC with 23 interceptions and a +17 turnover differential.
With a healthier team, and no lockout looming this offseason, Belichick will be back to his old scheming ways and will quietly have another top-ten defense in 2012.
Keep Reading

New England Patriots: Like this team?