US Olympic Gymnastics Trials Shine Light on Hidden Perils of the Sport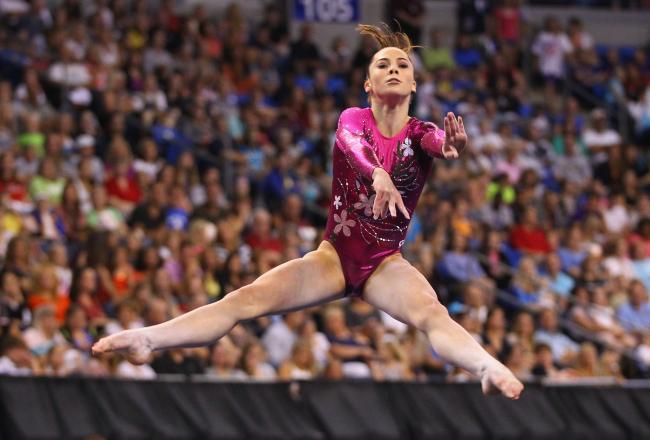 Dilip Vishwanat/Getty Images
It's not an easy sequence to watch. While warming up for the floor exercises at the Visa Championships on June 10, McKayla Maroney crashed onto the floor, suffering a concussion and a broken nose. It was a sobering reminder for those who don't pay attention to gymnastics except in an Olympic year: This is a dangerous sport.
"I thought I got up in 30 seconds, but I guess my brother said I was laying there for five minutes," Maroney recalled this week as she prepared for the U.S. Olympic Trials in San Jose. "When I was laying there, I was grabbing my head. I thought I was going to be fine. I thought that I was going to be able to compete, but I guess it was a little bit dangerous to compete because I was feeling dizzy."
She was lucky. She returned to practice last week and has been cleared to compete this weekend.
Maroney is not the only competitor this weekend coming off of an injury. Defending Olympic champion Nastia Liukin has a torn rotator cuff. Alicia Sacramone had to miss last year's World Championships due to an injured Achilles tendon.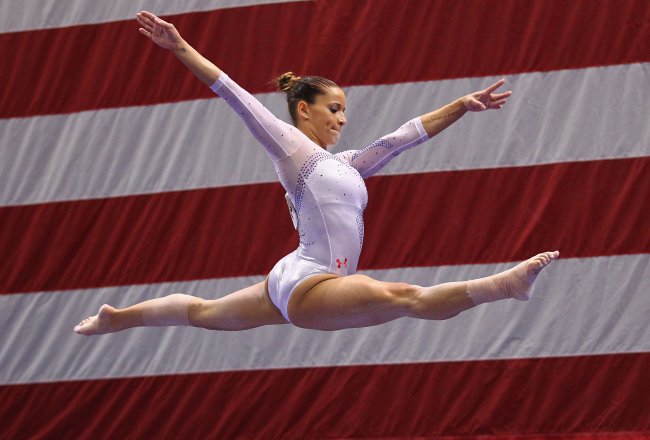 Dilip Vishwanat/Getty Images
"For the outsiders, it looks like a little bit of a prissy sport," Sacramone said. "We wear makeup and have our hair done and look cute. They say, 'Oh, yeah, I can do gymnastics, I can do a cartwheel.' But it is really dangerous. There's a lot of things they don't really take into consideration. If you miscounted your steps, you can miss the board, you can fall on your head, you can become paralyzed. These are all things that have happened in gymnastics in the past.
"For a not very knowledgeable fan, I don't think they realize how dangerous it can be or how painful some of the falls are that we have."
Gymnastics may not be a contact sport in that the athletes don't collide with each other like they do on the football field. But it most certainly is a contact sport when you consider all the falls each gymnast suffers, most of them far away from the spotlight of the Olympics.
"Every now and then, you'll see it in a competition, but most of the time, it's in practice," Sacramone said. "It's kind of swept under the rug because nobody wants to have the negative light of anything from it. You don't want to hear about injuries in baseball, football or hockey. You just want to watch the game and see them do well."
Sacramone knows something about football injuries—she's been dating Brady Quinn.
It has been 17 years since Joan Ryan wrote, "Little Girls In Pretty Boxes," the ground-breaking book that exposed the physically- and emotionally- broken girls left behind in the zeal to create stars in gymnastics and figure skating. It's not clear if things are better now.
Certainly, Maroney, Liukin and Sacramone are effectively professional athletes, with plenty of endorsement deals, so they can accept the risk of serious injury. But if the perception that gymnastics is a "safe" sport for young children persists because the seriousness of injuries are missed by the public, that's a different story.
Many parents worry about professional football players returning to games after having their "bell rung," is a bad example for children. Talking to the gymnasts about their injuries, they sound just like athletes in other sports—skirting that fine line between wanting to compete and acting irresponsibly. When Liukin was asked about her shoulder, she said, "I think at this point it's just...you don't really think about it. (laughter) You push through it on a daily basis, take some pain-killers, and you're good."
Said Maroney about worrying about her concussion when she competes this weekend, "There's no fear. I just over-rotated and I hit my head. Injuries happen all the time. I'm actually really lucky that I didn't hurt my ankle or hurt my knee. Those kind of things take six weeks to heal so it's a actually it's blessing that I only got a concussion and it only took me a week to heal."
Read that last sentence again. She "only" hurt her head rather than her knee? That doesn't sound so lucky.
Damin Esper is a Contributor for Bleacher Report. Unless otherwise noted, all quotes were obtained first-hand.
This article is
What is the duplicate article?
Why is this article offensive?
Where is this article plagiarized from?
Why is this article poorly edited?