New York Knicks: Why Knicks Should Trade Amar'e Stoudemire Before the NBA Draft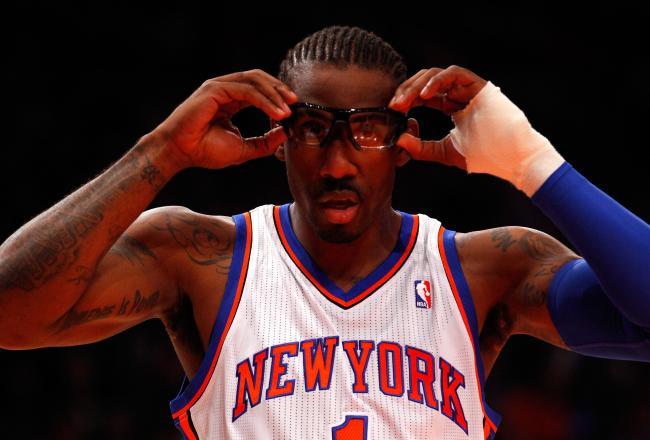 Jeff Zelevansky/Getty Images
Amar'e Stoudemire stepped into the bright lights of Broadway in the summer of 2010 when no other star was willing to accept the challenge of resuscitating the dormant New York Knicks franchise. Almost overnight, he brought winning basketball back to Madison Square Garden and made New York City an attractive destination for players and fans alike.
Carmelo Anthony forced the Denver Nuggets to trade him to the Knicks in February of 2011, in part due to his desire to play with Amar'e. Tyson Chandler spurned offers from other teams last December in order to join forces with Anthony and Stoudemire.
Now, just two years after signing Stoudemire to a five-year, $100 million contract, the Knicks must trade their star power forward in order to take the next step towards winning a championship.
Phil Jackson hit the nail on the head during his interview with HBO's "Real Sports," which aired last Tuesday when he called the Knicks roster "clumsy." The Zen Master said, "They don't fit together well. Amar'e Stoudemire doesn't fit well together with Carmelo (Anthony)."
Amar'e thrives on the pick-and-roll, utilizing his great hands, exquisite timing and explosiveness to finish with authority. He worked the play to perfection in Phoenix, playing with a willing passer in Steve Nash, in a spread offense which provided Amar'e and Nash plenty of room to operate.
Anthony, on the other hand, prefers to score off of isolation plays. He's excellent at creating his own shot, but rarely makes plays for his teammates. When Amar'e sets a screen for him, more often than not he just disrupts Melo's rhythm.
Carmelo also prefers to initiate his moves from the post, on the wing or at the elbow, as opposed to behind the three-point line. As a result, he usually hovers near the paint, which reduces the space Stoudemire has to work the pick-and-roll.
Instead of complementing each other's skills, Melo and Amar'e get in each other's way.
They also essentially play the same position. Though Melo's typically a small forward, he played his best basketball this past season at power forward, while filling in for the injured Stoudemire. He used his quickness to exploit bigger players and held his own on the boards.
Another problem with Amar'e and Melo is that they're both poor defenders. While a team can overcome one bad defender, it's very difficult to be a great defensive team with two bad defenders on the floor at the same time.
Melo's subpar defense seems to be the product of inconsistent effort. He's an adequate on-the-ball and help defender when he applies himself, and is more inclined to do so in big games. Amar'e has poor instincts and lacks the lateral mobility necessary to defend the pick-and-roll.
After playing together for a season-and-a-half, it's apparent that Melo and Amar'e don't possess the chemistry necessary to take the Knicks to the next level. Their exorbitant salaries also make it virtually impossible for the Knicks to afford to surround them with the pieces necessary to build a championship-caliber team.
One of them needs to be traded, and Amar'e is the obvious choice.
As noted, Melo is the better defender of the two and is more versatile offensively. He has greater range on his shot, is quicker off the dribble and is able to play the 3 and the 4. He also possesses a different skill set than Chandler, who, like Stoudemire, scores most of his points off the pick-and-roll.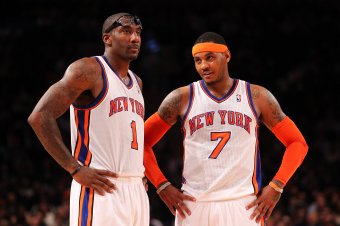 Al Bello/Getty Images
Melo's game is better suited for Coach Woodson's offense. Unlike D'Antoni, who built his offense around stretching the floor and running the pick-and-roll, Woodson prefers to feature his scorers in the post and with isolation plays.
At the age of 28, Melo is in the prime of his career, whereas Amar'e, though just a year older, is breaking down. He suffered such severe knee injuries early in his career that the Knicks were unable to insure his $100 million contract, and he's missed several games due to back injuries during his two seasons in New York.
This past season, Amar'e lacked the explosiveness that had made him such a potent offensive force. Unable to get any lift on drives to the basket, he had his shot blocked at an alarming rate and averaged just 17.5 points per game, the lowest since his rookie season.
The best time for the Knicks to move Amar'e would be before Thursday's NBA draft. The trade market heats up prior to the draft as team's look to add or unload draft picks and position their rosters and finances for free agency.
The Knicks don't have a pick in the first round of the draft, and general manager Glen Grunwald may be able to use Amar'e to acquire one. Trading Amar'e could also free up money for the Knicks to offer to a veteran free-agent point guard like Steve Nash.
Trading Stoudemire won't be easy, though. Teams will be reluctant to take on an uninsured contract worth $64.4 million over three years for an injury-prone player whose skills are in decline. But if Gilbert Arenas and Rashard Lewis have taught us anything, it's that no player is untradeable.
Grunwald's best bet is to find a team with plenty of salary cap space that would benefit at the box office from a marquee name. He may have to take some bloated contracts back in return.
The Knicks' organization and their fans should be grateful to Stoudemire for turning around the franchise, but there's no place for him in the Knicks' future. This is Carmelo Anthony's team now. Grunwald needs to try and trade Amar'e this week.
This article is
What is the duplicate article?
Why is this article offensive?
Where is this article plagiarized from?
Why is this article poorly edited?

New York Knicks: Like this team?