Dwight Howard Trade Rumors: Rockets Must Find a Way to Steal D12 from Magic
June 27, 2012

Sam Greenwood/Getty Images
There's been yet another chapter opened in the Dwight Howard saga, and for nearly everyone's sake, it should be the last. 
Hoopsworld's Bill Ingram reported Wednesday that the Houston Rockets are clearing space and piling on draft picks to make a move for Dwight Howard before the June 28 NBA draft. 
After it became a foregone conclusion that Howard was in Orlando for the near future when he decided to opt-in to the final year of his contract, he's now almost certainly leaving the team that drafted him first overall in 2004. 
The Rockets have seemingly come out of nowhere to become a big time contender in the D12 sweepstakes. The Brooklyn Nets have been a frontrunner for some time in the hopes that they could build a super team with Deron Williams; while the Lakers and Mavericks—among others—have always been candidates for a blockbuster move.
Here's why the Rockets must find any way possible to lure the NBA's most coveted available player—and the game's most dominant big man.
The West Needs Some Competition
Don't look now, but the Western Conference is slowly becoming top heavy.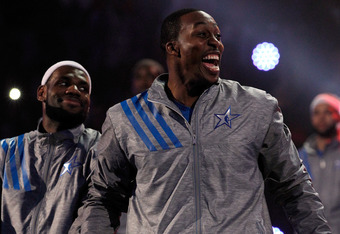 Ronald Martinez/Getty Images
The Oklahoma City Thunder's rise to power in the 2012 playoffs exposed weaknesses in what was supposed to be the West's best teams. The Lakers look to be a piece or two away from being a real championship contender again, and the Spurs are only getting older—and it showed against OKC in the conference finals. 
The rise of a powerful team in Houston behind Howard could prove to be too much for OKC to handle, and would give them a consistent chance of making the NBA Finals if they build around Howard correctly. 
Besides, the league itself is becoming slightly too predictable in the early stages of the playoffs, and it could use more solid teams that are ready to make a run. A revitalized Howard in a Rockets uniform could prove to be menacing for the Western Conference.
Deron Williams Would Likely Join Him
Ingram from Hoopsworld also illustrates the possibility of Deron Williams joining Howard in Houston.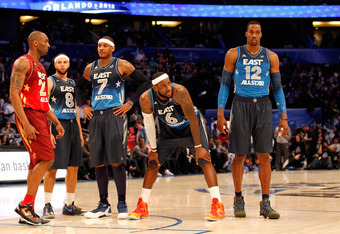 Ronald Martinez/Getty Images
We've seen in recent years how much superstar free agents like to follow their counterparts, and Williams could do just that if Howard ends up being moved to the Rockets.
For some time, there was a high likelihood of Howard joining Williams in Brooklyn this past season and during moments of the offseason, but it looks like the Nets don't have the talent and impact that Orlando is looking for in a trade. It looks like it's almost impossible at this point for Brooklyn to sway Orlando without making a detrimental impact on their chances of winning next year. 
Williams is an unselfish point guard who can also score the basketball at will—which looks like a perfect fit with Howard, on paper. He'll gladly give D12 his touches while adding one of the game's best point guards to a formidable Houston team.
Rockets Created a Contender with Yao Ming
The Rockets were able to create a solid team behind big man Yao Ming just a few years ago, and they have the blueprint ready to make it happen for Howard.
Ming was the focal point of the Rockets' offense nearly every year that he was in the league; and without injuries hampering his career, he would probably still be wreaking havoc in the post. 
If Houston can make it happen with Ming, they should have no problems making it happen with a former first overall pick, and—hands down—the best center in the NBA.