Jeff Gordon: Why He's Struggling so Much This NASCAR Sprint Cup Season
June 26, 2012

Robert Laberge/Getty Images
Jeff Gordon's sixth-place finish at Sonoma Raceway on Sunday represented a pedestrian run for the four-time NASCAR champion; after all, he's scored five wins at the track and has only finished outside the top 10 twice since 1995.
But the way that Gordon's season has been going, perhaps the finish—his second sixth-place in a row—served as a blessing in disguise. After all, Gordon currently ranks 18th in points, a far cry from last year's performance (he was ninth at this point) and worse through 16 races even than his rookie season.
Sure, Gordon has led at least one lap in 11 of 16 races thus far this season, and the 12 bonus points he scored (he led the most laps once) are worth two spots in points. But other than that, if not for bad luck, Gordon would have no luck at all.
Perhaps the writing has been on the wall for Gordon all year. After all, 2012 started with a scary accident in Daytona's Budweiser Shootout that saw the No. 24 car flip violently multiple times. Then, in the Daytona 500 itself, his engine let go, relegating him to a 40th-place finish.
That's a far cry from what a six-time Daytona winner (and that's just in points-paying races) expects to do to start his season. From there, Gordon's team simply established a bad habit of being in the wrong place at the wrong time.
He had strong runs at both Bristol and Martinsville, only to be wrecked in both events; Dale Earnhardt Jr. needlessly turned him in the former, while a wild first attempt at a green-white-checkered restart in the latter saw him spun by Clint Bowyer and relegated to 14th.
Martinsville was particularly painful, as Gordon had led a dominant 329 of 500 laps. Gordon had led laps in the first six races of the season, with little to show for it but a bruised ego and 21st place in points.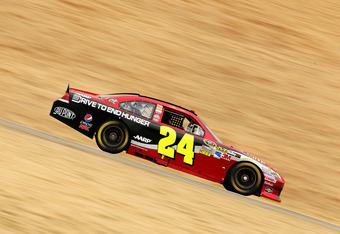 Ezra Shaw/Getty Images
Texas offered a brief respite, as Gordon's fourth-place finish there represents his best finish of the season thus far, but he followed it up with four consecutive finishes outside of the top 20 and fell as low as 24th in points after Darlington.
The past two weeks should make one thing clear, though: This team is still a strong Sprint Cup operation, and they can run for the front. Making the Chase for the Cup, however, will require one thing: running for wins.
After digging such a deep hole, and with only 10 races left before the cutoff for the championship, they'll need a wild-card spot to make it in. Both Kyle Busch and Ryan Newman have a win, giving them the spot; at a race's worth of points behind each, Gordon will need two or more to advance.
With the way Gordon's season has been going thus far, they're going to need luck to swing the other way, and fast. 2012 wouldn't be the first Chase without Jeff Gordon, but without a storybook turnaround, it may be a sign of struggles to come for the famed No. 24.