College Football: 3 Reasons Virginia Tech Will Be Most Exciting Team in 2012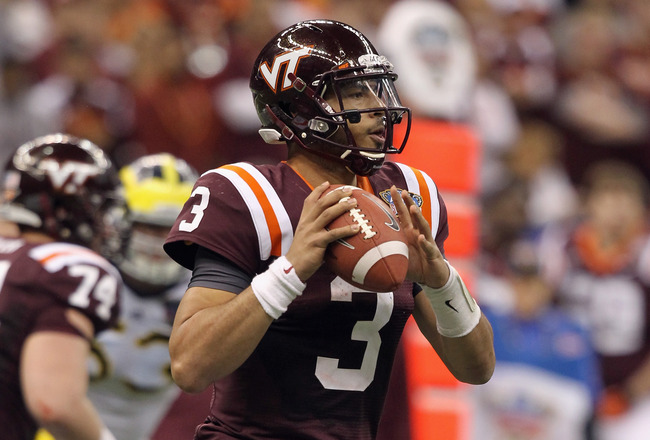 Matthew Stockman/Getty Images
The article title seems a bit misleading, right? Virginia Tech has never exactly been called exciting with the style of football that they play.
In recent memory, the Hokies have always employed a simple, pro-style offense; one that places an emphasis on running the ball.
That may all change this season as Frank Beamer's squad toyed with the idea of adding the pistol formation to their playbook in the spring.
This article will take a look at three reasons why the Hokies will be one of college football's most exciting teams in 2012.
Beamer Ball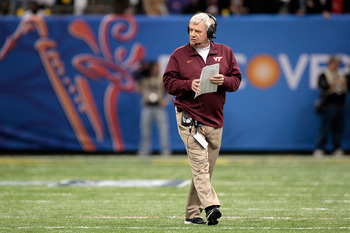 Chris Graythen/Getty Images
I'm going to say that the Hokies make a return to their roots this season. Beamer Ball was once the first thing would that people would come up with while discussing Virginia Tech football.
After an unusually low number of game-changing plays on special teams in 2011, expect the Hokies to feature one of the more exciting special teams units in the country this season.
From 2000-2008, there was always the threat that Tech could block any punt, field goal or PAT attempt. Sure, that chance still exists, but is not as high a percentage as it once was.
According to Andy Bitter of the Virginian-Pilot, when asked whether or not an increased focus would be placed on special teams this offseason, Beamer simply had this to say:
"It's always been an emphasis around here," Beamer said. "I mean, I don't think anyone puts more emphasis on special teams in the country than we do right here."
That quote alone should be enough to serve as a warning to teams all around the country that Beamer Ball isn't disappearing for good.
Logan Thomas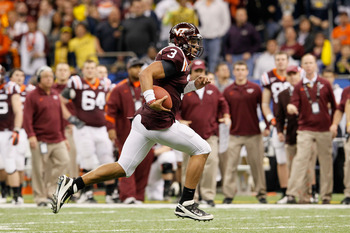 Kevin C. Cox/Getty Images
Thomas is coming off one of the best seasons ever by a Hokies signal caller, having thrown for over 3,000 yards and accounting for 30 total touchdowns in 2011.
The scary part?
Thomas may need to be even better this season, as Tech tries to replace David Wilson, Danny Coale and Jarrett Boykin.
Alone, the Lynchburg, VA native has the potential to be one of the country's most electrifying players and is another one of the reasons why the Hokies bear watching in 2012.
If Thomas can cut down on the number of interceptions and slightly improve his accuracy, he has a chance to join the short list of elite college football QBs. Not to mention the fact that he is already one of the best dual threats under center that you will find.
Working with four new starters on the offensive line and a totally new cast of weapons, expect No. 3 to place even more responsibility on his shoulders as he tries to lead Virginia Tech to the top of the ACC.
Mike O'Cain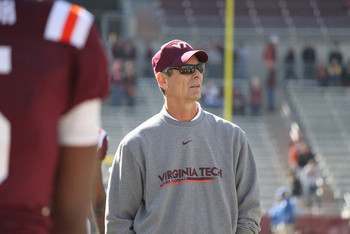 The eventual replacement to Bryan Stinespring (well, hopefully for the sake of Virginia Tech fans) has added a number of new wrinkles to the Hokies playbook.
The potential addition of the pistol formation, among other things, should play a big part in the Hokies showcasing a more appealing brand of football in 2012.
A combination of the creativity of O'Cain and the dynamic ability of Logan Thomas are the two biggest reasons why Virginia Tech will be one of the country's most exciting teams in 2012.
Keep Reading

Virginia Tech Football: Like this team?