NHL Draft 2012 Results: What They Mean for the Future of the NY Islanders
June 23, 2012

Jamie Sabau/Getty Images
Last summer, Isles GM Garth Snow said he was looking to add a top-four defenseman to help bolster the team's blueline. He was unable to make a move last summer and the team's defense suffered.
However, Snow made a pair of moves on the first day of the NHL entry draft to help improve the Islanders' defense corps in both the short and long terms.
First Snow pulled the trigger on a trade to acquire veteran Lubomir Visnovsky from the Anaheim Ducks in exchange for a second-round draft choice in 2013. Then, Snow selected big Griffin Reinhart with the fourth overall pick of the draft.
Visnovsky, 35, has played for the Kings, Oilers and Ducks since entering the NHL in 2000-01. Since 2005-06, he is third among NHL defensemen with 337 points. Only Nicklas Lidstrom and Dan Boyle have more. He will add experience and offensive ability to the team's blue line.
In 2010-11, Visnovsky scored 18 goals and totaled 68 points. This past season, his numbers fell as young Cam Fowler assumed more of his offensive responsibilities. Visnovsky scored six goals and totaled 27 points in 68 games.
Forward Matt Moulson played with Visnovsky in Los Angeles and said in a press conference (h/t Newsday) believes the team's newest veteran will help the Isles next season. "I think he was a very good pickup for us," Moulson said. "He's an extremely skilled defenseman, great on the power play, moves the puck well, skates well and he's a great guy. It's a little help on the offensive output on the back end."
Visnovsky is under contract for one more season. He has a cap hit of $5.6 million, which will help the Isles stay above the floor, while his salary for 2012-13 is just $3 million. The native of Slovakia is eligible for unrestricted free agency next summer.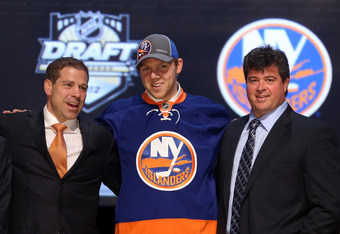 Bruce Bennett/Getty Images
In addition to the skills he adds, he can help mentor younger defensemen like Calvin de Haan, Travis Hamonic and Andrew MacDonald.
A few minutes after trading for Visnovsky, the Islanders drafted Griffin Reinhart with their first pick in this year's draft, the fourth overall selection. Reinhart is the son of former NHL defenseman Paul Reinhart, who played for the Flames and Canucks from 1979-1990.
As noted on islanders.com, Snow was pleased to add Reinhart, who he believes will be a big part of the club's future once he establishes himself on Long Island. Still, at this point, the Isles GM was in no rush to see his top pick play in the NHL this season.
"Our organization is fortunate to have already developed a formidable young core, which gives us the flexibility to allow elite prospects like Griffin to develop," Snow said. "He is a highly skilled defenseman who has been very impressive in his first two WHL seasons. Griffin's size and defensive instincts will be another piece to help solidify our lineup for years to come."
Reinhard stands 6'4" and weighs 207. In 58 games with the Edmonton Oil Kings of the WHL last year, he scored 12 goals and added 24 assists.
Most scouts project him as a two-way defenseman in the NHL and saw improvement in his game as last season progressed. He has good offensive instincts. If anything, scouts wanted to see him develop more of a mean streak and use his size and be more physical. That may come more as he gets used to his body.
 Ryan Strome, the Islanders' top pick in last year's draft, watched Reinhart in the Memorial Cup playoffs and was encouraged by what he saw.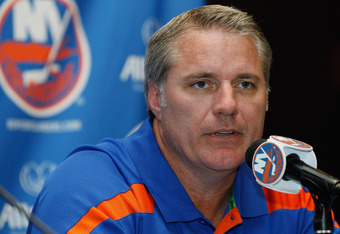 Mike Stobe/Getty Images
"He's a bigger guy," Strome said at the press conference. "He keeps the game pretty simple but has a lot of skill. We're really happy to have him, he seems like a great player and he's a big boy, so obviously he'll fit in well."
The Islanders continue the draft Saturday and resume with the fourth pick in the second round (34th overall).
The team will also hold its annual rookie/prospect camp next week at Iceworks, their practice facility in Syosset, New York.
So far, on the first day of the draft, Garth Snow did his best to address the team's most pressing need. That has to make Islanders fans happy.