Patrice Bergeron: Boston Bruins Center Nabs His First Selke Trophy
June 21, 2012

Bruce Bennett/Getty Images
Patrice Bergeron, the franchise's longest-tenured player, cannot seem to break his habit of splashing lengthy trophy droughts for the Boston Bruins.
One year and one week ago, his Game 7 icebreaker proved the championship clincher en route to Boston's first Stanley Cup in 39 years. And on Wednesday night, Bergeron became the first Bruin to garner the Frank J. Selke Trophy since Steve Kasper in 1982.
Bergeron's NHL-best plus-36 rating for the 2011-12 season was formally rewarded with the trophy for being the top defensive forward at the league's postseason awards ceremony in Las Vegas.
For Bergeron, it marks the first hunk of individual hardware in his eight NHL seasons and nine total years with the Boston organization.
For the Bruins, it means four major individual accolades in as many years for superiority in one's position throughout the regular season. And that's only counting to padded personnel, who are guided by the 2009 Jack Adams Award winner in head coach Claude Julien.
Previously, goaltender Tim Thomas corralled the 2009 and 2011 Vezina Trophy. Team captain Zdeno Chara, who was a finalist for this year's Norris Trophy, is still looking to add on to his 2009 laurel for best defenseman.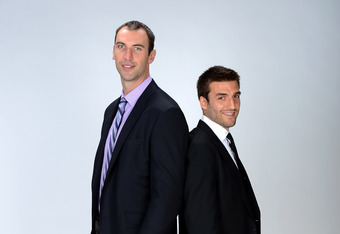 Harry How/Getty Images
As it happened, Chara was one of four individual Bruins to finish immediately behind Bergeron in the plus/minus heading this past season. He tied Chris Kelly for fourth on the club at an irreproachable plus-33, immediately behind Tyler Seguin's plus-34 and two ice chips ahead of Brad Marchand's plus-31.
All five are locked in for at least one more year and will all but indubitably earn a new pact with their current club before they are due to hit free agency again. Bergeron will only turn 27 next month while his two linemates, Marchand and Seguin, are both raring to embark on their third NHL campaign.
The mere presence of Bergeron and Chara at Wednesday awards show, to say nothing of Bergeron's victory, ought to brace Bruins buffs with a little more conviction as their team essentially enters the post-Thomas era.
Before he accepted his prize on Wednesday, Bergeron joined his captain in weighing in on the ornate goaltender's choice to step away from hockey in the 2012-13 campaign.
In an interview with the Bruins website, Bergeron said "I think we just need to keep doing the same thing we've been doing the past years. I think (defense) has been something that we worked as a whole and as a unit and not just by one player and one position."
Two cases in point: Bergeron himself piloting the two-way game, and Chara consistently hovering around the top echelon of NHL blueliners. Both men have now justified their reputations with one league-sanctioned trophy apiece.