Predicting Where Rashard Lewis Will Land If the New Orleans Hornets Buy Him out
June 20, 2012

Streeter Lecka/Getty Images
Upon completing the trade that will send Emeka Okafor and Trevor Ariza to the Washington Wizards in exchange for Rashard Lewis and a second-round pick, the New Orleans Hornets are reportedly primed to waive Lewis in order to save themselves some cap room (via ESPN's Marc Stein):
The Hornets, sources say, are planning to waive Lewis before July 1 to slice roughly $10 million off the $24 million that he is owed in 2012-13. He is entering the last season of a six-year, $118 million contract.
The deal would wind up saving New Orleans a boatload of money over the long-term, according to DraftExpress's Jonathan Givony:
Rashard Lewis' 23.8 million dollar contract can be bought out for 13.7 million before July 1st. Trade saves New Orleans around 30 million?

— Jonathan Givony (@DraftExpress) June 20, 2012
That would leave the 32-year-old Lewis free to sign with another team, presumably a postseason contender looking for some veteran help.
Lewis yielded the worst shooting performance since his rookie campaign last year, but he previously remained pretty effective in 2010-11—the season in which he split time between the Wizards and the Orlando Magic.
The 6'10" shooter is still a dangerous perimeter threat, and a change of scenery could do wonders for him.
After spending the last one-and-a-half seasons playing an increasingly marginal role for the Washington Wizards, the small forward isn't in store for another big payday. Chances are he'd also like to start winning some games for a change.
That puts him in a perfect position to sign on with a club for a veteran's exception, or portion of a mid-level exception.
Here are some destinations that make the most sense.
Los Angeles Lakers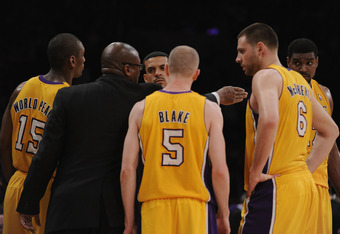 Harry How/Getty Images
Any time an affordable veteran hits the market, the Lakers are bound to come up. In this instance, there might actually be a match.
Los Angeles is short on consistent long-range shooters, and is dangerously thin at the small-forward position. Matt Barnes and Devin Ebanks are both free agents, and it's still unclear that either will return. 
That leaves the Lakers with Metta World Peace, which won't reassure many Lakers fans. 
More importantly, the Lakers aren't even close to having cap room, so the opportunity to add someone of Lewis' pedigree on the cheap has to be somewhat alluring.
Dallas Mavericks
The Mavs will have some cap room this summer, but they're looking to save most of it for some luxury items along the lines of Deron Williams. To that extent, Lewis could fit into Mark Cuban's plans. He'd certainly help the re-booted rotation spread the floor.
Dallas may be active in the trade market this summer, so the future whereabouts of swingman like Shawn Marion and Vince Carter remain in doubt. Lewis could help fill the gap if one of those guys is on the move.
Chicago Bulls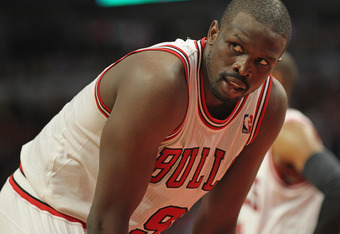 Jonathan Daniel/Getty Images
The Bulls would only make sense if the rumors about Luol Deng possibly being dealt actually have any merit. Otherwise, Chicago's wing would be a bit too crowded to offer Lewis any meaningful minutes.
Forwards Ronnie Brewer and Kyle Korver are both free agents in the summer of 2013, so Lewis may also have some long-term value in the event Chicago begins preparing for a post-Deng roster.
Boston Celtics
The Celtics don't fit the profile of a team short on cap space, but they could certainly use some more depth. If free-agent Ray Allen doesn't return, they could also use Lewis' ability to spot-up for a few three-pointers. It's still soon into what promises to be an eventful offseason for general manager Danny Ainge, but don't count Boston out of the running just yet.
Houston Rockets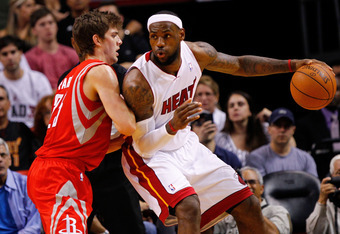 Mike Ehrmann/Getty Images
Lewis played his high-school ball in Houston, and was originally from nearby Louisiana. The return home might make up for the fact that the Rockets aren't quite contenders just yet, and there's reason to believe this is a team he could truly help.
Yes, the Rockets have a number of young forwards like Chase Budinger and Chandler Parsons, but having a veteran around to compete for some of those minutes makes some sense if this team is serious about returning to the postseason.
Los Angeles Clippers
Outside of Caron Butler, the Clippers have precious little depth on the wing. That's why you saw Bobby Simmons getting some serious playing time last season. Lewis would almost certainly play a role off the bench in Los Angeles, but he would still find himself some quality minutes.
Brooklyn Nets
There's still a good chance free-agent Gerald Wallace will wind up re-signing with the Nets, but this is a team looking to do anything and everything within its power to surround Deron Williams with talent. And, it's attempting to do so without breaking the bank so that it actually has the money to bring both Williams and Wallace back into the fold.
Phoenix Suns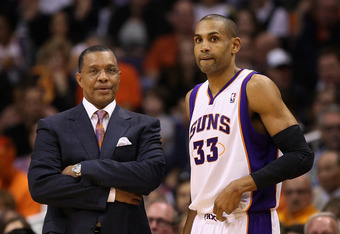 Christian Petersen/Getty Images
With free-agent Grant Hill potentially on his way out, the door may be open to a new small forward. While Lewis isn't yet as old as Hill or Steve Nash, Phoenix's top-shelf trainers have been known to extend careers.
That could be music to Lewis' ears as he prepares to enter his mid-30s—looking no doubt to revitalize a career that's been derailed.
New York Knicks
If the Knicks struggle to retain free-agent Steve Novak, Lewis would be an intriguing replacement. He would similarly help space the floor so that Carmelo Anthony and Amar'e Stoudemire can continue doing most of their damage from the paint and mid-range.
Like the Lakers, New York is so far beyond the salary cap that someone like Lewis becomes all the more enticing. Outside of retaining their own free agents, the Knicks will be hard-pressed to sign many assets this summer.