US Olympic Diving Trials 2012: USA to Rewrite Playbook at London Games
June 20, 2012

Harry How/Getty Images
As preparations are underway for the London 2012 Games, the U.S. Olympic diving team knows it is up against tremendous odds—this is a squad that has not won a medal since Laura Wilkinson famously upset several favored Chinese competitors during the Sydney Games in 2000.
On the men's side, the drought is even worse as Mark Lenzi claimed bronze in 1996, four years after Lenzi and Scott Donie took gold and silver in Barcelona 1992.
So when leading Team USA upset-contender David Boudia says the drought is a non-factor, you better listen.
According to Boudia—the 2008 Purdue graduate who won an individual silver on the 10-meter platform in 2011—it is high time for the U.S. divers to change their collective approach: "[In 2008], we were trying to get people to stop saying the U.S. hadn't won an Olympic medal since 2000. We were capable, but we didn't do it."
In his discussion of diving, Boudia opts for practicality—execution as opposed to difficulty. In a world where divers have grown accustomed to including increasingly complicated maneuvers and tricks, it is hardly a surprise that the 2008 Beijing Games awarded a platform gold to a diver who scored an Olympic record 112.10 points in his final attempt.
Though China claimed seven-of-eight gold medals that year, Austrailian Matthew Mitcham's record victory at Beijing has opened the door for the West and Team USA, perhaps giving Boudia the confidence necessary to win his World Championship silver.
Could the drought finally be over? Greg Louganis thinks so: "[Boudia's] got the tools and now he's acquired some belief. That's a big component in a dive list. Belief."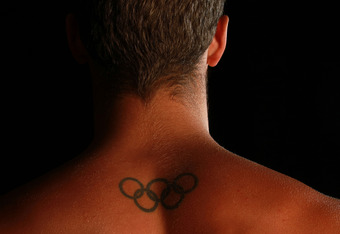 Ronald Martinez/Getty Images
Ironically, Mitcham may prove to be Boudia's biggest competition, having scored perfect 10s from seven judges during an Olympic trial in Adelaide earlier this year. Mitcham has already predicted that in London, he will score "heaps better" than his 1,514 total points scored in Beijing.
Meanwhile, Chinese diver Liang Huo remains a very real and proven threat. Liang finished fourth in 2008, though he and fellow diver Lin Yue took home the gold in the men's synchronised platform.
Team USA's combination of Boudia and Thomas Finchum finished fifth while the duo placed 10th and 12th individually.
The Chinese have decidedly not backed off since 2008, either: Though Boudia won the key silver during the 2011 World Championship, China set a record of their own, winning every last gold medal available at the event for the first time in history.
As for both sides' momentum heading into London, Boudia has demonstrated that Team USA can get back on the podium, whereas China has established themselves as a true dynasty—when one nation wins every gold medal available during a World Championship, colloquial wisdom indicates the momentum is all with the latter team rather than with the former individual.
Nonetheless, Boudia and his fellow American divers press on, in the midst of the U.S. Olympic Team Trials and in the middle of their arduous journey to London.
And while Boudia has dismissed the drought as a misnomer and distraction, the native Texan recognizes the weight a London medal would carry back home: "It would be huge."