Virginia Tech Football: Ranking Hokies' Toughest Tasks in 2012 Season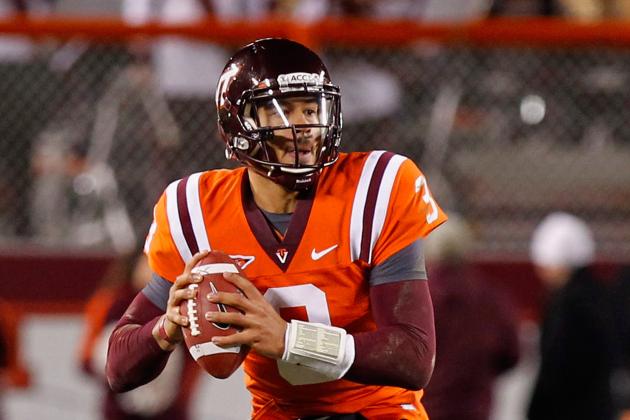 Geoff Burke/Getty Images

2012 could be a big season for Virginia Tech.
The Hokies return nine starters on the defensive side of the ball and junior quarterback Logan Thomas.
Bud Foster's defensive unit finished 10th overall in total defense in 2011 and have impressive depth throughout the front seven. James Gayle and Kyle Fuller, both juniors, lead what could be one of the best defensive teams in the nation.
Although things may seem to bode well for the Hokies as they enter the 2012 season, many things could prevent the Hokies from winning their fifth ACC title in nine seasons.
Here are the five toughest tasks facing the Hokies in 2012.
Begin Slideshow

»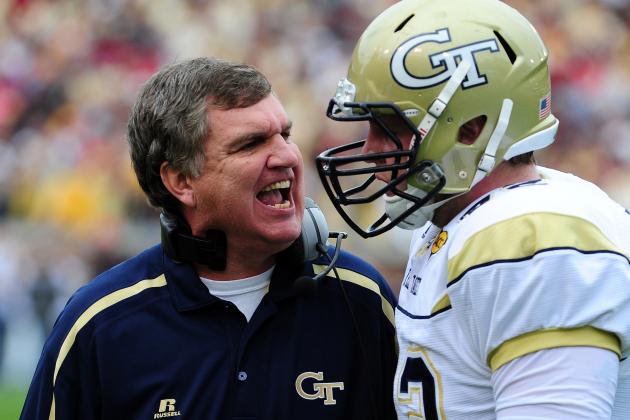 Scott Cunningham/Getty Images

The Hokies open the 2012 season at home on a Monday night against Georgia Tech.
The Yellow Jackets, since Paul Johnson took over as head coach four seasons ago, have been a thorn in the Hokies' side. Bud Foster's usually stingy defense has found Johnson's option offense difficult to stop at times.
Georgia Tech has several offensive starters returning and defensive coordinator Al Groh now has the pieces to make his 3-4 defense a very formidable unit. While the Hokies will be favored to win, don't be surprised if the Jackets pull off the upset, or at least make things interesting.
On September 15th, the Hokies take a trip to Pittsburgh to face their old rivals from the Big East. The Panthers finally seemed to have settled on a coach in former Wisconsin offensive coordinator Paul Chryst.
Pittsburgh was always a tough place to play for the Hokies in their Big East years and the Panthers will be looking for a statement win early in Chryst's tenure.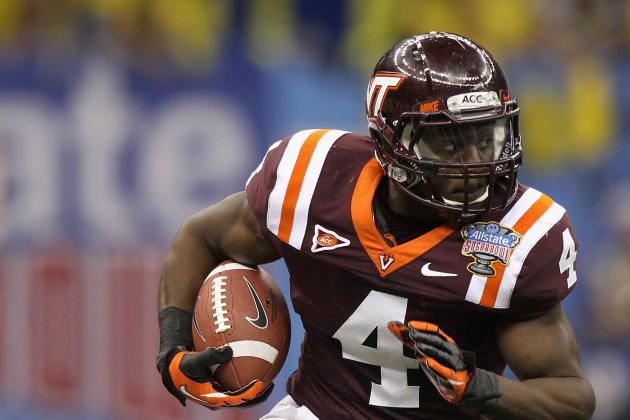 Matthew Stockman/Getty Images

Replacing a player who broke the school record with over 1,700 yards rushing is a tough task.
Not only was Wilson the Hokies' top rusher in 2011, he was also the team's big-play threat. Fortunately for the Hokies, they always seem to have someone in the pipeline ready to take over.
Redshirt freshman Michael Holmes is the leading contender in 2012. Holmes doesn't possess Wilson's speed or big-play ability, but is a strong runner between the tackles and has deceptive speed.
True freshman J.C. Coleman will not only inherit Wilson's jersey number, but also his spot as the Hokies' big-play threat out of the backfield. Coleman is small, but is dynamic. While the Hokies want to ease Coleman into the lineup, they also want his speed on the field.
Junior Tony Gregory figures to be in the mix as well. Gregory, returning from a knee injury, has put on more weight to match his tremendous speed.
Don't be surprised if the Hokies' running game struggles early, but the talent is there for this group to succeed.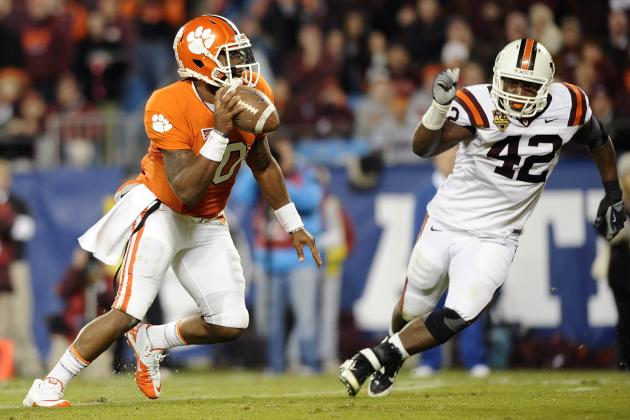 Jared C. Tilton/Getty Images

The Hokies were outscored 61-13 by the Tigers in two meetings in 2011.
The offense could never get going and the defense struggled with the speed of Clemson's offense.
With Clemson returning quarterback Tajh Boyd and wide receiver Sammy Watkins, their offense is expected to be as prolific as they were in 2011. Will the Hokies have an answer?
Bud Foster certainly has the talent on defense to limit Clemson's offense, but the 2011 results have to resonate in his mind.
Clemson returns eight starters on defense, however, one could point to the Orange Bowl and make a case that that isn't such a great thing. The Tigers were shredded by West Virginia, but looked dominant in the two games against the Hokies.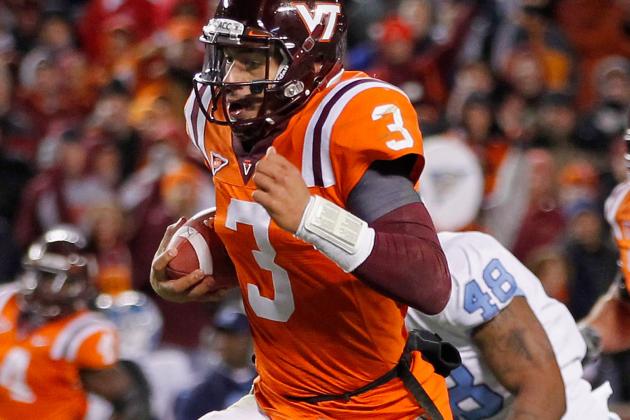 Geoff Burke/Getty Images

Thomas lost his two starting wide receivers, Jarrett Boykin and Danny Coale to graduation. Boykin and Coale were the top two receivers in school history, respectively. Both players were security blankets for Thomas in 2011 as he was a first-year quarterback.
Fortunately for Thomas, seniors Marcus Davis, D.J. Coles and Dyrell Roberts return. Davis caught 30 passes for 510 yards and five touchdowns in 2011. He has the physical ability to be a future first-round pick.
Coles, who had his first significant playing time at receiver in 2011, finished with 36 catches and 480 yards. He is a big-bodied receiver who can help Thomas move the chains.
Roberts is a bit of a wild card. Having missed a significant portion of the past two seasons, Roberts hopes to return to his past form. In his first two years on campus, Roberts showed a knack for the big play as both a receiver and a returner. Will he return healthy?
If any of these receivers struggle or are injured, it could hinder Thomas' development. While there is talent behind them, there isn't a lot of experience.
Coles and Davis should be up to the task.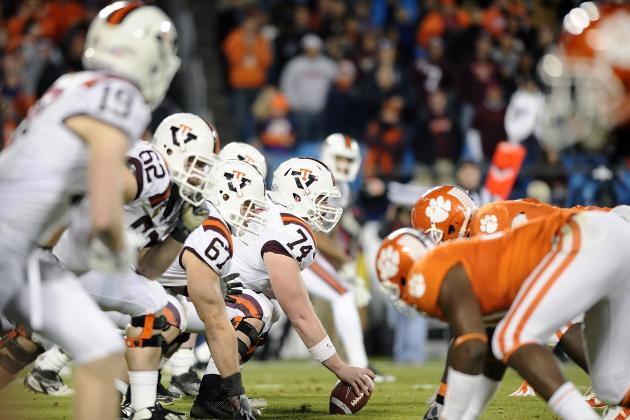 Jared C. Tilton/Getty Images

The good news is the Hokies return perhaps their best all-around offensive linemen in junior center Andrew Miller.
The bad news is the team will have to replace four starters.
The Hokies lose four-year starter Blake DeChristopher, a two-time All-ACC selection at right tackle and Jaymes Brooks, a second-team All-ACC selection at guard.
Senior Vinston Painter will replace DeChristopher at right tackle. Painter, a former top recruit, has the size and athletic ability to be dominant. Early indications are Painter is handling the task quite well.
Brent Benedict, a transfer from Georgia, will replace Brooks. While not as athletic as Brooks, Benedict is big, strong and talented.
Nick Becton will take over at left tackle and the Hokies should be just fine. Becton alternated at left tackle with Andrew Lanier at times in 2011. If Becton would develop an aggressive streak to match his athletic ability, the sky would be the limit.
David Wang will be the starting left guard. Wang, somewhat undersized at 290 pounds, is one of the strongest players on the team.
While losing DeChristopher and Brooks hurts, it shouldn't be too crippling of a blow. Overall, the Hokies offensive line didn't play to its potential at times in 2011.
Nonetheless, any time you replace four starters on an offensive line, you have to be a bit concerned. The Hokies have one of the top quarterbacks in the country, so protecting him is urgent for the team's success in 2012.