NBA Draft 2012: Why New Orleans Hornets Could Target Terrence Ross
June 19, 2012

Chris Trotman/Getty Images
If I've said it once I've said it a thousand times (of course, so has everyone else): Anthony Davis will be the Hornets' selection with the No. 1 draft pick on June 28. 
But what the team does with the No. 10 selection remains very much up in the air. We've already looked at three potential players the Hornets could select on draft day in Kendall Marshall, Austin Rivers and Tyler Zeller. 
But there is another great potential selection still lurking out there. Several draft sources have hinted at the Hornets taking a look at Washington wing Terrence Ross.
At 6'6", 195 lbs. (some say 6'7"), Ross possesses the kind of size that allows him to play either shooting guard or small forward (much like Xavier Henry). At Washington, Ross improved greatly from his freshman year to his sophomore year, and he still has a ton of room to grow.
Though he has a bit of a light frame, he possesses great strength and is a tremendous athlete who can get to the rim and excite the crowd. In that sense he reminds evaluators of a young Andre Iguodala, especially with his great potential to defend at least three positions one-on-one. 
With those abilities, Ross would fit very well into the plan of Monty Williams and his staff, who teach defense first. Here's more about Ross as a prospect. 
Strengths
Ross is a great athlete. He is electric, flying through the air to provide rim-rattling dunks and a multitude of other great plays around the rim. He is excellent on the fast break both as a lob finisher and as a spot-up shooter.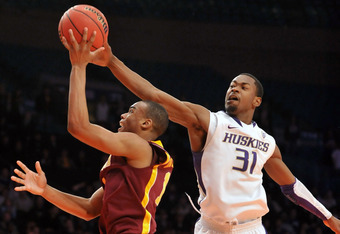 Jason Szenes/Getty Images
For a young player, he possesses a high basketball IQ and great court vision. He is one of the best passers in the draft, and he excels at finding guys off pick-and-roll situations. 
He possesses incredible length, which makes him a great help defender and allows him to get his hands in passing lanes. He also uses that length to create space in one-on-one situations and to corral rebounds.
Though he is noted for his athleticism, he is also a natural shooter whose percentages will only improve with more in-game reps. He's ready for the NBA offensively and is not far away defensively. 
Weaknesses
Though it's mostly a positive, sometimes his irrational confidence can get the best of him and cause him to take dumb shots or force plays. And, though he's freakishly athletic, he sometimes gets overextended at the rim and fails to finish plays. 
He has the frame to put on weight, but right now he is not very strong and it's going to take work to add the needed strength to his body. 
Finally, he needs work to further develop his offensive moves both outside and around the basket. 
Conclusion
Ross is one of the most exciting prospects in this draft. While we know Kendall Marshall and Tyler Zeller and we feel we know their ceilings, Ross's ceiling is currently undefined. 
The sky seems to be the limit for this athletic dude. He figures to become a lock-down wing defender (a la Trevor Ariza) and a freakishly explosive player around the rim who also possesses a jump shot. 
If he were paired with Eric Gordon and Anthony Davis, Ross would take off and could be a really fine third wheel for years to come. He is unlikely to become a Hall of Famer, but his plethora of gifts makes it unlikely he will fail. 
Other than Marshall, he is probably the best fit for New Orleans at pick No. 10. But we shall see. 
That's why it's a draft. Any team could select him before No. 10, or the Hornets may not be as in love with him as I suddenly am.