NBA Draft 2012: New Orleans Hornets Possible Draft Targets: Kendall Marshall
June 6, 2012

Kevin C. Cox/Getty Images
By winning the No. 1 pick in last Wednesday's NBA Draft Lottery, the Hornets were all but forced to select the hands-down No. 1 prospect, Kentucky's Anthony Davis. 
That's not a bad thing. It allows the Hornets to now spend quality time and focus on the No. 10 selection. In that position, Dell Demps and Co. have a lot more to consider. Who to choose at No. 10 will be as difficult a decision as Demps has had to make as the Hornets' GM. 
First of all, there are at least five players the Hornets could realistically select. With the draft being considered a deep one by most, it leaves a ton of ambiguity in terms of who gets slotted into what spot. The Hornets also have a ton of different potential uses for players.
This creates a difficult decision for Demps and his staff. They know the team will now be strong up front with Emeka Okafor, Anthony Davis, Gustavo Ayon and Jason Smith all guaranteed to fill the 2012-13 roster.
The team could also make a run at Chris Kaman and Carl Landry as free agents, though that seems unlikely. If they decide not to, another big man could be added as early as the 10th pick, for the sake of depth in the future.
But they could also decide to build for the future and upgrade the depth at point guard in the meantime, by drafting a player such as North Carolina point guard Kendall Marshall. There is a lot to like about Marshall, and personally I can't imagine any way in which Damian Lillard could climb above him in the point guard rankings.
Strengths
Marshall is fast—or at least, he plays faster than he actually is. He is possibly the best passing point guard to enter the NBA since Rajon Rondo (a lot more on that to come). At 6'4", Marshall has great size for a point guard.
Like Rondo, he excels in the open floor due to his speed and natural floor vision. He has little problems getting to the rim or finding the open man.
In the halfcourt, he excels in the pick-and-roll game and can get to the rim. He is left-handed, which is an adjustment for a defender, especially in the regular season when teams have little time to game plan for their next opponent. 
He is a good defender who is NBA-ready at both ends of the floor. With his size, he figures to immediately become one of the best rebounding guards in the league, especially since he has a nose for the basketball. 
Weaknesses
Similar to Rondo, he has next to no jump shot. He is capable of knocking down a shot, but actual hits are few and far between, likely due to his confidence in the shot. 
Like Rondo, that shooting acumen—or lack thereof—extends to the free throw line (not something you want in a point guard). Because of this, Marshall could be a liability at the end of games.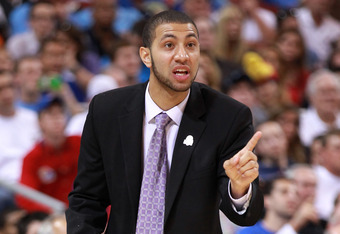 Andy Lyons/Getty Images
Of course, coming off a wrist injury is a concern. But Marshall is fine now, and the injury should not effect him long-term, especially considering it was his non-shooting wrist—and he's a terrible jump shooter anyway.
Conclusion
Though Marshall is currently ranked as the second-best point guard in the 2012 draft, it is likely that he would be the best fit for the Hornets, who are looking for a pass-first point guard after dishing away Chris Paul in December. 
Jarrett Jack could stick around in the interim and move to the shooting guard position to give Eric Gordon a break, or the three could play together in a small lineup. 
Marshall would instantly make the Hornets' offense better with his ability to find guys in the right spot and locate the ball in their shooting pocket (something Gordon would have to enjoy). His ability to find guys in the pick-and-roll and pick-and-pop would make Davis usable on the offensive end from day one. 
If you're selecting a player with the first pick to build your team around, you want to immediately build around him to make his life easier. With Marshall, and hopefully Eric Gordon, the Hornets would be doing just that.