Brad Keselowski Has Kind Words for Former Sprint Cup Teammate Kurt Busch
June 13, 2012

Jerry Markland/Getty Images
Brad Keselowski is one of the most polarizing figures in the NASCAR Sprint Cup Series.
Since earning a full-time ride at NASCAR's highest level back in 2010, the Penske Racing driver has earned his share of fans and critics, particularly over his aggressive driving style, which has helped him earn six wins in the NASCAR Sprint Cup Series.
Despite his success, Keselowski's popularity does not just stem from what he does on the track but also what he does off of it.
Keselowski is a sponsor's dream: a talented race car driver with a marketable mug, who is affable with the fans and media alike, particularly when it comes to his Twitter obsession.
One of the tools that helps Keselowski be so popular off the track is his class, something he put on display during Wednesday's NASCAR Cam teleconference when asked about his former Penske teammate, Kurt Busch.
Busch, who has had multiple run-ins with media members—including a recent incident at Dover with Sporting News writer Bob Pockrass—was Keselowski's teammate during the Michigan native's first two NASCAR Sprint Cup Series seasons.
Some drivers have been less than hesitant to take shots at Busch, including another of Busch's former teammates, Ryan Newman, who said these words after the two had an altercation at Darlington.
From Dustin Long's Twitter page:
It's easy to see and it's easy to say that Kurt blew a fuse again...I think the chemical imbalance speaks for itself...Everybody has [worried about Busch] for the last 10 years. He's proven that. When you can't keep a job, it's pretty obvious [he has problems].
But Keselowski took a much more sympathetic approach to Busch's predicament.
I know you get frustrated...by those styles of questions, because you know at the end of the day they are directly affecting your ability to be competitive. As a race car driver, that can be unacceptable in your mind at times.
Keselowski was also asked about Busch's talent and whether or not there's still a place in the sport for Busch.
Keselowski's answer? An emphatic "Yes." And more than that, Keselowski went so far as to call Busch "the most talented driver I've ever worked with in Sprint Cup."
Per the teleconference:
Yes, I think that there will always be a spot for an elite talent in this sport, and Kurt is an elite talent...He is the most talented driver that I've worked with in Sprint Cup, and that will remain until somebody else proves differently.
For Keselowski to crown Busch with an accolade such as "the most talented driver I've ever worked with in Sprint Cup" speaks volumes.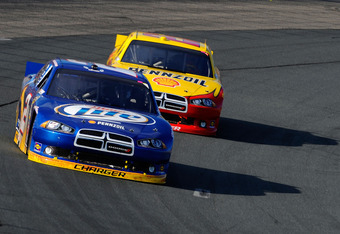 Jason Smith/Getty Images
After all, this is coming from a driver who raced as a Hendrick Motorsports development driver for two seasons in the NASCAR Nationwide Series and worked alongside the likes of Jimmie Johnson, Jeff Gordon, Mark Martin and Dale Earnhardt Jr.
Yet of all those stars, Busch was the most talented.
Such a statement was not lost on Keselowski:
I feel privileged to have worked with some great drivers, you know, with the time I spent at Hendrick and Penske, there were a lot of great drivers that have been my teammates. I feel like it says a lot that I feel that he is the most talented one I've worked with...
In a time where drivers, media and fans are flocking in droves to the "Kurt Busch sucks" bandwagon, such kind words from a former teammate have to go a long way for a driver who has struggled in many aspects in recent months.
As for Keselowski, it's amazing to see a driver at 28 years old demonstrate so much class and so much composure when speaking on such a touchy subject.
Kudos to Brad for his remarks and for his class. May he never change, and may his success continue.
All quotes were obtained via NASCAR Cam teleconference unless otherwise stated. To read the transcript of Keselowski's teleconference in its entirety, click here.