Bryan LaHair: Now Is the Time to Find out What He Can Do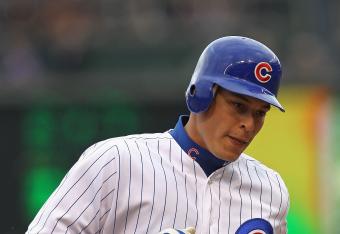 Jonathan Daniel/Getty Images
Somebody needs to tap Chicago Cubs manager Dale Sveum on the shoulder and wake him up. It may only be early June, but the Cubs are not going to be contenders this season. So why does he keep sitting Bryan LaHair against left-handed pitchers?
With the Cubs floundering in last place and making a strong case for the possibility of a 100-loss season, now is the time to see what a guy like LaHair can do. Yes, I know he's 29, so he hardly qualifies as a prospect. But the Cubs need to find out if it will be worth moving LaHair to the outfield when Anthony Rizzo eventually becomes the first baseman of the present.
Perhaps they're protecting LaHair from showing too much of his weaknesses in an effort to build his trade value. Yet even that doesn't make sense, because a player who can only hit righties isn't going to be worth as much in trade anyway.
The main point is, this is a rebuilding process, in case no one told Sveum. While LaHair may not be part of that process for the long term, I'd much rather see LaHair flailing away at lefties than Ian Stewart or David DeJesus.
Despite neither one of those players mentioned having been able to hit lefties this season, Sveum chooses to sit only LaHair, who just happens to be one of the few power hitters on the team.
Look—the purpose of the next couple of years is to buy time for the farm to be restocked, while assessing the quality of the younger players already in the system or to be acquired in trade.
Otherwise, why endure this pain?
For Cubs fans, who are far too familiar with the pain of losing, the next few seasons will be especially trying. But I would guess that watching a relative unknown like LaHair is preferable to watching veterans.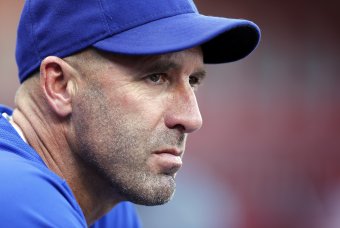 Joe Robbins/Getty Images
In fact, the only reason to be excited that guys like Ryan Dempster and Alfonso Soriano are performing well is the anticipation of a larger return if and when the Cubs can ship them out.
There are two ways in which the Cubs can expedite the process of rebuilding, and only one of them is good. They could get cold feet, as I've mentioned before, where they go out and stock the roster with vets in an effort to appease fans over the short term.
But that would only sacrifice playing time for younger players who are the future.
The other way is to trade one player for multiple pieces. That is the approach I prefer, as we've seen too much of the other way.
So let LaHair play and see if other teams will offer a couple of real prospects in return. It may seem doubtful to you now, but a season of .270/.350/.515 would likely turn some heads.
But only if he plays. Dale, are you with the program?
This article is
What is the duplicate article?
Why is this article offensive?
Where is this article plagiarized from?
Why is this article poorly edited?

Chicago Cubs: Like this team?