Stanley Cup Playoffs 2012: Breaking Down LA Kings' Gameplan for Game 5
June 9, 2012

Jeff Gross/Getty Images
With Game 5 of the 2012 Stanley Cup Finals on Saturday, June 9, the talk about how the Los Angeles Kings can put the New Jersey Devils away after taking a commanding 3-1 series lead is on everyone's mind.
The Kings came into this postseason as the NHL's dark-horse contender and have continued to play inspired hockey throughout the playoffs. Riding the hot streak of Jonathan Quick has been the biggest reason so far.
If Los Angeles wants to end this series now and take their Stanley Cup home, they must end the Devils comeback hopes before they get started. This is how the Kings will beat New Jersey in Game 5.
Push the Pace
The reason the Kings lost Game 4 in the first place was because they fell into New Jersey's defensive trap system. With no pressure, the Devils played their style of capitalizing on mistakes while staying sure in their own end.
For Los Angeles to get back to their winning ways one final time, they need to use their young legs to push the offensive tempo. They need more bodies in the Devils' zone buzzing around Martin Brodeur, causing screens and deflections.
With the New Jersey goaltender playing elite hockey (2.04 goals against average, .921 save percentage this postseason), the Kings must be the ones to to capitalize on mistakes and pushing the tempo.
Stopping Ilya Kovalchuk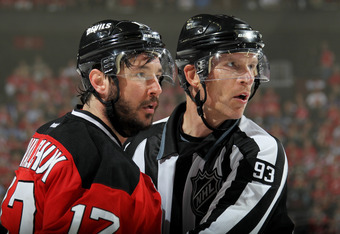 Bruce Bennett/Getty Images
In these playoffs, when Devils forward Ilya Kovalchuk scores at least one point, New Jersey is 12-1. For the Kings, the key to a win will be keeping the star sniper off the score sheet.
Ilya Kovalchuk has been the thermostat for the rest of the offense, and he will be the gauge used to determine if they will be able to get their offensive groove going against LA on Saturday.
While it's clear that the Kings will throw everything they have at the All-Star sniper, it's up to his teammates to carry the team to another game. The Devils will be fighting hard, but Los Angeles will have their number.
Protect Jonathan Quick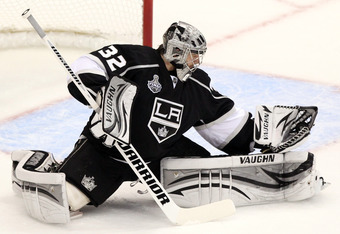 Christian Petersen/Getty Images
The Kings' Stanley Cup chances begin and end in the net with Jonathan Quick. Priority No. 1 is to be defensively sound in front of the star goalie and allow him to do his job.
With an unreal 1.39 goals against average and a save percentage of .948 percent, one could make the argument that Quick is having the greatest goaltending postseason in NHL history.
If Quick and the Kings defense can button down for one more game, there is no way the limited skill and depth of the Devils can force this series to Game 6. Los Angeles ends the series in just five games.
Check back for more on the National Hockey League as it comes, and don't miss Bleacher Report's NHL page to get your fill of all things hockey.