Lewis Hamilton: Formula 1 Driver Stuck Between a Rock and a Hard Place
June 6, 2012

Paul Gilham/Getty Images
Lewis Hamilton has been something of a unique figure in the British media during his Formula 1 career. When he first arrived, he was nearly unanimously loved by the media and was very much the golden boy for the sport.
When he started to struggle in 2011, it became a witch hunt. The same media that loved him a few years ago began circling like vultures.
Personally, I have never been a Hamilton fan. I respect his abilities on the track, but I don't like his personality off the track.
However, I feel the way he was treated by the media throughout the 2011 season was wrong. He didn't help himself—with his own idiotic comments after the Monaco Grand Prix as one example —but it did seem like the media were just waiting for something to go wrong for him so they could kick the man while he was down.
Their scrutiny of his relationship with Nicole Scherzinger felt totally unnecessary. It's called a personal life for a reason.
While the media frenzy focused on his feud with Felipe Massa, his relationship and various incidents on the track, there was another story, a story about his contract, very quietly rumbling in the background.
Hamilton's contract with McLaren runs out at the end of this current season. During his 2011 season, there was some speculating that McLaren was considering not offering him a new deal, but those talks were put to rest. In the 2012 season, everything seems to have reversed.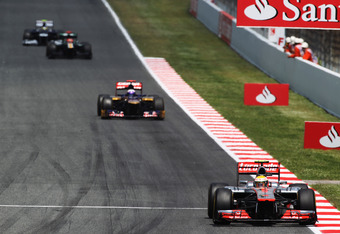 Mark Thompson/Getty Images
Lewis is back to driving fast and consistently, trying to challenge for race victories and looking to mount a championship challenge.
Now it is the team that is struggling. Errors by the team have cost Hamilton positions in races this year. The mistake of under-fueling the car at Spain cost him the pole position and the chance to win the race. There were also pit stop mistakes at Bahrain, Spain and Monaco.
With his contract ending this year, Lewis may be growing tired of the errors and may be looking elsewhere for a drive.
The big question is—where?
There is no chance of him going to HRT, Marussia or Caterham. These teams can't afford him or offer him a race winning car.
Williams and Sauber also can't afford Lewis, and I doubt Force India will be willing to spend that much money. Toro Rosso are out as well, because I don't believe he would be willing to join the Red Bull 'B' team.
That leaves Ferrari, Red Bull, Mercedes and Lotus.
I really doubt that Ferrari would sign him. They have Fernando Alonso.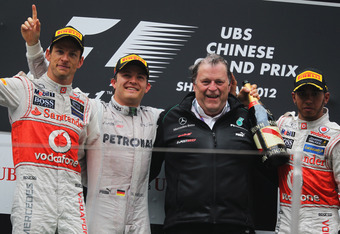 Mark Thompson/Getty Images
With Massa under so much pressure, there will almost certainly be a seat open at Ferrari. However, I believe that seat will be filled by favourite Sergio Perez and not Lewis.
I also doubt that Lewis would go to Red Bull. They have Sebastian Vettel as their star man, and signing Lewis could upset the unity of the team.
However, just like at Ferrari, there are rumours about the other driver—I won't put second just in case Mark reads this—Mark Webber. Mark is on a rolling one-year contract, and the rumours concern whether or not he is coming towards the end of his time at Red Bull. So again, a seat could be available, and this time there is no obvious successor.
Mercedes is not really an option for Lewis. With Michael Schumacher nearing the end of his career, there will be a top seat available. However, Mercedes seem to be leaning more towards Paul di Resta. It seems almost certain that once Schumacher leaves di Resta will take over.
That just leaves Lotus. Lotus are rapidly becoming competitive, so if Lewis did move he would going to a team that has what it takes to challenge for the top spots. They are backed financially by Genii Capital, and there would be money available to sign Lewis.
Would Lotus try to place him with Kimi Raikkonen?
I don't know of any issue between the two of them. However, I am not sure that Raikkonen would be happy with Lewis coming in, as he would likely try to work his way towards taking the leading role.
Lotus is an option, but it is by no means guaranteed.
If Lewis wants a guaranteed place in Formula 1, then his best option is to remain at McLaren. But if the mistakes that seem to be plaguing McLaren continue, then Lewis may be tempted to try and break into a new team.
In the end, I doubt that Lewis will make a move. He has been with McLaren for a long time, and until recently he has had a healthy relationship with them. His current troubles could just be a passing blip on the long-term radar.