NL Best of the Night: Rockies' Carlos Gonzalez Homers for 4th Straight at-Bat
June 1, 2012
Doug Pensinger/Getty Images
After posting my National League MVP rankings for this week, a few commenters responded with their suggestions. Giancarlo Stanton, Andre Ethier and Carlos Ruiz were three players that people thought should get some MVP love. 
But the true oversight may have been Carlos Gonzalez.
The Colorado Rockies outfielder hit a home run for the fourth consecutive at-bat Thursday night against the Houston Astros. Gonzalez slammed the first three homers Wednesday in his last three at-bats of the game. In his first trip to the plate on Thursday, Astros pitcher Bud Norris left a 90 mph up in the zone and Gonzalez smacked it over the left field fence for a three-run shot. 
With that, as pointed out by @MLBStatoftheDay, Gonzalez became the 38th player in major league history to hit a home run in four consecutive at-bats. He's the 22nd player to achieve the feat in four straight plate appearances. 
Another factoid, courtesy of the Denver Post's Patrick Saunders: Gonzalez is the first guy to hit homers in four consecutive PAs in six years. The last guy to do it was Albert Pujols in April 2006. 
Gonzalez went 3-for-4 in Thursday's game, also adding a double and stolen base to his totals for the night. In his past two games, he's batted 7-for-9 (.777) with four homers, seven RBI and six runs scored. Over his last five games, Gonzalez is 13-for-22 (.591) with six home runs, three doubles and 10 RBI.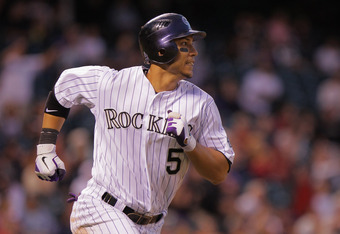 Doug Pensinger/Getty Images
That run of success has pushed his slash average to .332/.401/.653. Gonzalez's 1.054 OPS ranks second in the NL to Joey Votto and fourth in the majors. His 14 homers are tied for second in the league, while his 44 RBI match Andre Ethier for the NL lead.
(Amazingly, Gonzalez ranks 11th among NL hitters in WAR, which is a puzzle.)
Though I'll point out that no one was criticizing me in comments or on Twitter for not including Gonzalez among the top five NL MVP contenders until he went on his home run explosion this week, it's pretty clear that he belongs in the conversation.
I don't know if he'd win the MVP award because the Rockies have been such a disappointment. But his numbers are becoming too good to ignore. 
So this is my mea culpa. Gonzalez should have been on this week's list of NL MVP candidates. I probably tried too hard to be fair to Matt Kemp, whose numbers still warranted consideration. But now that he'll be out for at least four weeks, Kemp will have missed too much time to be a legitimate contender. 
I'll fix that oversight next week. Meanwhile, let's keep enjoying Gonzalez's sweet left-handed swing.
Follow @iancass on Twitter