NL Best of the Night: Carlos Gonzalez Hits 3 Bombs as Rockies Demolish Astros
May 31, 2012

Doug Pensinger/Getty Images
Carlos Gonzalez was already swinging a hot bat going into Wednesday's game against the Houston Astros.
In his past three games, the Colorado Rockies outfielder batted 6-for-13 (.462) with two doubles, two home runs and three RBI. That pushed his slash average up to .309/.381/.575 with 10 homers and 37 RBI for the season.
All of those numbers got better by the time Gonzalez was through with the Astros on Wednesday night.
Gonzalez slammed three home runs, as part of a 4-for-5 night with four RBI. Lucas Harrell was taken deep first for a solo shot in the fifth inning. Next up in the sixth, Gonzalez crushed a two-run blast to center field off Xavier Cedeno. He then finished off his personal home run derby with another solo homer into the right-field stands. Three straight at-bats, three consecutive homers. 
Watch video of Gonzalez's trio of home runs here.
With that three-homer, four-hit explosion, Gonzalez boosted his average up to .323/.391/.629. Among National League hitters, his 1.020 OPS is the fourth-best. His batting average and on-base percentage rank among the top 10 NL batters. And no one in the league has a higher slugging percentage. 
Gonzalez has two multi-homer performances in his last four games, and his current total of 13 home runs is the third-best total in the NL. His 41 RBI rank also rank third in the league.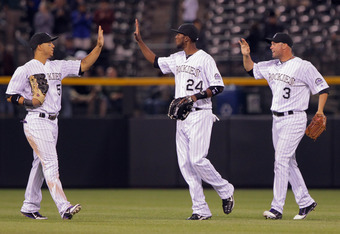 Doug Pensinger/Getty Images
The power show and 13-5 win over the Astros capped off an eventful day for the Rockies.
The team also got some bad news during Wednesday's game when shortstop Troy Tulowitzki aggravated a left groin injury that might put him on the disabled list. Earlier in the day, the team designated 49-year-old Jamie Moyer for assignment, finally pulling the plug on a project that just wasn't working.
But in what's been a disappointing and increasingly frustrating season for the Rockies, Gonzalez and his beautiful left-handed swing have been a bright spot. He'll certainly receive an invitation to the All-Star Game and maybe even earn a starting nod from the fans. Though the Rockies' poor record (20-29) will hurt his cause, Gonzalez is also putting up the kind of numbers that warrant MVP consideration. 
Follow @iancass on Twitter