NL Worst of the Night: Astros Rookie Lucas Harrell Gets Rocked at Coors Field
May 31, 2012

Doug Pensinger/Getty Images
Wednesday's slate of games in the National League provided a few candidates for "Worst of the Night" honors.
Jason Motte walked three batters (one intentionally) and gave up two runs, allowing the Atlanta Braves to build a ninth-inning cushion in an eventual 10-7 win over the St. Louis Cardinals. 
The New York Mets continue to have problems with their bullpen, as five relievers surrendered eight runs in just 2 1/3 innings in a 10-6 loss to the Philadelphia Phillies. Ramon Ramirez gave up a single, a three-run homer and a double without recording an out in the ninth inning, turning a close game into a blowout. 
However, the guy who had the worst Wednesday night in the NL was Houston Astros pitcher Lucas Harrell. The rookie right-hander has pitched well recently, allowing two runs or fewer in each of his past four starts. But in his first visit to Coors Field, Harrell gave up more runs in five innings than he had in his five previous starts. 
Harrell got himself into trouble right away, loading the bases on two walks and a single in the first inning. Yet with two outs, Harrell had a chance to escape without allowing a run. Unfortunately, he left a first-pitch fastball to Michael Cuddyer out over the plate, and Cuddyer cranked it out to right field for a grand slam.
The Rockies scored two more runs over the next four innings (including one of Carlos Gonzalez's three homers for the night), putting Harrell and the Astros down 6-0 heading into the sixth. As if wasn't already bad enough, things got much worse for the rookie.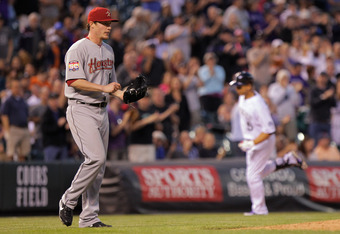 Doug Pensinger/Getty Images
Harrell gave up three consecutive singles to begin the inning, allowing yet another run in the process. That ended his night, but the Rockies tagged two more runs onto his final line when Rhiner Cruz served up a three-run homer to Dexter Fowler. 
Perhaps we could've seen a beating like this coming. FoxSports.com's Tracy Ringolsby pointed out that Harrell threw 94 pitches without getting a single swing-and-miss in his previous start. Yet he gave up only one run. Pitching to contact can be an efficient way to work, especially when a pitcher doesn't have strikeout stuff.
But when you let batters hit the ball, sometimes those balls are going to land between fielders. Or in the seats. Wednesday night was obviously one of those occasions for Harrell. It will be intriguing to see if he's able to quickly bounce back from the worst effort of his season thus far.
Follow @iancass on Twitter