Tottenham Hotspur: Evaluating Central Defensive Options Alongside Jan Vertonghen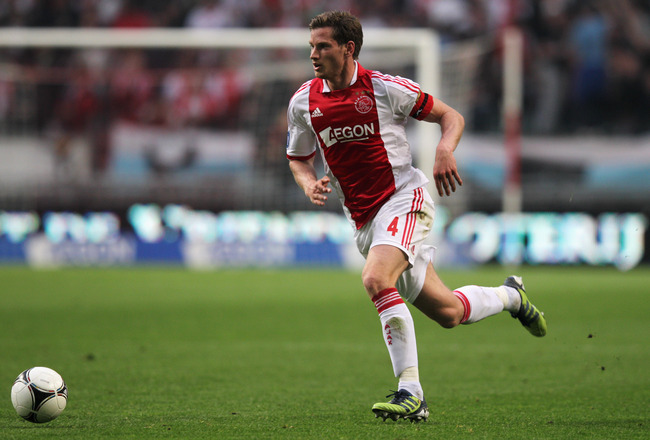 Dean Mouhtaropoulos/Getty Images
Tottenham Hotspur have never hidden their interest in signing Ajax defender Jan Vertonghen, just as Vertonghen himself has never hidden his in joining Harry Redknapp's side.
Conflicting rumors have arisen on exactly what state the transfer is currently in, but the latest news from the Vertonghen camp is that Spurs and Ajax just can't agree on a transfer fee.
With Vertonghen's eyes still seemingly set on a switch to White Hart Lane, all that remains is for the Tottenham hierarchy to compromise on a price with his current club.
But even if Vertonghen does make the move to Spurs, what should he expect at White Hart Lane?
More specifically, what should he expect from his potential central defensive partners?
Let's look at the five centre-back options currently at Redknapp's disposal and how they'd fare alongside Vertonghen—and, as usual, feel free to have your say in the comments below.
Ryan Nelsen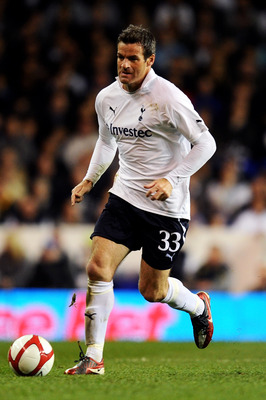 Mike Hewitt/Getty Images
Comfortably fifth place in the pecking order is New Zealand international Ryan Nelsen, who was picked up on a free transfer from Blackburn Rovers in this January's transfer window.
Nelsen will be turning 35 later this year and is no spring chicken in terms of pace, but provides strength in the air and in the tackle.
Whether he will be staying beyond the summer, however, is up for debate, as his contract status is up in the air, with a move back to MLS mooted for the All Whites captain.
As Vertonghen's Defensive Partner
Pros
Nelsen offers considerable strength and rugged defending, and his no-nonsense style would be a decent complement to Vertonghen's attack-minded tendencies.
Cons
If Vertonghen moves up to support the attack, any opposing forward with pace would easily outstrip Nelsen on the counter, leaving the center of defence extremely vulnerable.
Ledley King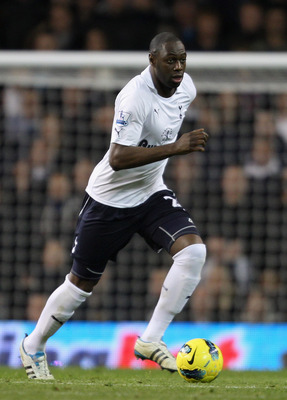 Scott Heavey/Getty Images
Often lauded as one of the most naturally talented defenders to play for Tottenham, and perhaps even for England, Ledley King's injury problems have left onlookers wondering what could've been.
Now 31, King's legacy at White Hart Lane has been cemented by his often brilliant performances when he's been able to make it onto the pitch.
His Spurs contract is up this summer, but the latest news is that he will be offered an extension.
Extension or not, an injury-prone defender, as naturally talented as he may be, is not the way forward.
As Vertonghen's Defensive Partner
Pros
Both King and Vertonghen are comfortable on the ball and in possession, and, when fully fit, they would form one of the most aesthetically pleasing central defensive partnerships in the Premier League.
Cons
King's injury troubles means that he will probably never be able to cement himself as Vertonghen's first-choice partner.
William Gallas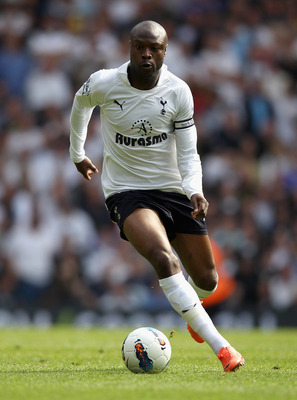 Clive Rose/Getty Images
Another Spurs defender well into his 30s, William Gallas is actually the oldest of the bunch.
On the plus side, of course, he is also the most experienced at the top level of European football, having played in Jose Mourinho's Premier League-winning Chelsea side and as captain of Arsenal.
His experience and all-round ability as a defender has stood him in good stead, but surely Redknapp will realize that Gallas can't keep going at a high level for too much longer.
As Vertonghen's Defensive Partner
Pros
His experience in the Premier League will help Vertonghen on the pitch, and he has proven to be a seasoned campaigner in all his years as a professional.
Cons
He has a curious tendency to get involved in outbursts on his own teammates, which undermines team morale. Is that a risk Redknapp should still take?
Younes Kaboul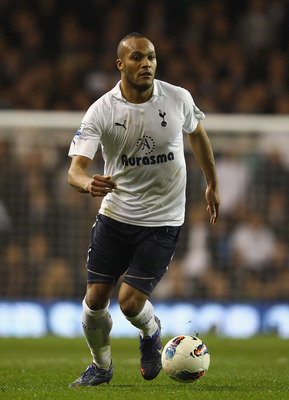 Julian Finney/Getty Images
In the absence of Michael Dawson, Younes Kaboul, who is currently in his second stint at Tottenham, was a constant name on the Spurs teamsheet in the 2011-2012 season.
And he has largely improved on his rashness in the tackle and lack of positional discipline since returning to White Hart Lane.
His combination of pace, athleticism, strength, aerial ability and goal threat makes him potentially one of the most complete defenders in the Premier League, but he still has to improve his mental game if he is to become part of the cream of the crop.
As Vertonghen's Defensive Partner
Pros
His pace, strength and attack-mindedness make him a similar if more rugged complement to Vertonghen. While they might not be as classy to watch as a King-Vertonghen partnership, Kaboul and Vertonghen would certainly be one of the most exciting defensive duos in the Premier League.
Cons
Both Kaboul and Vertonghen like to go forward and support the attack, which might leave plenty of space behind. Redknapp would have to instill some tactical discipline that dictates their movements when helping out further forward.
Michael Dawson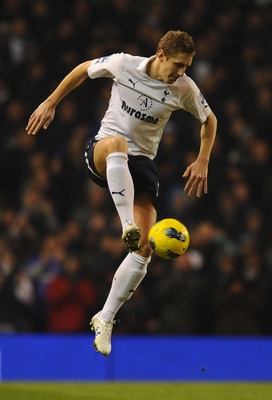 Mike Hewitt/Getty Images
A ruptured ankle ligament ruled Michael Dawson out of Tottenham's 2011-2012 campaign, denying him a chance to first return to Redknapp's starting defensive partnership, and then to make his way into the England squad for this summer's European Championships.
When fully fit, however, Dawson has the ability to figure in the Spurs first team week in, week out.
Indeed, a certain Carlos Tevez has labeled Dawson the best English defender he's ever played against, which is no mean feat for any defender.
As Vertonghen's Defensive Partner
Pros
Dawson is the prototypical English centre-back, offering strength and aerial ability in abundance. Add in his positional awareness, and you have the perfect complement to an attack-minded Vertonghen.
Cons
Dawson's lack of pace has occasionally cost Spurs, while his injury-proneness will also be a concern to Harry Redknapp.
Conclusion: A New Partner?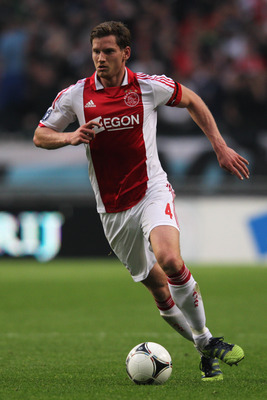 Dean Mouhtaropoulos/Getty Images
Considering that three of centre-backs on Tottenham's books are on the wrong side of 30, Tottenham badly need an injection of youth and pace in central defence, and Jan Vertonghen would be a very welcome tonic.
But Dawson's inability to stay fit for a prolonged period of time makes Younes Kaboul the only central defensive option who is remotely reliable for a long-term first-team place.
Vertonghen would add much to a defence that has needed considerable strengthening for many a season, but it might not be enough.
Redknapp's priority now should be to ensure that Spurs do get their man—and then possibly to be on the lookout for a top-class central defensive partner to Jan Vertonghen.
What do you think? Will Tottenham's current centre-backs be enough? Let us know in the comments below.
If you liked this article, you might also be interested in Spurs' Latest Transfer Updates. Stay tuned for extensive Euro 2012 coverage on my Bleacher Report writer's profile, and please check out my blog, The Red Armchair, for Liverpool opinions and match reactions.
Keep Reading

Tottenham Hotspur: Like this team?